Wilco's Star Wars Is a Random Act of Love
A strange, small gift of an album for a strange, vast universe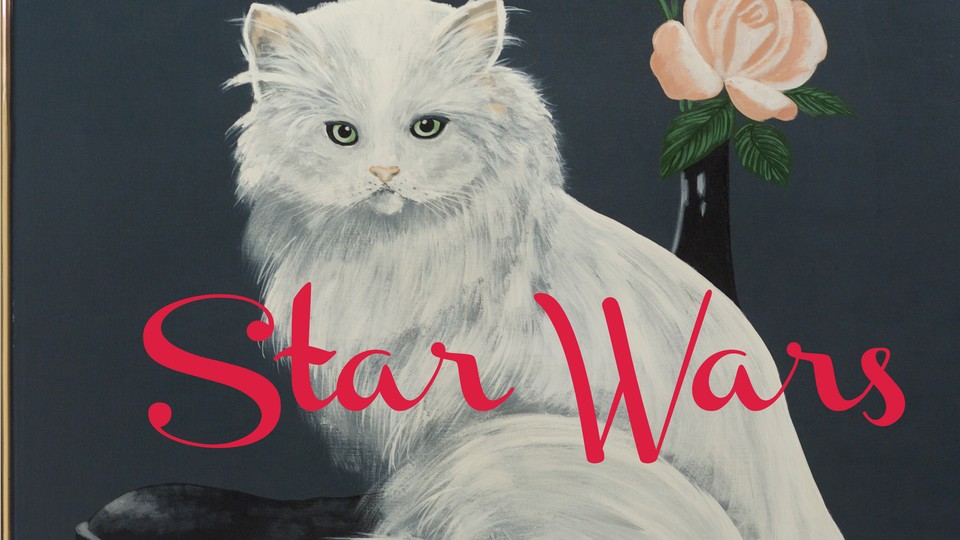 Why is the new Wilco album called Star Wars, and why is its cover a painting of a fluffy white cat? Here's hoping that we never really find out. "I cry / at a joke / explained," Jeff Tweedy sings four songs in, his voice a vampy impression of Bob Dylan's as the band lays down a fuzz-rock flamenco backing. The rest of the song is a barrage of riddles: "It's a staring contest in a hall of mirrors / I sweat tears, but I don't ever cry."
The song, "The Joke Explained," is a worthy entry in Wilco's long catalogue of songs that capture the idea of life as impossible to capture. Whether we're all speakers speaking in code or one-way radios transmitting nonsense, Wilco's adventuresome yet consistently tuneful music says that it's normal and sometimes glorious to misunderstand and be misunderstood. As they've kept chugging into middle age, this core artistic premise has often been obscured by the dismissive description "dad-rock," factually accurate though it may be (after all, Tweedy recently put out a record with his teenage son). Star Wars, the band's ninth album, released by surprise and for free on the Internet, reminds that Wilco aren't just reliable, safe rockers; they're some of the most generous experimentalists to ever pick up guitars.
A crackling 33-minute trip, the album has way more in common with '90s indie pranksters like Pavement than it does with the Americana scene that Wilco's long been associated with. While a few of these songs won't stick in listeners' heads for long, all of them feature a delightful sonic twist of some sort. You can tell what mood they're in within a second of turning on the opener "EKG," an instrumental whose migraine-frequency guitar stabs eventually lock onto a kraut groove that suggests liftoff into another world. In that world, we get a tune like "More…," which sounds a bit like Tom Petty's "Free Falling" except for the fact that its riffs pan between ears and the song drowns itself in distortion before the three-minute mark.
There's precisely one track that sounds like the stereotype of a Wilco song—"Taste the Ceiling," featuring acoustic strum, some soloing, and a tempo suited for lo-fi rom-com montages. It's fine. Far more wonderful is the closer, "Magnetized," which uses soft organ pulses and a theremin to portray love as something that warps a person as surely as an electromagnet warps a TV set. Another would-be ballad, "Where Do I Begin," interrupts its lullaby for a punk-psychedelic eruption in its final seconds. I wish the band had rode that noise wave longer, maybe adding a soaring chorus on top of it. But doing so might have defeated the point of the album—ambitions low, surprise factor high.
The most fully formed thing here is "Random Name Generator," which surges and struts as Tweedy riffs on the song title—his latest metaphor for the universe's insane incomprehensible beauty. "I change my name every once in a while," he sings with a touch of hair-rock hamminess, "A miracle every once in a while." It's impossible to know what he means for sure, but when I hear the song, I think about how this low-stakes, playful freebie of the album fits in with Wilco's many reinventions over the years. Fans, at least, should be able to appreciate it deeply. "Your prayers," Tweedy once sang, "will never be answered again."