The Summer of the #Squad
The history and context behind social media's new favorite hashtag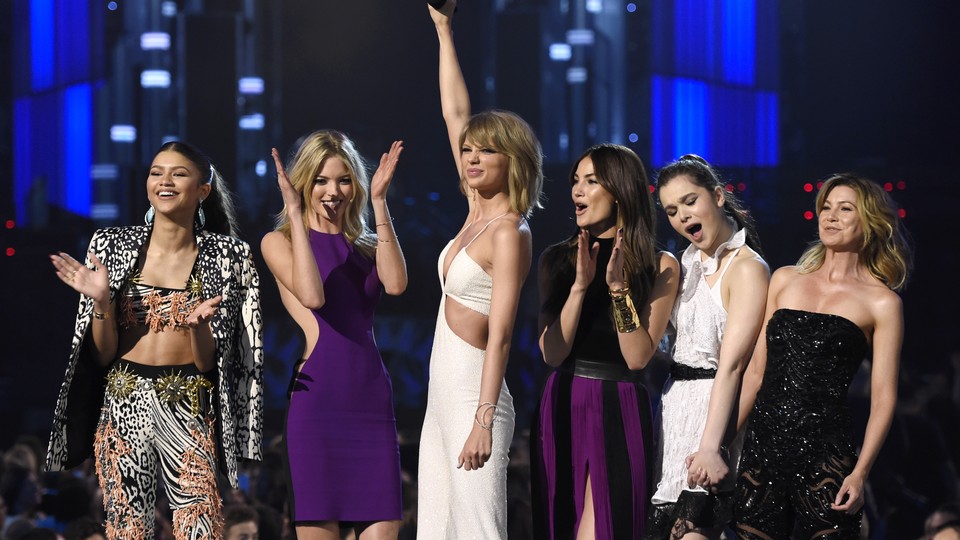 Ian McKellen and Patrick Stewart—actors who have taken, with glee, to the Internet and the culture that thrives on it—recently covered two tracks from Taylor Swift's 1989. McKellen spoke the lyrics to "Bad Blood"; Stewart, during a radio show, did a similar take on "Blank Space." Soon after, Stewart took to Twitter to let Swift know about the recordings. He concluded the announcement with a question: "May we join the squad?"
The request, apparently, was unnecessary. "You two," Swift confided to the actors, and also to her more than 60 million Twitter followers, "are the ULTIMATE Squad Goals."
Welcome to the summer of the #squad. The one that finds Cosmopolitan declaring that "North West and Penelope Disick are giving us #Squad Goals again," and The Huffington Post touting Sasha Obama and two of her pals as "the new standard for squad goals," and BuzzFeed listing not just the "16 Ultimate Squad Goals Through History" (these include Mt. Rushmore, the Rat Pack, the Mighty Morphin Power Rangers, and "Jesus and his disciples") but also the "34 Times the Game of Thrones Stars Made You Want to Be in Their Squad." The one that finds a marketing blog wondering, "Should brands join Snapchat's squad?" The one that finds Instagram users across the country tagging their friends, all arm-bent and hip-thrust and attractively filtered, as #squads, and Tumblr users, announcing their own #squadgoals, digging up pastelled pictures of the Golden Girls. The one that finds Taylor Swift touring the country, in a series of shows that are equal parts pop performance and religious revival, with her squad—or rather her #squad—in tow.
Swift is a performer not just of music, but of friendship. She takes the clichés of female camaraderie, young and old—"sisterhood," "besties," "goddesses" if one is being extra-giddy about it—and commercializes them. A handful of the shows on her 1989 tour have featured the sister-centered group Haim, and her concerts have featured surprise cameos from, at various points, the Swift-squadders Lena Dunham, Selena Gomez, Cara Delevingne, Karlie Kloss, Lily Aldridge, Jason Derulo, Lorde, the U.S. women's soccer team, and Swift's cats. (The shows have also featured, as gifts for every concert-goer, wristbands that transform an audience, via coordinated LEDs, into a sea of light—which is also to say, a massive squad.)
Swift is joined in her performance-of-pal-ery by Amy Schumer, who makes a point of casting her IRL friends in her TV show, and who, in June, hosted a series of stand-up acts called "Amy Schumer and Friends." And also by the Kardashians, who, say what else you will about them, totally roll as a squad. And by the celebrities—Kim K primary among them—who travel with, and are unironically reliant on, their "glam squads." And by the many, many magazines that delight in the aspirational aspects of squad-ing, announcing to their readers Tween Squad Goals (Brooklyn Beckham flanked by Jaden and Willow Smith) and sporty squad goals (the U.S. women's soccer team) and man-meat-y squad goals (Nick Jonas with Keith Urban and Pitbull) and more standard celebrity Squad Goals ("a fantastically random crew of stars — Arnold Schwarzenegger, Emilia Clarke, Jake Gyllenhaal, Cara Delevingne, and Tinie Tempah"). And by Lena Dunham, who recently posted the following picture to Instagram:
And by adorable puppies:
And by, late last year, Tumbr jokesters:
And by, because of course, #brands:
#Squad and #squadgoals, though their specific meanings vary in all the ways you'd expect terms used by both Patrick Stewart and Burger King to do, make a general assumption: that groups—be they composed of girls or boys or celebrities or musicians or Taylor Swift's cats or a mixture of all of the above—are more than the sum of their parts. "Squad" is the logical outcome of a cultural moment that brought about selfie sticks and "giving face": We are, collectively, fascinated by ourselves, as physical beings. And we are particularly fascinated by ourselves as members of groups.
Which is not to say, of course, that #squad is entirely new. The friend-group, as a social thing, is one of those long-standing features of human existence, like love and lust and mosquito bites, common almost to the point of dullness. As a word, too, "squad" is old: Deriving from the vulgar Latin exquadra, or "square," it dates from the 17th century, and has been used to denote everything from military units to sports teams to groups of cheerleaders, everywhere from battlefields to hip-hop lyrics.
But the more branded, more Instagram-inflected sense of "squad"— which is generally used as a noun, but which can also be used as a verb ("can't squad with us") or a noun adjunct (#squadgoals) or an adjectival modifier (when the whole squad's there, one is rolling "squad deep")—is more recent. (Urban Dictionary's oldest reference to "squad," for what it's worth, was posted in 2004.) When a squad is presented as a #squad, it is transforming itself, via the logic of media, from a social circumstance into a social product. It's transforming the generality of a group of friends—a collective that can expand or contract, organically—into a specific, and defined, thing. A branded thing. A #squad is a clique, commodified.
Lena Dunham recently got at that idea when she praised her squad-buddy, Taylor Swift:
I feel that Taylor has really taken control and said, "I'm going to get us all together in the same place, I'm gonna make it very clear that friendship is powerful, and women are magic, and if anybody thinks this is a witches' coven they might be right." She's just made it her job in a very cool way.
Dunham didn't mention "squad goals" there, but she might as well have. Her comment suggests what everyone who has shared a #squadgoal on Twitter or Facebook or wherever knows, implicitly: that the squad has a political flavor. It's not just a group, but a group that is powerful and meaningful in its very groupiness. If the group consists of women, that means something. If it consists of men or kids or the cast of Ferris Bueller's Day Off, that means something, too.
The squad, in that sense, pays tacit homage to the logics of social networking—connections, nodes—that Facebook and Twitter and LinkedIn and other services have laid bare. It also, in its celebrity form, understands the power of the commodified friendship. It's why Dazed magazine got Dunham, instead of a journalist, to interview Lorde for a recent profile, and it's why the Time 100 list, each year, features notable people profiling each other, and it's likely why Taylor Swift goes out of her way to credit her love life to Lady Gaga and to wish a happy birthday to Selena Gomez, and it's definitely why people freaked out over that selfie that Meryl Streep took with Hillary Clinton. For us laypeople, it's fun, and illuminating, to see celebrities interacting as (basically) normals. It's delightful to see them acting awkward and giddy and human together.
It's also sort of soothing. Because there is also something reassuring about a squad, whether it consists of celebrities or normal people. The squad takes the logic of the sitcom—a small social universe, carefully curated and hermetically sealed—and makes it accessible to the rest of us. And there's a certain appeal to that, on-screen and off. The squad is, ideally, a solid group of friends—friends who will be with you, season after season.
Which is also to say: The squad is a friend group that functions, in its way, as a family.
At a time that finds many people starting their own families—in the strict, having-kids sense—at older ages than ever before, that is significant. At a time when many people are marrying later and not marrying and opting out of parenthood and creating new and liberating social arrangements for themselves, too, it is significant. The much fretted-about shifts that are in turn shifting the American family have a corollary: Friendship may be more important than it's ever been before. It's providing not just the things friendship has always provided people—love, comfort, drama, joy—but also something deeper and more infrastructural. It is an organizing force in the culture.
So, sure. You could dismiss #squad and #squadgoals and their variants as simple fads of the linguistic Internet—soon to go the way of #yolo and all the other terms that, indeed, only lived once. (The BuzzFeed post that reported the interaction between Patrick Stewart and Taylor Swift is headlined "Taylor Swift Told Patrick Stewart And Ian McKellen They Can Join Her Squad." Its subheadline, though, is "We have reached peak #SquadGoals.") And we well may be in the twilight of the #SquadGoals. If we are, though, let's take a moment to celebrate them. While they might, in the most cynical sense, treat camaraderie as a commercial thing, they also assume something refreshing and powerful: that the one of the best things one can be is part of a group that is really, really awesome.