How 'Unchained Melody' Broke Free
The song began its life as a soundtrack to a prison movie. With the help of The Righteous Brothers, Leslie Nielsen, and some strategically molded clay, it became one of history's greatest love songs.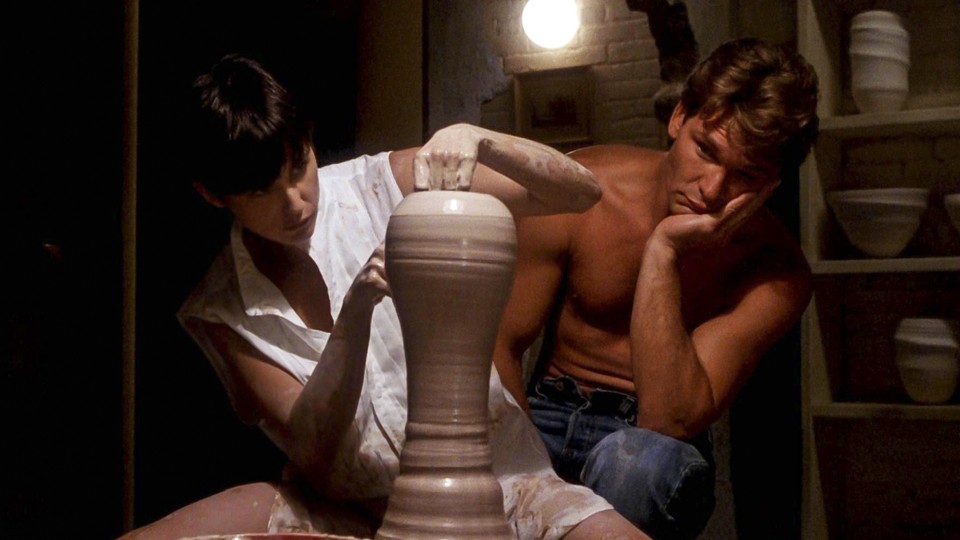 The iconic scene in
Ghost—
the one with Demi Moore and Patrick Swayze and that phallic clay and that Righteous Brothers' cover of "Unchained Melody" playing in the background—has been parodied everywhere from
Glee
to
In Living Color
to
Family Guy
to
Ellen
to
Saturday Night Live
to
Community
to
Two and a Half Men
to
Bob's Burgers
to
30 Rock
to
The Naked Gun
series to
Wallace and Gromit
.
Ghost
, released in mid-July of 1990, is now 25 years old; to the extent that the rom-com-meets-morality-play has endured in pop culture—in theaters, on TV, and now on the Internet—it owes much of its long lifespan to that literally pivotal scene. Not until
Don Draper's slide projector
would so much be evoked through a cinematically whirling wheel.
And that scene, in turn, owes much of its power to the song that accompanied Demi and Patrick and their nocturnal pot-throwing: "Unchained Melody."
The song—first released 60 years ago, in 1955—has a history that, like its eponymous tune, ebbs and flows at unpredictable intervals. The song that has served as a backdrop for dances and weddings was born as a soundtrack of a more conventional variety. It's named "Unchained Melody" not because it concerns itself with the various freedoms and captivations of romantic love, but because it was written, originally, for a movie about life in prison. Unchained, based on the book Prisoners are People, was a low-budget film released to limited acclaim in 1955. It features a scene, though, in which an inmate perches on a bed in his prison dorm and sings a song—accompanied only by a mournful acoustic guitar—for a group of his fellow prisoners: "Time … goes by … so slowly … and time can do … so much…"
Unchained Melody by Todd Duncan (Original 1955) by ron2612
That scene—a prisoner missing his love, basically, and wondering whether she will wait for him until he is freed—gave the movie its theme song. It was the co-creation of the composer Alex North and Hy Zaret, the lyricist otherwise known for Tin Pan Alley tunes like the Andrews Sisters' 1945 hit "
One Meat Ball
." (Zaret,
he would recall later
, was initially uninterested in giving words to North's tune. When he got the call from the composer asking for help with the lyrics, he replied that he was too busy for the job: He was in the process of painting his house.)
Though Zaret acquiesced to North, he rejected the composer's request to include the word "unchained" in the song itself. And that insistence proved prescient: "Unchained Melody," in short order, eclipsed the movie that gave it its name. The song, with vocals by Al Hibbler, rose to the top of the charts in 1955. So did another version, an orchestral recording. And the "Melody" mania spread across the Atlantic, as well, to the extent that "there were no less than four versions of 'Unchained Melody' in the UK charts in June 1955," as the music writer Terry Staunton
told the BBC
: "Al Hibbler, The Les Baxter Orchestra, our own Jimmy Young—and Liberace."
The song at the heart of all this enthusiasm, meanwhile, was nominated for an Academy Award. (It lost to a song that was its tonal opposite, and that has proved much less enduring: "Love Is a Many-Splendored Thing.") And then it followed the course that most hit songs will: It faded. It gave way to other things.
It was resurrected, though, some ten years after its first release. In July of 1965, The Righteous Brothers covered the song. And their version, the one that remains iconic 50 years later, was the one that would bring North's tune and Zaret's lyrics to jukeboxes across America, making it a standard not just on the radio and in films, but also as a kind of backdrop to everyday life.
And then came, in 1990, Ghost. And then came, in short order … everything else. "Unchained Melody," resurrected yet again by Demi and Patrick and their potting wheel, became newly iconic. It had shed its early associations with the romantic frustrations of prison life, and remains in the public mind concerned with a captivation of a different kind: that of the uncertainty that comes with romantic attachment.
In 1992, the American Society of Composers, Authors, and Publishers
issued "Unchained Melody" an award for being the year's most-performed song
. In 1999, the same organization
called it one of the 25 most-performed songs and musical works of the entire 20th century
, sung by several hundred artists both professional and less so (among them
Elvis Presley
,
Lena Horne
,
Bing Crosby
,
Henry Mancini
,
Harry Belafonte
,
U2
,
LeAnn Rimes
, the a cappella group
The
Pow Pow Girls
, the French pianist
Richard Clayderman
, the Irish flutist
James Galway
, and
Gheorghe Zamfir
, the "master of the pan flute").
Which is unsurprising.
Ghost
is, more than most movies, defined by its plaintive soundtrack. The film, when in its early production stages,
was initially going to go by another name
, a name based on the song that the film's producers had already chosen to anchor its soundtrack:
Unchained Melody
.