The Fickleness of NBA Free Agency
DeAndre Jordan's decision to renege on a deal to join the Dallas Mavericks showed the havoc individual players can cause simply by changing their minds.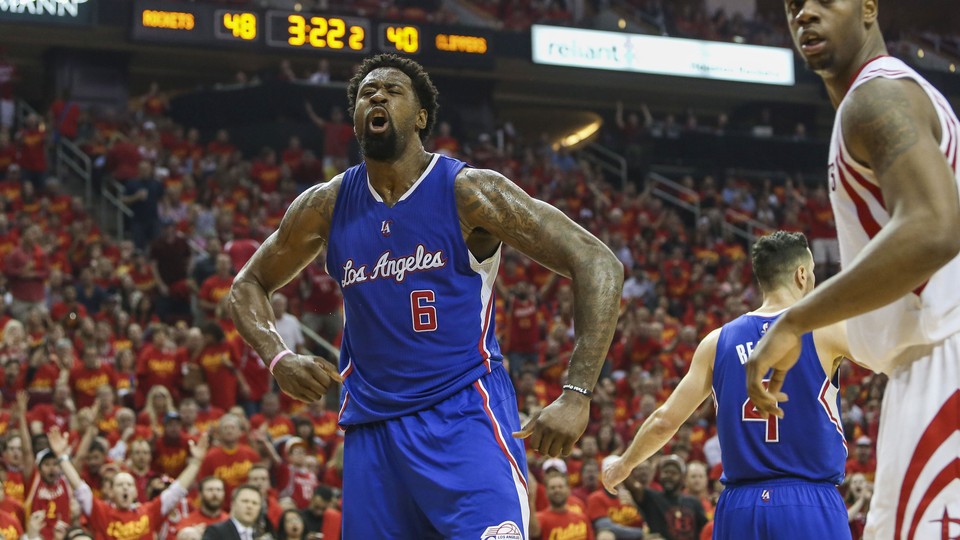 On July 8, the basketball star DeAndre Jordan did something not entirely radical: He changed his mind. As a free agent, he'd made a verbal commitment to join the Dallas Mavericks in the coming NBA season on July 3. Five days later, he reportedly had second thoughts, instead opting to re-sign with with his former team, the Los Angeles Clippers. Because of the structure of NBA free agency, where players have more than a week to negotiate with teams before formally signing any contracts, there was nothing that Dallas could do, even though Jordan was accused of breaking an "unwritten rule" in backing out. But the entire saga, embarrassing as it was, was the strongest signal yet of a huge power shift in basketball to its biggest stars.
It hardly seems surprising that the NBA's best players would wield a lot of influence in the league, but thanks to a very rigid system of salary caps and years of turmoil in the players' labor union, that hasn't been the case in years. When an NBA player is drafted, he's locked into a four-year salary at a set scale, and when that contract expires his current team is allowed the advantage of offering him more money than other teams to stay—making it tough to strike out independently. Jordan eventually opted to remain with the team that drafted him. But in the chaos of his flip-flopping, there was something novel about how he followed through with that decision. Holed up at home, Jordan refused to let his agent or Dallas's confused representatives in the door, instead playing cards with his teammates until the clock struck midnight on the NBA's contract deadline day. One of them, the Clippers forward Blake Griffin, tweeted a joke and a photo of a chair propped against his front door, barring any further meddling.
The particulars of Jordan's commitment to Dallas and his later reversal will likely come out over the next few days. Some reporters have speculated that his agent, Dan Fegan, had pushed for the move to Dallas because of his close relationship with that team. Others correctly pointed out that Jordan badly erred in failing to notify Dallas that he had changed his mind, leaving the team in the lurch without him. Most casual fans delighted in the social-media circus that ensued, with each member of the Clippers tweeting an emoji as they traveled from around the world to meet with Jordan. The guard J.J. Redick, driving from Austin, led things off with a car. Griffin, coming from Hawaii, countered with a helicopter. Chris Paul, the mercurial floor general whose tendency to bark at his teammates had been a rumored cause of discord with Jordan, displayed a rare flash of humor by tweeting a banana boat, a day after being photographed by paparazzi riding one.
But the overall message of the day was clear. Whatever the internal politicking among organizations and agents, Jordan's decision came down to him and his teammates assembling in a room and working things out. His wasn't the only NBA free-agency drama to resolve that way. The Cleveland Cavaliers forward Kevin Love, who had struggled to mesh with teammate LeBron James both on and off the court, had long been rumored to be looking to depart the team. Instead, he signed a five-year deal to stay, saying he'd hashed out things in an  "honest" conversation with James before doing so. The two were spotted chatting at a pool in Los Angeles in the off-season, and Love referenced the summit in a blog post. "Turns out pools are great meeting places," he joked. Again: two players, free of their larger organizations, figuring things out.
As he is with many NBA trends, James is at the forefront of this cultural shift toward free agency in general, using his status as the game's greatest active player to influence his team's decisions. His contract with Cleveland gave him the option to opt out after one year, which he exercised. He's returning to the team, but only made that decision official after Cleveland re-signed all of his favorite teammates, racking up the sport's largest payroll in the process. Though stringent salary-cap rules (devised after a 2011 lockout that was seen as a huge win for NBA team owners) prevent James from earning anything close to his true market value, he makes up for it by making sure his team doesn't cheap out on the rest of the roster.
For this reason, James's "passive-aggressive" use of the open market has been hailed by analysts as a subversion of a contract system designed to keep players from getting too much out of their teams. Grantland's Jason Concepcion called him "the most powerful player the NBA has ever seen" for his canny contract structuring. James hasn't been quiet about his discomfort at the salary cap. "I don't think my value on the floor can really be compensated for, anyways, because of the [collective bargaining agreement]," he told ESPN in 2013. "If you want the truth. If this was baseball [which has no salary cap], it'd be up, I mean way up there."
Jordan blundered through his decision to stay with his team, and James played it cool, but the end result is the same. The Clippers would have been lost without Jordan, just as the Cavaliers would be without James—mostly because of the restrictive salary rules, there was no replacement player close to either of their skill sets available on the free market. Teams are always allowed to re-sign their own players, but if their payrolls are above the salary cap (which both the Clippers and Cavaliers' are), it's harder to get new ones. Jordan and James will likely help their teams reach the playoffs again, as they have for years, guaranteeing tens of millions more in revenue. Without them, their teams would have been doomed to mediocrity.
The NBA's current contract with its players' union lasts until at least 2017, at which point the players are expected to opt out and seek a new deal, one that perhaps grants more flexibility in decision-making, or at least a larger share of the sport's skyrocketing income. Owners prefer a salary-capped league because it creates market parity, or else teams in bigger, richer cities could simply always try to outbid their competitors for star players. Would James still be playing for Cleveland in such a universe? Would Jordan stick with the L.A. Clippers, long regarded as minnows compared to their intracity rival, the Lakers? Perhaps not, but in restricting the movement of players and the amounts they can be paid, the contract has created an environment where one decision can mean life or death for a team. That could only be stripped away if owners decided to abandon the cap completely. But in trying to impose salary control, the restrictions have granted a different kind of power to star players—power that money can't buy.