The Astonishing Greatness of Serena Williams
After winning her fourth consecutive Grand Slam title on Saturday at Wimbledon, the tennis star has become one of the most accomplished American athletes of all time.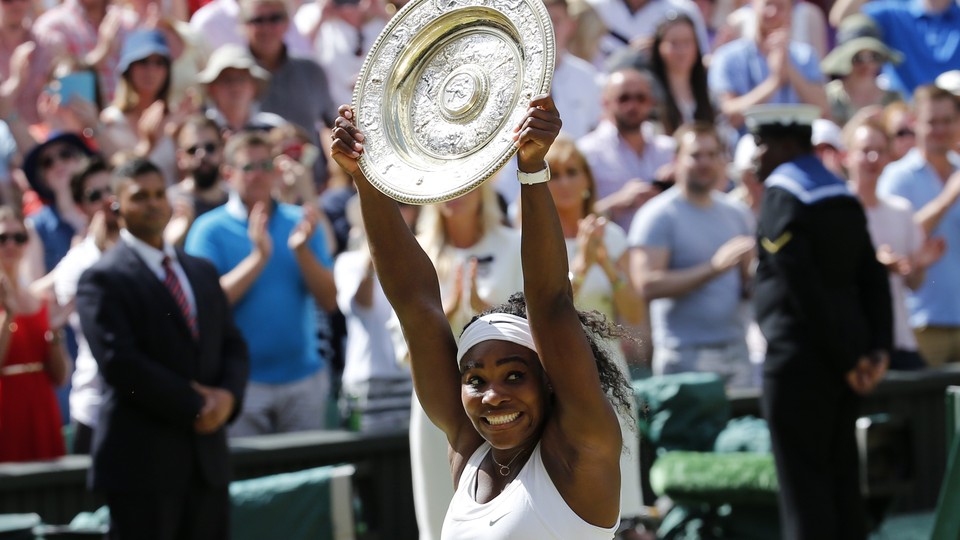 No major sport—with the possible exception of gymnastics or swimming—worships youth like tennis. The best athletes in basketball, soccer, football, and baseball tend to reach their peak in their mid-20s, an age when experience, physical strength, and wisdom converge. But the arc of a typical professional tennis career tends to resemble that of a pop star: Ascendant at 17, dominant at 21, washed up and finished by 30.
Serena Williams, too, was a teenage tennis prodigy, a precocious girl following her older sister Venus from Compton, California, to the sport's greatest stage. In 1999, the 17-year-old Williams won her first Grand Slam title, defeating Martina Hingis at the U.S. Open. More championships would soon follow, and before long Serena was mentioned in the same breath as the sport's greats. King. Navratilova. Evert. Graf. Williams.
But Serena, unlike the others, has forgotten to go into decline. On Saturday, the 33-year-old Williams defeated Garbine Muguruza 6-4, 6-4 to win her sixth Wimbledon title, concluding her 28th consecutive victory in a Grand Slam match. To the casual fan, another Serena victory has the shock value of a Meryl Streep Oscar nomination. But it's worth pausing, if just for a moment, to consider just how remarkable Williams' career has been.
The 16-year gap between Serena's 1999 U.S. Open win and Saturday's Wimbledon championship is the largest in women's tennis history. Muguruza, her Spanish opponent on Saturday, was five years old when Serena won her first Grand Slam title.
Serena's 21 Grand Slam victories are now the second most of all time since the Open Era began in 1968. Only Steffi Graf, the great German player who won 22 Slams in the 1980s and 1990s, has more. With four more titles, Serena would pass Margaret Smith Court with the most Grand Slam championships of all time, Open Era or not.
Serena is the current champion of each of the four Grand Slam events: the Australian Open, the French Open, Wimbledon, and the U.S. Open. Should she win her seventh U.S. Open this September, she'd become only the second player to win each of the four majors in the same calendar year. (Graf accomplished the feat in 1988.)
At 33 years and nine months, Serena became the oldest women's tennis player to ever win a Grand Slam title, eclipsing Martina Navratilova, who won Wimbledon in 1990 when she was a month younger than Williams is now.
Even before Serena's remarkable late-career surge, she was regarded as one of the best female tennis players ever to play. In the past year, however, she has transcended her sport and staked a claim as arguably the greatest American athlete of her era. Measuring dominance across different sports is an inexact science—how do you compare, for instance, a LeBron James to a Tiger Woods to a Serena Williams? But neither LeBron nor Tiger has yet matched Williams' combination of dominance and longevity.
As she overcame some early jitters and dispatched Muguruza on Saturday, it became clear that Serena has not lost an ounce of poise, strength, agility, or skill despite her relatively advanced age. We aren't just watching the greatest women's tennis player of all time. We're watching one whose greatest accomplishments, improbably, may be yet to come.