Taylor Swift and the Silencing of Nicki Minaj
One star uses the pretext of female solidarity to try and shut down another's frustration with the music industry.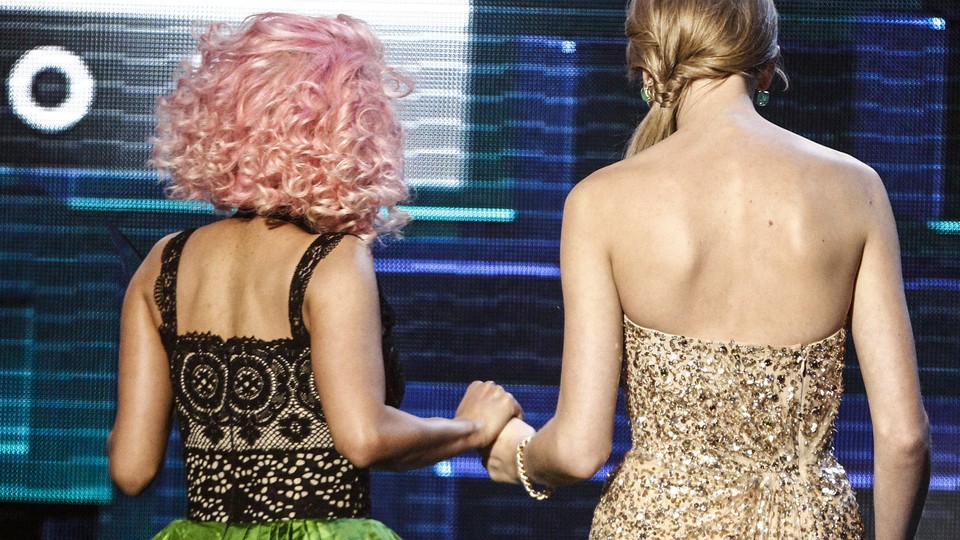 The most important word in the Twitter drama that unfolded last night between Nicki Minaj, Taylor Swift, and their respective fan armies was "Huh." As in Minaj's only direct reply to Swift: "Huh? U must not be reading my tweets. Didn't say a word about u."
Minaj had been arguing on social media that the MTV Video Music Awards hadn't properly recognized her clips for "Anaconda" and "Feeling Myself" in its nominations. Most relevantly, Minaj said that because "Anaconda" created a viral phenomenon that spread from red carpets to cathedral steps, it seemed strange it wasn't up for Video of the Year. "When the 'other' girls drop a video that breaks records and impacts culture they get that nomination," she wrote. "If your video celebrates women with very slim bodies, you will be nominated for vid of the year." Then she posted a bunch of smiley faces.
Though her name wasn't mentioned, Swift took this as an act of aggression. Her "Bad Blood" clip is nominated for Video of the Year, alongside works from Beyoncé, Kendrick Lamar, Mark Ronson, and Ed Sheeran. "I've done nothing but love & support you," she tweeted to Minaj. "It's unlike you to pit women against each other. Maybe one of the men took your slot." Cue hundreds of people making the obvious joke at the same time.
To the public, the actual awards at the Video Music Awards usually seem irrelevant compared to its ceremony's spectacles—Madonna's makeout, Miley's twerking, etc. But whether it's the VMAs or the Emmys or the Grammys or the Oscars, the last few years have made clear that accolades some people deride as arbitrary and silly still hold a lot of meaning for artists who feel condescended to by the entertainment industry. Recently, black creators in particular—the Empire showrunner Lee Daniels, the Selma director Ava Duvernay—have called out perceived snubs that, at the very least, fit a documented pattern of exclusion for minorities.
If anyone should be expected to speak out on this subject, it's rappers—like Minaj—whose art is in large part about standing up for their own worth. The VMAs, remember, were where Kanye West objected to Swift getting a prize over Beyoncé (he may have opportunity to do so again—"7/11," like "Single Ladies," really is "one of the best videos of all time—one of the best videos of all time!"). Last night, the MTV nominations set off a tweetstorm for another emcee, Minaj's boyfriend Meek Mill, who said,  "I don't really trip about the awards... I know they gone give em to the white kids doing it.... That's why we buy Rollie's and shit our own trophies!"
You can debate whether the "Anaconda" video is brilliant or bad, but you can't argue with Minaj that it was one of the most iconic pop-culture products of the past year, nor with the idea that a lot of people had a knee-jerk negative response to its glorification of big black butts. Her speaking up about those things doesn't mean she's dissing the other nominees. Yes, the video she'd most likely been referring to when talking about "slim bodies" was "Bad Blood," a montage featuring a lot of supermodels and skinny actresses in superhero getups. But she didn't question its merit; she even implied that it was commercially and culturally significant.
When Swift chimed in, it changed the conversation from woman versus institution to woman versus woman. Ironically, this is exactly the complaint Swift leveled against Minaj: "It's unlike you to pit women against each other." This fits with Swift's recent campaign against the Mean Girls stereotype of women as catty infighters; her 1989 shows have featured clips videos of her famous buddies telling the largely tweenage girl audience about how great same-sex friendship can be. The cause is righteous, but Swift's tweet to Minaj shows the limits of it. When female solidarity shuts down someone's honest expression of frustration at society, inequality, and racial and body-type bias, that's hardly progressive.
Minaj doesn't seem to want there to be any bad bl—um, hurt feelings between the two stars. "I love u just as much," she wrote in her reply to Swift, before sending some tweets about feeling mistreated by "white media" and retweeting followers talking about race and music. Swift's only other comment was a reminder of her own success and another assertion that friendship could fix all problems: "If I win, please come up with me!! You're invited to any stage I'm ever on." Huh?