Lil Wayne in Love
Free Weezy Album at first seems like pure swagger. But then you realize what's really on the rapper's mind.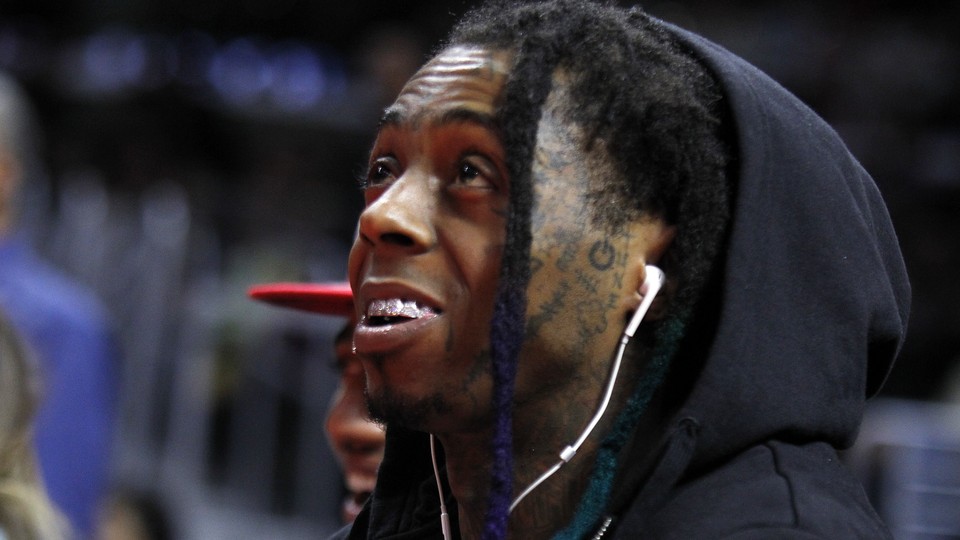 Lil Wayne feels good. We know this because the third song on his new release, Free Weezy Album, is called "I Feel Good." It samples the "I feel good part" of James Brown's "I Got You (I Feel Good)," and features Wayne sayings like, "I feel good / I'm smoking that good / I feel good / my girl got that good / yeah!"
It's certainly not surprising to hear a rapper thrilled with all the sex and drugs he has access to, but you can't take for granted this particular rapper's state of mind these days. His much-anticipated Tha Carter V album languishes on a computer somewhere, the victim of ugly fighting between Wayne and his longtime label boss and former mentor, Birdman of Cash Money Records. His output lately has been widely seen as inferior to the material of the late-Bush/early-Obama years when he credibly claimed to be the Best Rapper Alive. But FWA, released exclusively to Jay Z's new streaming platform Tidal, is supposed to make people forget all that. The cover art is literal flames. "I honestly gotta say that this #FWA album is my best work yet!" he tweeted. "I won't let u down as a fan."
For the first couple tracks, the album is, if not flames, at least hot enough to generate some excitement that listeners are in store for classic Wayne—which is to say filthy, entertaining, hugely imaginative nonsense. More than ever, he appears to be writing off of self-created prompts, picking a keyword and riffing on it. For track 1, "Glory," that keyword is "shit," and what results is a revolting yet creative flood of puns about stenches, coffee, coffee-related stenches—at one point, he crowns himself "Porta-Potty Tunechi." If the gross-out factor outweighs the entertainment factor for you, it's probably best to turn back now. On the next track, "He's Dead," Wayne, using an oddly loping verbal cadence, buries his Cash Money career and walks the land as newly undead. Naturally, he says, "bitches want to sleep with my remains."
But soon, the manic-spitter shtick begins to feel a bit put-on, hollow. "I Feel Good" squanders its no-doubt pricey James Brown sample by serving up a rap with next to no quotables. You could say something similar about "I'm That Nigga," whose infectious beat recalls a malfunctioning cyborg but whose boasts crest, weakly, with, "I'm having foursomes / Don't have to force 'em."
The truth is that the foursome talk does feel a bit forced. A remarkably large portion of the album devotes itself to songs of devotion—ballad backings with soaring melodic choruses around which Wayne mumbles about his main squeeze, whom listeners can assume is his girlfriend, Christina Milian. This doesn't mean he's no longer writing elaborate peans to oral sex, or that he doesn't dis faceless "hos"—he just does those things to praise the girl he loves.
In "Psycho," he's engaged in all sorts of stalker-boyfriend behavior, but gives it a strangely tender dimension by acting shocked by infatuation: "I never knew a girl would have me out here trippin' / I thought I was different, I thought I was pimpin." And on "Thinking About You," he uses his hardened ex-con image for a mushy, summer-jam singalong—"I was chilling on a set / With a fully automatic tec / Thinking bout you, girl." This isn't the first time Wayne has written about romance, but for him to do so with such focus and consistency feels new and sweet. (Or maybe I'm just high off this video of Milian coyly confirming their relationship.)
It's not just his current affair that has him feeling emotional. "Without You," one of many FWA songs with a melodramatically sung hook aimed straight at 2010 radio, offers an honest confession about pining for the one who got away. It's pretty relatable, even if the demands of hustling weren't the reason your last relationship failed:
Do you ever miss me?
Do you ever wish we get it right and the rest is history?
I wish I could go back in time and fix my lack of time
Because back then I had to grind, but see you thought I'd rather grind
You thought I had the time, thought I was lying half the time
And now I fantasize and agonize to pass the time
The lovely closing track, "Pick Up Your Heart," synthesizes Wayne's romantic longing, streets origins, and present-day ambition, and helps to explain some of what's come before. Over a muffled soul sample and strings, he talks about being worn out by people using him and by him using people—"I don't want to do it no more, no / But I got to get my paper baby." For the album's final moment, he delivers a spoken-word bit that references both a William Hughes Mearns poem and a Progressive Insurance commercial. "Yesterday I met a woman on the stairs that wasn't there," he drawls. "… She said I think you think I think you think of us." Then he makes a "hmm" noise.  It's a weird, ambiguous moment—is he talking about a lost lover? Success? A different life? You're not sure how Wayne feels for a second and that, in itself, feels good.