Rectify Is Still Television's Quiet Triumph
SundanceTV's Southern Gothic drama is entering its third season of critical acclaim and low ratings, but its against-the-odds existence bodes well for the industry.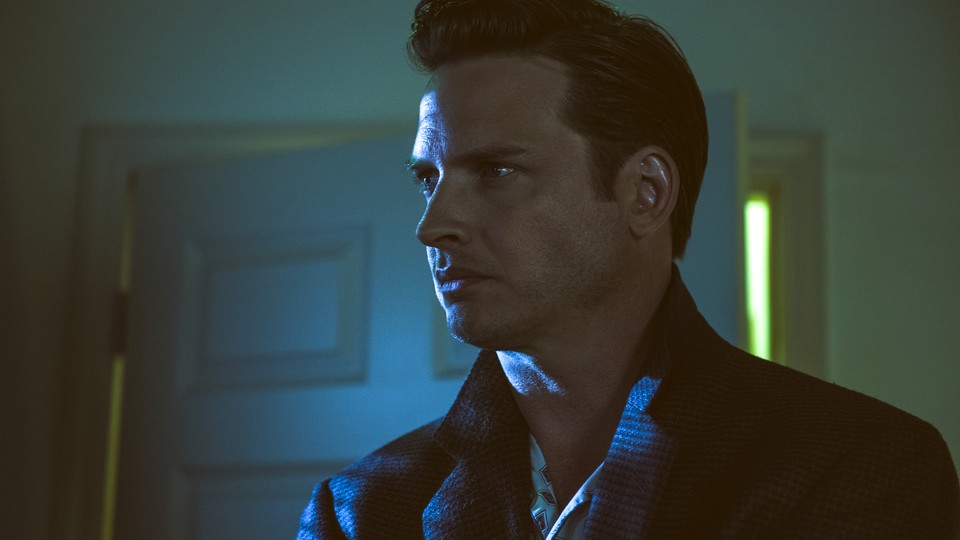 No television product wants the title Rectify has now claimed for two years in a row: the best show nobody's watching. Toiling away on the Sundance Channel, the Southern Gothic tale of a man freed from death row after 19 years has received the kind of rave reviews that keep a show on the air despite desperately low ratings, and it's back for a third season Thursday night. Rectify is slow and often hypnotic, but its deliberate style is all in the service of great storytelling, trading wild twists and turns for quiet poeticism.
To be sure, Rectify has much that could help it break out along the lines of previous basic-cable shows that took years to find an audience. It's critically championed, its entire run is available on Netflix, and it has a serialized narrative, with each episode usually only advancing the tale of the newly freed Daniel Holden (Aden Young) by a day or two. A show like AMC's Breaking Bad followed a similar trajectory—released to strong reviews but low ratings, only later to draw viewers in who could binge-watch its early seasons online. But Breaking Bad's serialization was outrageously breakneck and tense, laden with cliffhangers and Mexican standoffs—while Rectify charts a much more deliberate (but equally compelling) course.
Released after DNA evidence vacates the conviction that saw him sentenced to death 19 years prior, Daniel returns to his small Georgia hometown a free man, if not a truly exonerated one in the minds of his neighbors. Many still see him as guilty, even though it's strongly implied that he was coerced into confessing to the murder of his girlfriend because he was only 18 years old and didn't have a lawyer. The situation isn't helped by his somewhat bizarre demeanor—Young has a large, hulking presence with a piercing gaze, and he plays Daniel as a gentle, bewildering giant, often staring blankly through social interactions or taking pleasure in tiny cultural oddities that have sprung up in his 19 years away from the rest of humanity. As Rectify's story plays out, the audience remains unsure as to whether Daniel is truly guilty or not, and the show dwells on the uncertainty that's splintering his family and friends who worked to get him out of jail.
There's enough to the central plot to make for engrossing drama, but Rectify's true power comes from the smaller character moments and its mesmerizing dialogue. The question of Daniel's guilt is an interesting, but secondary concern—this is a show about the human condition, and how powerfully that can be rocked by a lifetime of solitary confinement. The show frequently flashes back to Daniel's time on death row in a windowless cell, talking through the grates to his neighbors, and absorbing as much life as he can through reading books.
Despite its prison setting, the story never feels exploitative or brutally violent, unlike most premium cable dramas today, but it also doesn't shy away from the mental and physical trauma of Daniel's experience. Young conveys so much in a look that there's rarely more exposition required to get the point. His family includes his fiery sister Amantha (Abigail Spencer), who's robbed of purpose once her brother gets out of jail, and his mother, Janet (J. Smith-Cameron), whose delicate manner around her son suggests the deepest compassion.
There are also dark family secrets left untold, an ongoing effort by the former District Attorney who convicted Daniel to get him back in prison, and unresolved story threads about Daniel's fellow high-school classmates who may have been the true perpetrators of the decades-old murder he was imprisoned for. Rectify's creator, Ray McKinnon (a character actor best known for his turn as the Reverend Smith on Deadwood), stays true to the general conventions of TV storytelling while adding his own flair for weighty but natural-sounding dialogue, and creating an authentic Southern setting stripped of cheap stereotypes.
Whatever the ratings, Rectify's future isn't in doubt—it was already renewed for a fourth season, and Sundance is clearly betting on it as the cornerstone of its efforts to establish a premium-cable brand, as so many networks before have done. The series is vital and different enough to do so, but if its consolation prize remains the "best show that nobody's watching" trophy for a third year running, that's still a testament to an expanded television universe that allows such quiet gems room to breathe without needing to justify their existence to advertisers.