Omar Sharif: A Legend of Old Hollywood
The star of Lawrence of Arabia and Dr. Zhivago has died at 83.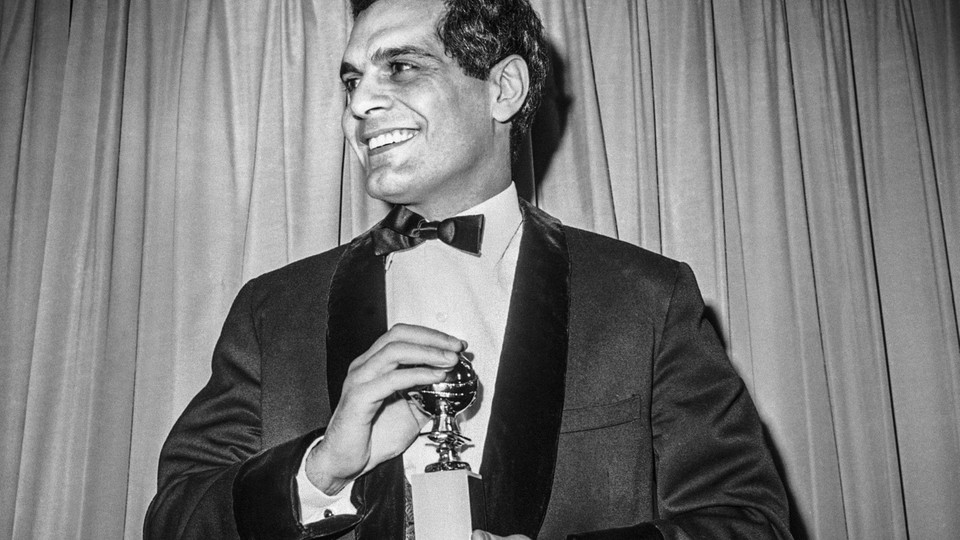 Omar Sharif, who died at 83 on Friday, will be remembered and mourned by cinephiles for his range and stature as a legend of old celluloid.
The Egyptian actor knew how to make an entrance. As Jack Beatty noted in The Atlantic in 1997, the iconic introduction of Sharif  in Lawrence of Arabia (1962) "originally ran for eight to ten minutes" and "was done in just one take."
Sharif also knew how to make a memorable exit, as seen in Dr. Zhivago (1965).
These two classic films, while not wholly representative of his entire career, offer insight into Sharif's remarkable career as an Arab actor in the Hollywood mainstream.
Prior to his star turn in Lawrence of Arabia, which earned Sharif an Oscar nomination, he had exclusively appeared in Arabic-language films. Christopher Hitchens noted in The Atlantic in 2003 that Sharif attended the same "colonial mock-English private school" as Edward Said in Cairo.
In an often recounted tale, Sharif explained how how the director David Lean first sized him up for the part of Sherif Ali. "They sent me a plane in Egypt to bring me in the desert, and the plane came down and there was one man [Lean] standing in the desert, and they stopped the plane in front of him," he told NPR in 2012. "I came down from the plane, and he didn't speak to me. He went around my head, to see the profiles, to see what kind of hair I have, what face I have."
Even as he became fast friends and drinking buddies with his co-star Peter O'Toole, the acculturation process wasn't seamless. Upon first meeting Sharif, O'Toole famously rechristened him. "No one in the world is called Omar Sharif," he said. "Your name must be Fred." The name "Cairo Fred" stuck.
Meanwhile, to play the lead in Dr. Zhivago, he "went through a daily routine of hair-straightening and skin-waxing in order to disguise his Egyptian looks and would later admit the film lad left him close to a nervous breakdown," the BBC noted.
Sharif's look, much like Leonard Nimoy who also died at 83 this year, made him a sought-after player for a wide and wild range of different roles. As the Associated Press explained on Friday:
He was Argentine-born revolutionary Ernesto "Che" Guevara in Che!, Italian Marco Polo in Marco the Magnificent and Mongol leader Genghis Khan in Genghis Khan. He was a German officer in The Night of the Generals, an Austrian prince in Mayerling and a Mexican outlaw in Mackenna's Gold.

He was also the Jewish gambler Nick Arnstein opposite Barbra Streisand's Fanny Brice in Funny Girl. The 1968 film was banned in his native Egypt because he was cast as a Jew.
According to a legend that Sharif himself promoted, he once received over 3,000 marriage proposals in a week. But he was married only once, to the actress Faten Hamama in a union that lasted 19 years and gave him a son, Tarek. Sharif was also one of the world's best bridge players, although he stated in an interview ten years ago that he'd given up the game. "I decided I didn't want to be a slave to any passion any more except for my work," he said. "I had too many passions, bridge, horses, gambling. I want to live a different kind of life, be with my family more because I didn't give them enough time."