The Aging Stars of Major League Soccer
A flood of highly paid, past-their-prime European players are coming to the U.S., raising questions about whether their star power helps the American game or hurts it.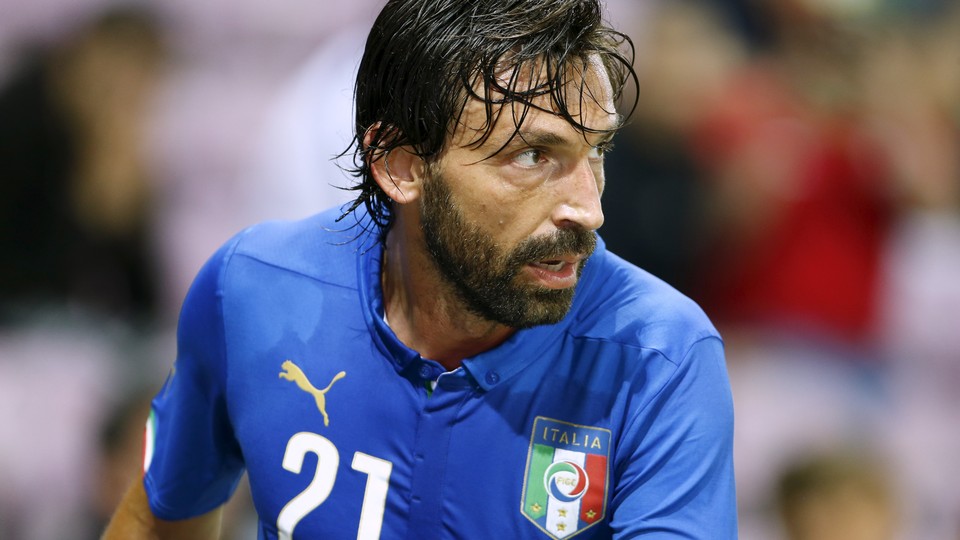 A year ago, at the twilight of a spectacular soccer career playing in England's Premier League, the midfielder Frank Lampard announced that he had signed with a team that had never kicked a ball before—a team with no history but thousands of fans and very deep pockets. New York City FC, the newly accredited arm of oil-rich Manchester City's now-global sporting operation, had snagged not only Lampard but Atlético Madrid's David Villa, another superstar player close to the end of his career. In doing so, the novice club upped the ante on every other team in Major League Soccer.
In its post-David Beckham years following the former England captain's retirement in 2013, MLS had seemed to be weaning itself off aging international superstars, even tempting American players home from Europe. Beckham had been MLS's first major signing when he joined the L.A. Galaxy in 2007, in a deal worth $6.5 million a year that helped raise the profile of soccer in the U.S., despite the player spending much of his contract on loan overseas. Without him, and with Michael Bradley and Clint Dempsey, two of the biggest-name American players of the last decade, ensconced in the league, MLS finally had an opportunity to focus on nurturing domestic talent.
But the Beckham effect, which significantly boosted both attendance and sponsorship revenue within MLS, hadn't gone unnoticed by club owners. Soon came Lampard (37), Villa (33), Liverpool's Steven Gerrard (35), Juventus's Andrea Pirlo (36), and A.C. Milan's Kaká (33), followed this week by Chelsea's Didier Drogba (37) and QPR's Shaun Wright-Phillips (33). Any squad fielding these players as a singular force ten years ago would have been considered one of the best teams of all time. Their combined trophies are too numerous to list. And yet, when they take the field, players earning in a year what these superstars make in a week will be passing them the ball, tidying up the play behind them, and doing the running their aging legs can't.
On the one hand, such an injection of European stardom promises renewed interest in MLS, which has already benefited from the boost of two World Cups in successive years. But the exorbitant salaries being paid to players long past their prime raises the question of whether the league is suffering from short-termism in its thinking. Can MLS, which aims to rival the best leagues in the world by 2022, capitalize on its global stars while capably fostering the next generation of American players, and securing its own future?
* * *
Last month, when the former Bayern Munich star Franz Beckenbauer was asked whether the star German player Bastian Schweinsteiger should leave his home country for the Premier League, Beckenbauer's response was telling. "Schweinsteiger still has one or two more years at the highest level in him," he said. "If he still feels like playing football then, I would advise him to consider a move to MLS and to New York."
For the European footballer in his 30s whose goals are drying up, and whose prospects include retirement or coaching younger players, MLS  is a refuge with a very generous paycheck, safe from the scrutiny and pressure associated with playing in Europe. But the question for American soccer fans is whether they should feel comfortable with a professional league that's the sporting equivalent of a Vegas residency for aging A-list musicians: essentially a retirement home with low stakes and a high payout.
Having such big fish play for such typically low-profile teams raises MLS's profile overseas, but the league's huge disparities in terms of talent, fame, and paychecks makes for some comical juxtapositions. Before he quit soccer at the end of 2014, the New York Red Bulls striker Thierry Henry (France's leading goalscorer of all time) was partnered with Bradley Wright-Phillips, a player who moved to the U.S. following a couple of months on loan at the League One club Brentford.
Perception, in this case, is reality to European soccer fans. No amount of defeats in meaningless pre-season friendlies to MLS sides will alter their understanding of a league where European dropouts can succeed so spectacularly. While this characterization is, in more than a few cases, unfair, MLS's long-term plan for sustainability is still a little baffling.
Some of the blame has to lie with the American sporting tradition of fairness in structure, a concept alien to the billionaire owners of the European game. Even if Bill Gates were to establish an MLS team tomorrow, Roman Abramovich-style, he could never hope to stock it with a squad rich enough to compare to top European sides, simply because of the salary cap and designated player system. In being allotted a maximum of three players who are exempt from a team-wide salary cap (which altogether would barely cover the individual paychecks of Europe's best individual players), MLS is geared towards having teams of workmanlike, poorly compensated footballers along with a smattering of superstars. Designated player salaries take a few hundred thousand dollars from the overall salary cap (a sum paid to players by the league), with the remainder, often a few million dollars, being picked up by the club owners. This system is at once both laudable and insular, preserving internal competitiveness while crippling it externally.
But American soccer has always had to struggle with the differences between local sporting tradition and global sporting norms. With its most popular sports played in America and hardly anywhere else, expectations from how those sports are structured were foisted onto soccer. Until 1999, soccer in the U.S. still mandated that each individual game have a winner, with MLS employing a variation of the ice-hockey-style penalty shoot-out to settle even league games.
The structure of a professional league like MLS is based on the ability to dictate terms before the product is created. No doubt, if Europeans could go back and start again many of them would agitate for a system that doesn't allow one or two teams to dominate as ruthlessly as the Spanish hegemony does, for example. It's a noble ideal, but in a global marketplace where money flows from oil pipelines into football stadiums with almost no restriction, it's the fastest way the U.S. could go about restricting the ability of its teams to compete on a global level.
Maybe competing with Europe isn't the whole point. Perhaps, by limiting at least partially the amount of money an owner can spend on a team, MLS is instead trying to build a future where the game's increasing popularity (thanks to big names) equals more young athletes choosing soccer over baseball or football, which in turn translates into success on the global stage. There's an assumption that all it would take for the men's game to explode in the U.S. is one World Cup victory.
But for a century of sporting tradition to be overturned, it will take something far more seismic than a series of internal dominoes toppling. MLS, which is much closer in revenue to the Canadian Football League than the four major U.S. sports leagues, is so far behind in terms of audience share and TV revenue that to become a priority in the U.S., both in the hearts of viewers and athletes, may require the wider sporting landscape to change irrevocably—more than even Lampard, or Villa, or Gerrard can allow.
* * *
What, then, of the young men earning an office manager's salary to pass the ball to Andrea Pirlo? The minimum annual salary in MLS, until quite recently, was $36,500, an almost unbelievably tiny amount for a job that involves playing professional sports in the richest nation on earth. It currently stands at $60,000 a year, the kind of salary a player might expect to receive in the lower reaches of the English game, at clubs playing in front of a couple of thousand fans a week.
It's not exactly a feast higher up the food chain, either. Average salaries in MLS rank 22nd in the world, below the Greek and Ukrainian leagues, even before the distorting effect that superstar salaries have on that number is taken into account. Minimum salaries are now fixed for the next five years. In the meantime, aging imports who don't take MLS seriously are banking obscene paychecks while the future players of the national team are barely making enough to buy a house.
In 2014, MLS stood at a crossroads. With a five-fold increase in TV money in its pocket, it could have invested in the American game by upping wages to a competitive level. Beckham and Henry had gone, Bradley and Dempsey were back, support was at an all-time high, and the USMNT was about to prove its worth globally. Instead, the 2015 season will see Europe's best players of half a decade ago trying to win a trophy that's largely meaningless to them, drifting around Montreal and Houston, dreaming of the Champions League.
Unless MLS's next bargaining agreement allows owners to build a squad, rather than restricting their investment to lower-division professionals with a handful of stars, it's hard to imagine how both the league and the U.S. game can realistically compete long-term with the rest of the world.