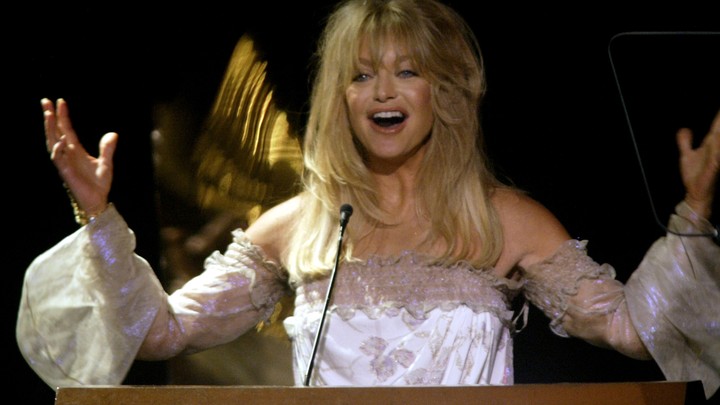 Updated July 6
Midway through Goldie Hawn and Michael Eisner's on-stage conversation at the Aspen Ideas Festival on Thursday, the former Disney CEO proposed a theory for what made Hawn stand out in Hollywood over the years.
"From my position, the hardest artist to find is a beautiful, funny woman," he said. "By far. They usually—boy am I going to get in trouble, I know this goes online—but usually, unbelievably beautiful women, you being an exception, are not funny."
It's a statement that recalls Christopher Hitchens's Vanity Fair essay, "Why Aren't Women Funny?," which drew big controversy upon its publication in 2007, given the success of women comedians from Lucille Ball to Tina Fey. For her part, Hawn said she agreed that she may owe her sense of humor to her being an "ugly duckling" growing up.
"You didn't think you were beautiful," Eisner said. "I know women who have been told they're beautiful, they win Miss Arkansas, they don't ever have to get attention other than with their looks. So they don't tell a joke. In the history of the motion-picture business, the number of beautiful, really beautiful women—a Lucille Ball—that are funny, is impossible to find."
Earlier in the wide-ranging discussion of Hawn's career and current charity efforts, Eisner had asked her about Hollywood sexism. She'd worked in can-can routines and even danced in cages in her early days, and the men who watched her were just as "disgusting" as you'd expect.
"I, by the way, for the record, never in 40 years was I ever offered a bribe, a favor, a date, or anything," Eisner said. "To me, I never saw any of that. But that exists in our world, where you go for an interview and people have other ideas, or is that just a fantasy?"
Hawn looked a little surprised. "You don't know my story?"
She then launched into a seven-minute anecdote of meeting with the humorist Al Capp to discuss her playing a part in a production he was involved in. Capp, Hawn said, propositioned her and exposed himself to her; later, the man who'd set up the meeting confessed to being Capp's "pimp."
"So when you ask about that," she said at the end of the story, "the answer is yes."
In recent years, Hawn established the Hawn Foundation, which seeks to teach children about how to free themselves from distraction, anger, and fear by practicing breath control and meditation in the classroom. She and her foundation assembled neuroscientists, educators, psychologists, and mindfulness experts to come up with a curriculum called "MindUP." Hawn said that she was inspired to work for this cause in part by the realization that young people in a post-9/11, Internet-addicted world face more uncertainty and negative stimuli than they may have before. She was also motivated by a desire to move away from acting given that the industry offers fewer roles to women as they get older.
"When you get to a certain age, you have to make a decision for yourself," Hawn said after an audience member asked about ageism in Hollywood. "If you want to get old in the industry and you want to play maybe a few parts that come along now and then—or what else in life interests you?"
Eisner chimed in to point out that both he and Hawn were able to find success at an early age—she as an actress at age 18, he as president of Paramount in his 30s. "I'm very happy that in this country you don't have to be 72 before someone recognizes you, as in some other countries," he said. "I'm very happy that swimmers peak at 14 or 18. It's okay."
---
After publication, Eisner sent the following note: "In the context of a public conversation with Goldie Hawn in which I was complimenting her on being both beautiful and funny, I said such a combination is hard to come by in Hollywood. I certainly did not say Goldie was the only one. My point was simply that Goldie, unlike many, has not been defined exclusively as one or the other."
We want to hear what you think about this article. Submit a letter to the editor or write to letters@theatlantic.com.
Spencer Kornhaber
is a staff writer at
The Atlantic,
where he covers pop culture and music.