How F.A.O. Schwarz Ushered Kids Into the Class Wars
From a $15,000 mini-Mercedes to a $30,000 dollhouse, the legendary store, which closed its doors this week, specialized in preparing children for lives of privilege.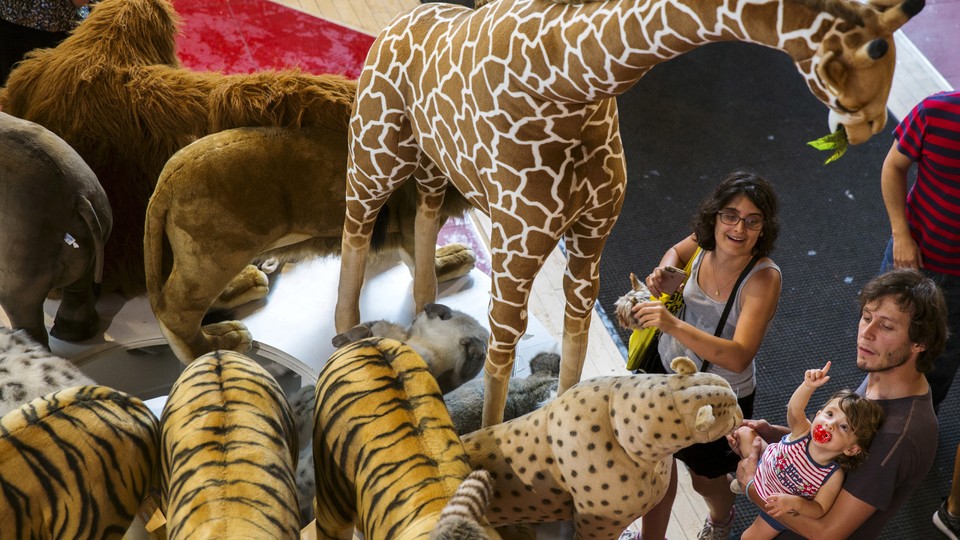 F.A.O. Schwarz, one of the oldest toy stores in the United States, is best known as the whimsical setting for the piano scene in the movie Big:
That piano, now, is no more. This week, citing the high cost of commercial real estate in New York City, F.A.O. Schwarz—"as much of a must on any tourist's itinerary as Tiffany & Co. or Bergdorf Goodman" according to Fortune—closed the doors of its flagship store, across from The Plaza Hotel on Fifth Avenue. Schwarz continues its sales online, and there's a chance, its current owner, Toys 'R' Us, has said, that it will open a brick-and-mortar operation in another, slightly cheaper, location. For now, though, that piano has been packed up. And so has, with it, Big's easy symbolism: that the basic ideas toys represent—a sense of wonder, a sense of play, a sense that the world serves primarily as a backdrop for fun—can endure into adulthood. That childhood isn't so much a stage as, yes, a state of mind.
But F.A.O. Schwarz, outside of Hollywood, didn't simply sell stuffed animals and dolls and model trains and other such traditional tools of childhood. That Toys 'R' Us bought the legendary company, in 2009, represented something of a downgrade for Schwarz, and that was largely because "us" implies an inclusivity that ran counter to the Schwarz brand. The store, instead, was best known for bringing the tenets of the "luxury good" to the toy market—for selling what CNN once called, simply, "pricey toys for rich kids."
That was an understatement; the toys on offer, particularly in recent years, weren't just "pricey," they were downright Trumpian. There was the $15,000 mini-Mercedes, gas-powered, with room for two children in its tiny seating area. There was the $30,000 off-road vehicle, designed, Schwarz said, to give kids "their first driving experience." There was the treehouse that came complete with its own tree ($12,000; "gift wrap," unfortunately, "not available"). There was the $9,000 "rocking zebra." There was the customized playhouse called "La Petite Maison," which had a starting price of $30,000, but rose in price according to its size, its architectural details, and the furnishings deemed fit for it by a "professional children's interior decorator."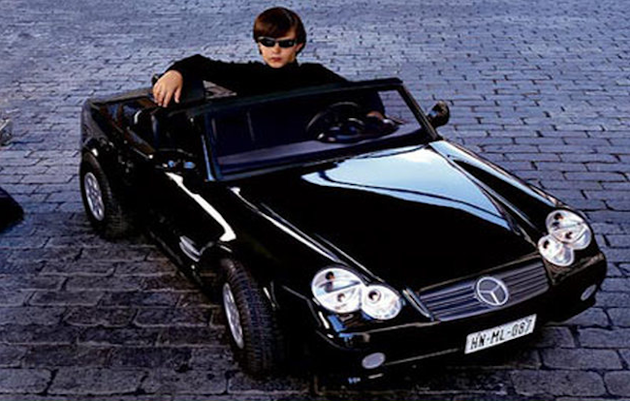 Toys, sure, have long been fashion items—for parents as much as, and sometimes more than, children. Playthings, objects on display both at home and in public, have long allowed for moms and dads (and also doting friends and relatives) not just to give commercial expression to their love for the kids in their lives, but also to demonstrate to others just how deep that love is. Toys, like most anything else one can purchase from a multi-level emporium on Fifth Avenue, have long been enablers of conspicuous consumption.
Toys have also long had, however, an educational function. Dolls, in particular, have served to model behavior for their young owners, whether that behavior involves parenthood or siblinghood or more general personhood. Barbies, G.I. Joes, Cabbage Patch Kids, Transformers, American Girls, stuffed animals—they teach caring and companionship, all cozily conscribed within a particular, doll-defined set of rules and expectations. Train sets and Legos and K'nexes and all the other manifestations of building blocks do similar work when it comes to modeling the world's material workings. Toys, of whatever category or brand, ultimately distill the realities of the adult world—physical, commercial, social—into easy, kid-friendly approximations. Into, in other words, games.
F.A.O. Schwarz, with its spate of high-end offerings, simply took all of that Piagetian logic to its logical extreme. "When children are used to living well," the brand's 2004 catalog explained, "they should play like this."
And they should, in the process, the catalog suggested, prepare themselves for the particular obligations that come with privilege—not in the great power/great responsibility kind of way, but in the purely commercial way. Schwarz's toys were not just toys, but also helpful primers for planned-upon lives of wealth. They were playthings that doubled as performances, instructing the kids who owned them in often unspoken and yet often all-powerful modes of luxurious living. (They should play like this.)
The code, unsurprisingly, included heavy gendering. For girls, Schwarz offered a $950 pavé diamond bracelet that billed itself, entirely unironically, as "starter jewelry." (It also offered an Etch-a-Sketch re-imagined as "the ultimate display piece," the toy featuring "over 10,000 dazzling handset sapphire Swarovski crystals.") For boys, there was a life-size model of the NBA superstars Jason Kidd and Allan Houston, made of Legos ($15,000). There was also a dinosaur-themed ball pit nicknamed, inexplicably but revealingly, "I'm the Boss."
In that sense, it is hard to mourn the closing of F.A.O. Schwarz. Particularly because its ethos—whether via a Mercedes Benz G55, recommended for children ages 3 to 7, or via all the similar toys that teach children not just about caring and community, but class—lives on. As Toys 'R' Us put it when it announced the closing of its flagship store, "The company is committed to the F.A.O. Schwarz brand and growing its legacy."