Demi Lovato's 'Cool for the Summer': The Next Great Gay Anthem?
It's the anti-'I Kissed a Girl,' which is a good thing.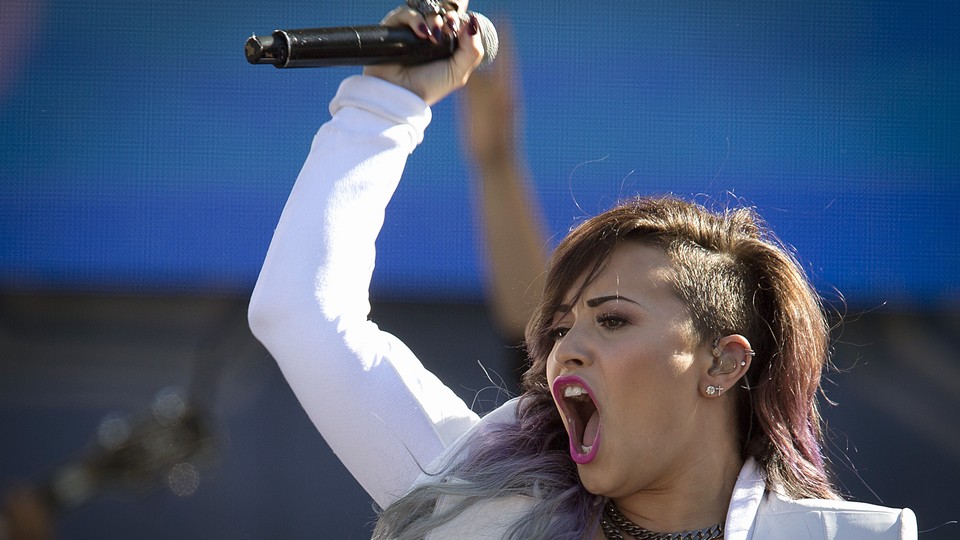 On her new single, "Cool for the Summer," Demi Lovato sounds like she wants to satisfy some bi-curiosity. The former Disney star, current X Factor judge, and recent charts fixture sings about having "a taste for the cherry" and tells a lover "don't be scared 'cause I'm your body type," while a big, distorted hook and a battering-ram beat commands all in hearing distance to start touching one another. Obviously, people are offended.
Those people are Katy Perry fans, complaining that the song too closely resembles "I Kissed a Girl," Perry's first-ever No. 1 hit. A line like "taste of the cherry," does, by all rights, recall Perry talking about the "taste of her cherry Chapstick," but Lovato took to Twitter to defend her new Top 40 contender. "Sounds nothing like it," she wrote. "And with all the advances we've made in the LGBT community… I think more than one female artist can kiss a girl and like it….. ;)"
That winky-face speaks to arguably the biggest thing "Cool for the Summer" and "I Kissed a Girl" have in common, outside of a Max Martin co-writing credit. In both songs, the singer's same-sex smooching is presented as shenanigans—sneaky, rebellious, unapproved. "It's not what good girls do, not how they behave," Perry sang in 2008; "Shh… don't tell your mother," Lovato cautions, in fine camp form, now.
But comparing "Cool for the Summer" to "I Kissed a Girl" just highlights how deeply un-gay, and maybe even regressive, Perry's song was. When Ms. "Ur So Gay" kissed a girl, she made sure to clarify that she liked it … because ChapStick tastes good. The lyrics worked hard to let the listener knows that Perry's kiss was a onetime, drunken lark, and that she was still definitely totally straight and had a boyfriend. "Ain't no big deal, it's innocent," she sang, which is to say, don't worry, no sexual desire here!
It was a fun song, and there's nothing inherently wrong with straight people talking frankly about their occasional un-straight activities—a world where doing so is common is one where queer people aren't so often seen as icky and weird. But on "I Kissed a Girl," Perry spent so much energy explaining her chaste motives that it almost seemed fearful, like one big, cutesy declaration of "no homo." A lot of listeners also accused her of donning lesbianism mostly for the entertainment of straight men, which is the kind of performance that encourages people to think of homosexuality as a silly indulgence or trendy choice.
Lovato's song, on the other hand, is all about desire. She wants the girl because she wants the girl. Her perspective is that of a newbie, but that doesn't make her a tourist; when she says "Even if they judge / Fuck it," she's going through the same process most every queer person has had to go through. Mostly, though, the song is about pop music's favorite topic: being attracted to someone hot. "Got my mind on your body / And your body on my mind" she says, rewriting the work of the still occasionally homophobic Snoop Dogg.
While an increasing number of queer musicians are making awesome music both for niche audiences and popular ones, there still aren't all that many modern, mainstream hits that explicitly reveal themselves as queer and sexual. "Born This Way" is all self-acceptance politics; most of the chartbusters by openly gay artists like Sam Smith are the ones with gender-neutral pronouns. Little Big Town's current country hit "Girl Crush" will no doubt invite comparisons to "Cool for the Summer," but that song uses lesbianism just as a metaphor—the singer wants a woman because that woman has her man.
You could argue that Lovato's message is too coded to be transgressive, or that it's a cop-out for her to relegate her same-sex desire to a secret summer fling. Though the actress and model Ruby Rose has said she slept with Lovato, Lovato herself has never publicly identified as anything other than straight (currently she's dating Wilmer Valderrama). Maybe she's pandering so as to secure a devoted gay fanbase, like Nick Jonas has been doing lately in various forms of undress. But the fact remains that even though people who are 100 percent straight can jump along to "Cool for the Summer," for once, it's not about them.