Taylor Swift Almighty
She just got Apple to change course on streaming royalties. Is she the most powerful person in music?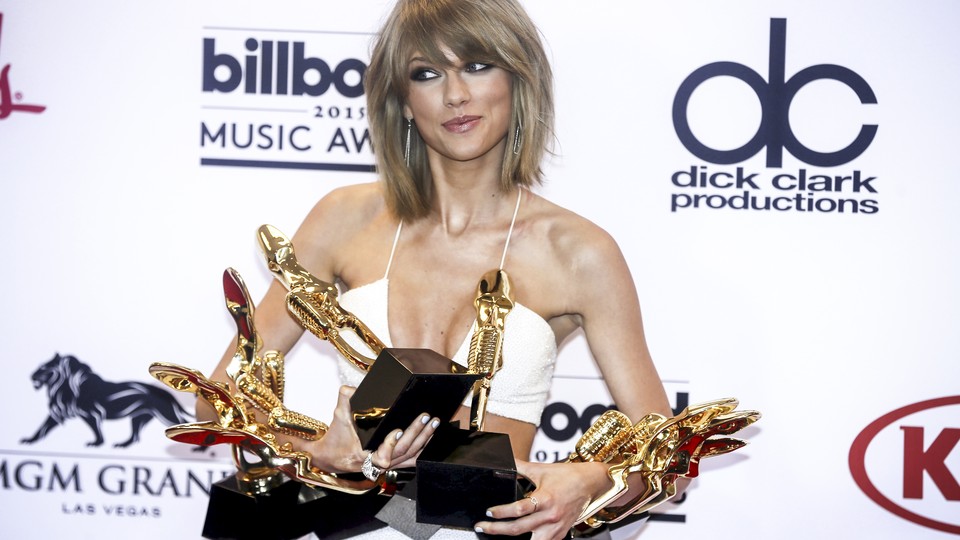 Very soon after Apple signaled it would reverse course in business negotiations because of something Taylor Swift wrote on the Internet, BuzzFeed published a list of 18 other issues Swift could fix by blogging about them. Spiders, people who walk too slow, Piers Morgan—what problems couldn't the singer solve? Meanwhile the same sentiment, awe at Taylor Almighty, was being shared across the Internet. Elvis Costello tweeted that she was "our future president." Industry observer Bob Lefsetz called Swift "the most powerful person in music."
Swift had intervened in a struggle brewing for weeks between Apple and the independent music labels, publishers, and artists it was negotiating with to license songs for the company's forthcoming on-demand streaming service, Apple Music. The sticking point: To lure customers to sign up upon launch, Apple would offer a free three-month trial period, during which, it proposed, it would not pay artists when their songs were streamed. Swift took to Tumblr on Saturday to explain she would withhold her most recent album, 1989, because Apple's terms were "shocking, disappointing, and completely unlike this historically progressive and generous company."
A day later, Apple VP Eddy Cue announced Apple would pay royalties during the free trial period. "We hear you @taylorswift13 and indie artists," he tweeted. "Love, Apple."
Is it really true that Swift made the most valuable company in the world switch its policy overnight? Cue told The New York Times that Swift's note "solidified that we need to make a change," which implies that he'd been considering it already. The service is set to go live on June 30, and as of now, Apple has nailed down agreements with the major labels but not the big independents. Recently, some of those independents publicly criticized the three-month trial terms and other aspects of the deal Apple had offered. A proposed solution, in which Apple would pay a slightly higher royalty rate in the long run in exchange for the free period, still presented problems: Albums released during the trial window would potentially make almost no money from the service, and other revenue streams could be hurt as consumers try out the new product. Could Apple Music have credibly launched for consumers without offering a huge portion of the independent catalog—including, for example, all of Adele's recordings? Observers were skeptical.
So, Apple might have come to this point even without Swift's note. Unless more info about the state of negotiations and Apple's internal calculations leak, it's impossible to know. Last year, Swift similarly called out Spotify for its "freemium" model and pulled her albums from the service, but that company hasn't changed course. The business calculation for Apple is different, though. It's launching something new and, with all its iPhone money in the bank, can theoretically afford the costs of three months of royalties; Spotify's popularity has largely been predicated on free offerings, and it has yet to turn a profit.
What seems certain is that the free-trial discussion, like most ones regarding rights and record labels in the 21st century, would have gone on without much public notice if Swift hadn't spoken up. Apple, whose brand is in large part about being culturally cool and a friend of the creative community, takes a very real hit when someone of Swift's status calls it out. She has the fourth-most Twitter followers of anyone in the world, and her "Swifties" are more fervent than many others. This is a woman who invites fans into her home, writes them handwritten notes, and pays for their student loans.
Often, people deride such fan service as being self-congratulatory PR work. But the truth is that all Swift's efforts to tend to her following—though music, through promotion, and yes, through baking cookies—amount to real-world leverage.* Beggars, the independent record company whose roster include Adele, spoke out against Apple Music's free trial days ago and had nowhere nearly the public splash Swift had. This doesn't necessarily make her the most powerful person in music—she can't commit thousands of artists to a deal like, say, Lucian Grainge, the head of Universal Music, can. But it does give her independence and influence.
Other artists have similar followings, but use them less effectively. Jay Z, Beyoncé, Madonna, Kanye West, Jack White, and the others artists involved with the streaming service Tidal have tried to create a competitor to Spotify and Apple Music whose appeal is largely based on the fact that they're the ones running it. The response has been tepid at best. Those artists, in essence, turned to the fans they've earned over the years and asked for money. When it came to Apple, though, Swift demanded nothing of the people who love her. She just pointed out something that she wished would change, and it did.
---
* This article originally stated that Swift is signed to Universal. In fact, she is signed to the independent label Big Machine, which is distributed by Universal. We regret the error.