Stan Wawrinka: Tennis's Unlikely, Deserving Champion
The Swiss native gave an astonishing performance in the French Open final, belying assumptions about the sport's biggest players.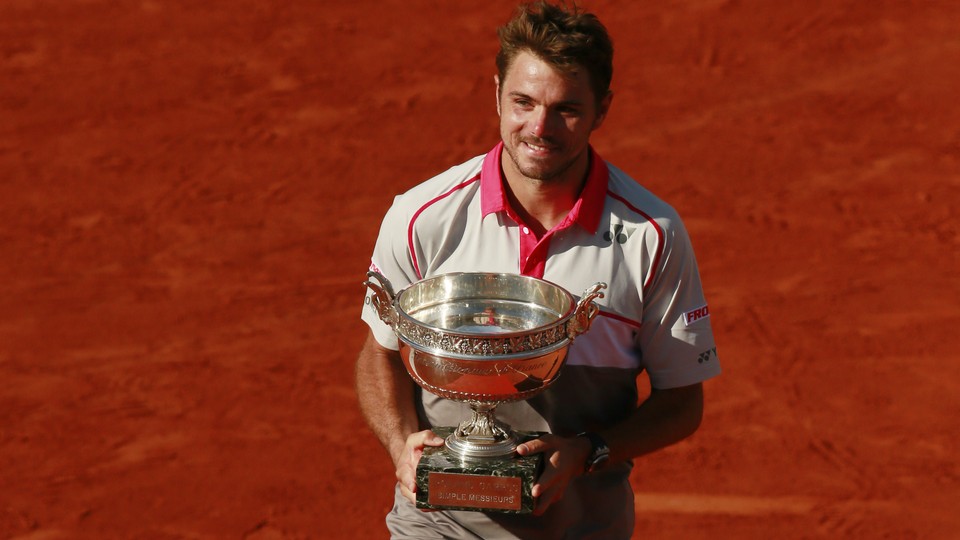 The most remarkable thing about Stanislas Wawrinka isn't his backhand, the devastatingly effective shot that confounded the world number one Novak Djokovic (whose backhand is often cited as the best in men's tennis) throughout Sunday's French Open final. And it's not that Wawrinka was able to upset Djokovic, who prior to Sunday's match appeared invincible on the red clay of Paris, 4-6, 6-4, 6-3, 6-4 to win his first French Open title. It's that Wawrinka doesn't look or comport himself like a Grand Slam champion. From his bright pink "pajama" shorts to his faintly dadboddish physique, the Swiss native looks more like someone you'd find at Home Depot than Roland Garros.
Each member of tennis's "big four" possesses an aesthetic that's both impressive and defined by something singular: Djokovic's sinewy flexibility, Rafael Nadal's bulging muscles, Andy Murray's tree-trunk legs and veined-forearms, Roger Federer's lithe grace. But when Wawrinka walks on the court, he doesn't exactly look like a world-class athlete. His shorts tend to ride a bit too high; his shirts always seem loose in all the wrong places. Tennis is a sport where players value personal appearance and strive to take the court looking impeccable and exuding style. Wawrinka, as he did on Sunday, often starts matches with sunscreen residue on his nose and cheeks, like a teenage lifeguard preparing for a long day at the pool. His signature shorts look like something your uncle might wear after rummaging through the attic. Style has never been his strong suit.
This isn't to criticize Wawrinka's sartorial choices so much as it's to affirm that upon first glance he might not seem like a player capable of demonstrating mind-blowingly beautiful tennis. But that's exactly what he did on Sunday, en route to the second grand-slam title of his career. Wawrinka didn't just defeat Djokovic; he displayed shot-making prowess of the highest order. His line-licking forehands and exquisitely angled backhands served as a reminder that tennis, when played at the highest degree, has as equal claim to the appellation "the beautiful game" as soccer or any other sport. Wawrinka's play incited so many "oohs" and "ahs" from the fans who gathered on court Philippe Chatrier on Sunday that it seemed at times as if they were witnessing a magic show or particularly adroit circus performance. He hit one backhand that has to be seen to be believed. Few, if any players—perhaps Roger Federer in his prime of primes—can say they simultaneously wowed an audience and thoroughly beat down a high-caliber opponent in quite the same way Wawrinka did.
His triumph means several things. It means he will never again live in the shadow of Federer, whose one victory at the French Open came at the expense of the inconsequential Robin Söderling (as opposed to a player of Djokovic's caliber). It means he'll step out of the circle of tennis's one-hit wonders; players like Gaston Gaudio and Thomas Johansson, who won a single grand-slam title and subsequently disappeared into professional irrelevance. It means that the men's game truly exists in a post-big four era—three of the past six grand-slam championships have been won by players outside that elite quartet, and Wawrinka owns two of those titles. It means he has as good a chance as any player on tour to win Wimbledon and the U.S. Open. (If he continues to play as he did during the past two weeks, there might not be a player who can beat him.)
At first glance, Wawrinka's ascension may seem unlikely. The 30-year-old spent the early part of his career toiling outside the top five, looking like a player who'd define himself by getting knocked out of major tournaments before the quarterfinals. He didn't win his first grand-slam championship until the age of 28; he didn't win his first Master's 1000 title until a few months later. Wawrinka's late rise to world-class player is, however, indicative of a broader trend in men's tennis: A sport that once favored fresh-faced youngsters has become the dominion of more seasoned statesmen. As NPR's social-science correspondent Shankar Vedantam reported in 2014, the average age of top players increased from 25 to 28 between the mid-early 2000s and 2014. Wawrinka has partially credited his late-career bloom to the former ATP pro Magnus Norman joining his coaching team, saying Norman has imbued him with a mental toughness and degree of self-belief that had been lacking in the past. He displayed that mental toughness throughout Sunday's final. He never lost his cool, even after dropping the first set, but rather went for big shots without hesitation until he had effectively hit Djokovic right off the court.
The outcome of Sunday's French Open final also means that Djokovic's career is becoming increasingly difficult to define. For the past four and a half seasons, Djokovic has, without question, been the most dominant player in the men's game. During that time he's won 19 Masters 1000 titles and three ATP World Tour Finals. He's spent more weeks ranked at number one than any other player. And he's accomplished all of this with a game that's so clinical and systematic that it seems unassailable. He is, in other words, the kind of player analysts and casual fans alike expect to win several grand-slam championships each season. At the start of every major tournament, he always appears untouchable.
Yet Djokovic's loss to Wawrinka brings his career record in grand-slam finals to eight wins and eight losses, a number that confirms both his ability to reach the highest stages of his sport and his frequent inability to cross the finish line. He's not a choke artist per se—the losses he's suffered are excusable in that they've come at the hands of players in peak form—it's just he's curiously unable to seal the deal at grand slams with the same ruthless efficiency he regularly dispenses at lesser tournaments. Of all the Open-era tennis players who've won at least eight grand-slam titles, only Djokovic and Ivan Lendl don't have winning records in grand-slam finals.
In all fairness, Djokovic played the more impressive tournament—he defeated Nadal in straight sets in the quarterfinals, marking only the second time the Spaniard has fallen at Roland Garros. Djokovic also stopped a red-hot Murray in a tough semifinal match that stretched over the course of two days. Wawrinka's path to the trophy wasn't nearly as formidable, and yet what most people will remember from the 2015 French Open is that Djokovic once again failed on his sport's biggest stage while his opponent put on a show for the ages.
Wawrinka's beautiful, attacking tennis trumped Djokovic's nearly impervious defensive style. The match was both breathtaking and surprising. And the fact that such stunning tennis was displayed by a player with such an unassuming, almost goofy demeanor makes it all the more remarkable.