The Soccer Moms
Until 20 years ago, women players who wanted to start a family would quit their careers. But more athletes are stepping up to the challenge of balancing motherhood with their love of the game.
Amy Rodriguez had just won an Olympic gold medal when she discovered she was pregnant. Rodriguez, a 28-year-old forward for the U.S. women's soccer team known as A-Rod, says her son, Ryan, is the "biggest blessing in her life," but initially, she panicked. She had no idea how her body would react or how willing she'd be to leave her son to go to training camps and tournaments. "I had no idea how I would do it," she says. "I just knew I wasn't ready to be done."
Having signed with the Seattle Reign in the third iteration of a U.S. women's pro league, she was expected to be their star forward. Instead, she spent the 2013 season watching the team play without her. In September of that year, a month after giving birth, Rodriguez went to breakfast with the Reign coaching staff. They told her they were eager to get her back on the field and gave her a tiny baby onesie with the team's logo. "I was like, okay, they are excited about me," says Rodriguez. "It meant a lot to me."
One month later the team traded her to Kansas City F.C.
Rodriguez had been traded before; she understood that it was a business decision. "I interpreted it as, 'Oh, they don't have faith in me, they don't think I can come back.' I was definitely motivated to prove to them, that, 'Hey, you probably should've kept me.'" While her husband Adam had family in Seattle whom the couple had been counting on to help with their newborn, in Kansas City their closest family members would be 1,700 miles away. Adam, a physical trainer, couldn't go with her. For the six-month long season, they would be forced to live "like a divorced household,"as she put it, taking turns spending time with their son.
Before becoming pregnant, Rodriguez had intended to wait to start a family until she'd finished her professional career. Now, she'd be attempting to follow the lead of the athlete-mothers who came before her. In 2015, there are more and more examples of female athletes who not only continue to compete after becoming mothers, but who also perform better after having children. Of course, that's not how the story unfolds for everyone. "I'd seen teammates come back really strong," says Rodriguez. "But for others, it was a lot more difficult—they had a rockier road." Athlete moms are up against more than the physical challenge of mounting a comeback. In the fledgling National Women's Soccer League, where players make as little as $6,800 a year, they face sacrifice, instability, and uncertainty—circumstances that become much more difficult to navigate when you're no longer thinking only of yourself.
* * *
In 1894, three years after giving birth to her son, Blanche Hillyard became the first of four mothers ever to win Wimbledon. In the 1948 London Olympics, the Dutch sprinter and mother of two Fanny Blankers-Koen won four gold medals—more than any other athlete at the games that year. In 1996, in the first year of the WNBA, the women's professional basketball league, Sheryl Swoopes, the number-one draft pick, announced her pregnancy—she missed the first two-thirds of the seasons but made it back onto the court six weeks after giving birth, leading the Comets to a Championship. Many WNBA players have followed her example—Tina Thompson, Lisa Leslie, Candace Parker all became mothers and continued to star in the league. In 2010, there were five mothers on the Los Angeles Sparks alone.
In the women's soccer world, in 1994, Joy Fawcett became the first player to have kids mid-career. She'd go on to play for another decade—she was the only competitor to play all minutes of the 1995, 1999, and 2003 Women's World Cups. She also played in the U.S.'s first attempt at a women's pro league, Woman's United Soccer Association, which grew out of the success of the 1999 World Cup. Playing for the San Diego Spirit, Fawcett was back on the field six weeks after giving birth to her third child. She breastfed her daughter at half time.
Her teammates reported that she came back from every pregnancy faster and stronger. Her U.S. teammate Julie Foudy told ESPN, "In the past, all those years before Joy, players would say, 'I'm going to retire because I want to have kids; I have to quit because it's time to start a family.' But Joy said, 'Wait, why do I have to retire, why don't I just keep playing and I'll pop 'em out in between World Cups and Olympics?'" Other mid-career soccer moms followed—Carla Overbeck, Kate Markgraf, Danielle Fotopoulos, Tina Ellertson.
The current national-team player Christie Rampone is Fawcett's successor as team super-mom. Rampone has two daughters, nine-year-old Reece and five-year-old Rylie. She'll turn 40 this month—the oldest player in Women's World Cup history—and is still one of the fastest and fittest on the team. Professionally, she's played in all three iterations of the women's pro league in the U.S. She was three months pregnant with Rylie when she won the 2009 championship of the Women's Professional Soccer league. "I always joke with Christie that she made it all look so easy," says Rodriguez. "I had no idea how hard it was."
* * *
Rodriguez wasn't the only women's soccer mother to give birth in 2013—the U.S. national players Heather Mitts, Shannon Boxx, and Stephanie Cox also started their families. Mitts announced her retirement from soccer, but Boxx, A-Rod, and Cox weren't ready to hang up the cleats; they all intended to make a run for the 2015 World Cup roster. All three women were considered long shots—in a country with an ever-deepening talent pool, it's harder and harder to hold on to your spot. As Rodriguez puts it, "When a player can't play, for whatever reason, another talented player steps up."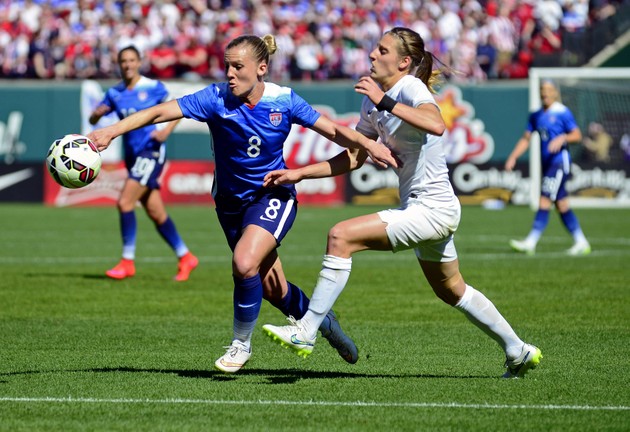 Cox, a defender with nearly 100 appearances with the national team, was Rodriguez's former Seattle teammate. (When A-Rod got traded to Kansas City, she gave her Seattle Reign onesie to Cox, saying, "You'll have more use for this than I will.") Cox gave birth four months before A-Rod did and made it back on the field for the last four games of the 2013 Seattle Reign season.
Boxx, at age 37, perhaps faced the longest odds: She had lupus, a chronic autoimmune disease that got worse during and after pregnancy. "Getting back to where you were is tough, especially at my age," she says. "It took my body a lot longer than I'd expected. I went off the radar for so long." She was away from the national team for two years before she came back into a residency camp in January 2015—which left only a handful of months to play her way onto the team. "I'd been on the team for 10 years. I'd won three Olympic Gold Medals—but now I had to start over and fight to get my spot back."
Between Rampone and the four national team players who gave birth in 2013, it might seem like the women's pro league is full of mothers, but that's not really the case. Most professional women's soccer players still quit before beginning families. This goes for stars like Mia Hamm, Julie Foudy, and Abby Wambach. It's also true for the players who aren't stars or on the national team.
With every successive professional league, salaries for non-national team players have gotten lower, in an attempt to keep expenses down and keep the league alive. The U.S. Soccer Federation subsidizes the NWSL, covering the salaries of the national team players. The non-national team players receive between $6,842 and $37,800, but most make nowhere near that top figure. In 2015, the league has seen a slew of retirements: "One-by-one this offseason, National Women's Soccer League players opting to retire possessed a common trait: They are women in their mid-20s, and are either at their athletic peak or nearing it," writes Jeff Kassouff for NBC Sports. It's difficult to make it in the league in the first place—throw in motherhood, and for most, it's impossible.
The NWSL commissioner Jeff Plush commented on the early retirements:
Anytime you have young players retiring it gives you reason to ask why. I would say the numbers are not that large relative to the entire player pool. I think we have to be careful and try not to evaluate our player pool through the prism of other leagues and especially men's leagues. Women are different. Women are quitting for a variety of reasons, including having families. Those are things to be celebrated. If someone wants to go back and get a master's degree to take a teaching job, those aren't negatives. The question is, are we doing what we can do to build a platform for our players to stay in our league for as long as they choose to. That's what we'll continue to work on.
Jenny Anderson-Hammond is one professional player who retired upon learning she was pregnant. While she'd played for New Jersey's Sky Blue F.C. in the WPS in 2009, she, like many of the other players, lived in an extended-stay hotel and worked a second job as a coach, fighting rush hour to make it back for team training. She saw her new husband, a teacher, once a month. These weren't the easiest circumstances, yet she thought it was worth it to continue to play the game she loved. But a child was different. In 2013, the third women's pro league was starting up, and Hammond had every intention of trying to make a roster. Half-Filipino, she was also slated to help the Philippines national team qualify for the World Cup. But when she found out she was pregnant, she opted to stop chasing the soccer dream. "I had a family to support now, I couldn't do it financially," she says. "I had to make a bigger contribution. I'd seen Christie (Rampone) and other players do it so I knew it was possible—but I don't know how."
Beyond Rampone, Cox, Boxx, and Rodriguez, there's only one other mother in the NWSL—30-year-old Jessica McDonald, the only mom in the league who hasn't played for the national team. But McDonald has made sacrifices, fought to make ends meet, and stayed in the game because—like Cox, Boxx, and Rodriguez—she too dreams of playing for her country.
In 2010, McDonald assumed her career was over. She'd had a disappointing WPS season with the Chicago Red Stars, tore her patellar tendon, and found out she was pregnant. Game over, she thought. But in 2012, she was offered the chance to play for the Australian W-League side Melbourne Victory and relaunch her career. "I took that ticket and ran with it," says McDonald. That meant leaving her new husband and baby for three months. "I felt fully attached to my family … leaving them behind was terrible," she says. But her lifelong dream had been to make the women's national team, to play in a World Cup. "After I had my baby, I didn't want that to be an excuse, the reason I stopped going for it."
In 2014, she was acquired by the NWSL Portland Thorns. Her husband, who worked a job in Arizona, didn't come with her—he kept working to save money so they could eventually be together. McDonald became the Thorn's leading scorer: She scored 11 goals, third-highest in the league, while her superstar teammates Christie Sinclair and Alex Morgan scored 13 goals between them. While she hoped her results on the field would earn her a call-up, that didn't happen. She's never been invited to a U.S. training camp, where players audition for the team.
Like Rodriguez, she too got unexpectedly traded. "It was a big adjustment for my family," says McDonald. They'd planned on finally living together in Portland; her husband had enrolled in firefighter school. "We had worked so hard to get things set up, to get his career kicked off," she says. "He's been supporting me for so long and once again, because of my career, he had to put his own on hold. You don't know where you're going to be tomorrow. It's kind of hard to plan a future."
McDonald and her family packed up and headed to play with the Houston Dash. Portland had a players-only policy at the apartment complex where they put up the Thorns—no significant others or families were allowed to live with the team, but McDonald talked them into letting her son stay, and eventually her husband, too. Houston, on the other hand, worked to accommodate McDonald—they found an apartment for the family and helped set up her husband with a job at the stadium.
On the field, McDonald has continued to excel—as of June 22, 2015, she had scored 5 goals, one goal shy of leading the league. "After having a child, my career just skyrocketed," says McDonald. Post-pregnancy, her body got stronger and faster. "You have all that weight to kill off—you're working 10 times harder." When she ran 120-yard sprints, a standard fitness test in soccer, she clocked times that were two to three seconds faster than her pre-pregnancy times.
* * *
After a woman has gone through the process of creating and delivering a baby, how is her body different—and what impact does that have on her ability to run at full speed, to perform? In recent years, there's been a theory gaining ground that having a child can actually boost your performance.
This discussion comes up most often in long-distance running, where improvements are easiest to track. Many runners experienced personal peaks after having a child. In 1984, the 27-year-old Norwegian runner Ingrid Kristiansen won the Houston Marathon five months after having her first child, then set the course record at the London Marathon four months later. In 1991, nine months after giving birth, the Scottish runner Liz McColgan blew away the competition in the World Championship in the 10,000 meters, winning by more than 20 seconds. In Feburary 2014, the Kenyan runner Mary Keitany broke the half-marathon world record, 15 months after giving birth. "I need to run well to give a good future to my son," Keitany, 29, told the National Post.
Research on the physiological effects of pregnancy on elite athletes is unclear. Very few concrete studies have been done on performance changes in high-level athletes post-pregnancy. With so many variables—how the pregnancy went, how the birth went, whether there was a C-section—it's difficult to have a controlled study.
Michelle Mottola, an exercise physiologist at the University of Western Ontario, told The Guardian in 2014 that she believes there's evidence to suggest that "super mom strength" is more than a myth: "With all the physiological changes that occur during pregnancy, it's not like you can turn the valve off and switch back to normal once the baby's born. The postpartum period can potentially last up to a year afterwards ... scientific evidence suggests that, in some ways, she may find performance a bit easier during this period because of the changes to her heart and her lungs."
Jim Pivarnik, a professor of kinesiology and epidemiology and the director of the Human Energy Research Laboratory, studies athletes during and after pregnancy. Like Mottola, he notes there may be changes in the body—such as a 60 percent increase in blood volume and a strengthened musculoskeletal system—that can benefit athletic performance in post-partum runners. But he also states that if there's any physiological advantage, it ends after the first two months. While most mother-athletes he interviewed reported personal heights in physical performance, Pivarnik believes this is less physiological and more mental—stemming from an "I'll show them" mentality.
Chris Lundgren, the author of Running & Pregnancy, saw her marathon times improve each time after she gave birth. She noted another aspect of the mental shift. "In the back of your mind when you're running a marathon is: 'This is nothing compared to labor,'" she says. "You have a totally different benchmark for pain."
Whether these outlier athletes' uptick in performance is credited to mental or physical changes, both Mottola and Pivarnik attach a caveat—every woman, pregnancy, and delivery is different.
* * *
During her pregnancy, Rodriguez gained 35 pounds and weighed almost more than her husband. "It was embarrassing," she says. "And my muscles got ... gooey."
Six weeks after giving birth, she was medically cleared to train—she had a post-natal physical therapist, a personal trainer, and a husband who was also a personal trainer. Her first day back in the gym, she was lightheaded, nauseous. "I thought, if I'm getting blurred vision and losing my footing just from lifting weights, what was going to happen when I hit the field?" Far from her pre-pregnancy fitness level, she started out playing with teenage boy club teams and youth national teams. Being on the field felt awkward—she had no strength, and her balance was off.
Every day, the U.S. fitness coach Dawn Scott sent her exercise regimes. Her parents watched the baby while she trained. She'd drop him off in the mornings, go work out, shower, come back, and be a mom. "I'd be pumping and breastfeeding, not sleeping, but I was so determined," says Rodriguez. "I'd missed the sport for months and months ... I could not wait to get back."
Her hard work paid off. In January, Rodriguez was invited to her first U.S. training camp since giving birth. Because her son wasn't a good sleeper, she'd sleep in three-hour stretches at night before waking up the next morning to train. "And not just train, but train with the best players in the world. And not just train, but have to stand out," she says.
Four months after getting back on the field, she lined up for one of the U.S. speed tests, a 40-meter dash—and to her shock registered the fastest time on the team. (She explained it with the fact that she had spent all winter preparing for the camp while other players had taken some time off.)
Before the start of the pro season, she said goodbye to her husband and headed with her son Ryan to Kansas City, where she moved in with Lauren Holiday, a longtime U.S. teammate. Holiday's cousin took care of Ryan during training sessions and games. Holiday helped out too: "She became his other mom—she'd play with him while I'd go pump, make baby food, or shower," says Rodriguez. Ryan came along on road trips, and the entire Kansas City team took him in. "It was like having 20 aunties who wanted to play with him all the time."
In the first game of the 2014 season, Rodriguez scored ... and she just kept scoring after that. Logging 13 goals in the regular season, she was the second-leading scorer in the league. She led her team to the league championship, where she faced none other than Seattle, the team who had traded her. And Rodriguez scored both goals in the 2-1 victory.
Rodriguez fully believes being a mother has made her a better player. Kicking a ball is no longer her number one priority, and that, somewhat counter-intuitively, has helped her career: "As a forward, you're required to be composed in front of the net. I think the reason why I scored so many goals this year is because I was more relaxed. I know now that my son is what's important in my life. Soccer, I just play for the enjoyment."
Rampone also believes motherhood made her better on the field: "Before kids, as a player, you have a tendency to over-think stuff. You've got too much time on your hands—you sit there in the hotel room over-thinking, stressing out, imagining things. As a mom you can't do that—you're focused on your true problems. The real things. And that really helped my game."
* * *
Of the four new mothers in the league—Cox, Boxx, Rodriguez, and McDonald—two made the 2015 World Cup Roster.
Cox wasn't selected for the final 23. "I knew that if [it] doesn't work out, I need to be OK with having to be done," she told KUOW. "I think you have to be willing to let it go if you're going to get pregnant." Cox continues to play for the Seattle Reign. "I'm having too much fun to be done."
McDonald continues to hope that her success at the professional level will eventually lead to an invite from the national team. She now has her sights set on the 2016 Olympics. "I want to be able to tell my son that I went for it," says McDonald. "I want him to be proud of his mom."
Boxx and Rodriguez made the team, and have spent 2015 balancing motherhood and national camp. This often requires leaving their kids at home. "Ryan's at that age where he's not going to remember … but I remember," says Rodriguez. "It's super hard to let go of him when I go into camp. When I'm leaving, I'm crying … I'm super emotional when it comes to my son and being his mom."
Often, the kids do get to come to camp. U.S. Soccer supports the mothers by paying for nannies at training camps and tournaments. (This is not yet the international standard—each World Cup team with mothers has its own policy.) And the children's presence is embraced—one U.S. Soccer video features players competing for the affections of Rampone's youngest daughter on a road trip.
Beyond the effect of motherhood on elite athletes, there's the effect of the elite athletes on their kids: Rampone's daughters, Rylie and Reece, have traveled with the national team on and off since they were born. "They've gotten to see the world. And being with the team, they get to see and connect with different personalities."
Both Boxx and Rodriguez think the chance to share the experience with their kids is worth the challenges. "Knowing my daughter's at my games, it's the coolest thing," says Boxx. "Even though she's too young to know what's going on—just to have her there in the stands, to take her picture and to be able to say one day, you were there—you were a part of this experience."
Rodriguez says, "I want Ryan to see me as somebody who can go after a gold medal, or a World Cup—I want him to be proud of me."
Rampone, Boxx, and Rodriguez have all gotten onto the field in the 2015 World Cup. Only Reece is old enough to begin to understand the lengths her mother has gone through in order to be there. But all four kids are watching, absorbing the buzz of excitement as their mothers attempt to bring home the Cup.
* * *
In U.S. Soccer's "Back Home" video series, Rampone heads into her New Jersey basement to give a tour of her 16 years worth of soccer memorabilia—she holds up a giant cut-out of herself in a professional soccer jersey. "This cutout actually saved me with Reece a couple of times when I had to step away," she says, referring to the times she'd stick the cutout in front of baby Reece to console her.
Fast-forward to June 22, 2015. Before the USA's game against Colombia in the knockout round, Reece once again looked up to a larger-than-life image of her mother: Rampone tweeted the picture of her daughter standing in front of the wall-sized poster of the U.S. team, alongside the caption "Game Face." Reece's pose is identical to her mom's—arms folded, face defiant.