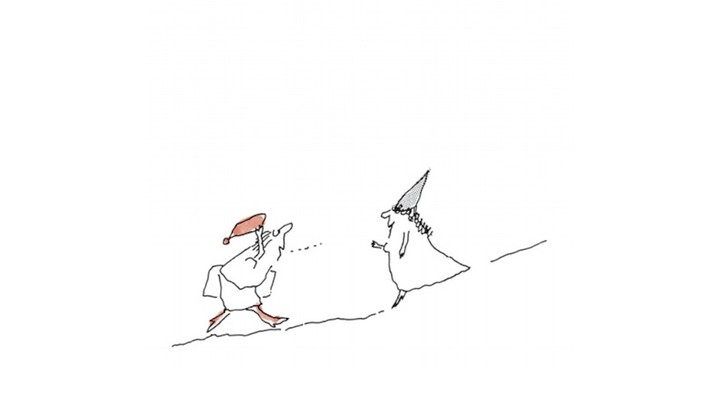 One of the great examples of the graphic novel form was published decades before people started using the term. Originally released in 1953, R.O. Blechman's The Juggler of Our Lady offered a satirical, visual retelling of a classic medieval Christmas tale of the same name by the French novelist Anatole France. The story is simple: An innocent juggler named Cantalbert sets out to save the world with his talent but is scorned and ignored by everyone he meets until an encounter with a statue of the Virgin Mary changes his life.
Though the original edition of the book was not a bestseller and went out of print by the late 1980s, The Juggler became well-loved for its innovative, poetic blending of text and image. Maurice Sendak's posthumous introduction to a new reprint of The Juggler (to be published by Dover Graphic Novels this summer) is a convincing argument for why this vintage volume should inspire a new generation. "I treasure my first edition of Juggler, and the memory of its effect on me is still fresh," he writes, praising Blechman's uniquely demure yet expressive squiggly-line drawings and  delicately handwritten texts.
In his introduction, Sendak calls the book the "blueprint for things to come," and a huge influence on many conceptual editorial and advertising artists of the time (along with Blechman's award-winning TV commercial for Alka Seltzer where a talking stomach in a chair sitting across from its own body complains about the gas-inducing junk it had to consume). Doubtless this had a lot to do with the artist's uncompromising attention to detail, which led to his working and reworking every squiggle before releasing the final. Moreover, Blechman's literary-pictorial virtuosity countered the notion of the illustrator as slave to another's text.
Blechman's adaptation enlivened the original story with its emotional representation of the human comedy—and in the reprint's new foreword, Jules Feiffer compares Blechman's work to Samuel Beckett for its "spare, stoic ... pratfalls of defeat." But "where Beckett evokes despair," he adds, "my old friend Bob, who is an American after all, insists on an ending of hope," tempered by a message that cautions against "the mainstream of pious shits" determined to take the joy out of life (and Christmas).
As freshly subversive today as it was when it debuted in Joe McCarthy's postwar-America, The Juggler 's deceptively naive drawings lull the reader-viewer into a sense of calm before shouting their message of human values and social justice. However, for Blechman the message was only part of the calculus. Having grown up in the 30s, he loved both films and the Sunday comics, and The Juggler offered him a way to combine the two.
The choice of The Juggler was something of a chance encounter; Blechman said the subject picked him, rather than the other way around. After graduating college, he proposed his thesis for a seminar in humor—a picture-and-text book titled Titus Fortunatus: How Rome Fell—to the publisher Henry Holt. The editor said they only considered picture books with a holiday theme, so the next day, he found the short story, and finished writing and drawing the entire book that evening.
In 1954, The Juggler was made into a short animated film in with Boris Karloff as the narrator. Gene Deitch at Hubley Studios, who later became the head of Terrytoons when it was acquired by CBS, asked Blechman to work on the film as an animated Christmas "card." It is just one of many odes and nods to the holiday he's done and continues to do, including No Room At The Inn and Simple Gifts. "As a Jewish kid in Brooklyn," he says "Christmas was always forbidden territory, but there it was, all around me when the Christmas season began. Like a bacon, lettuce, and tomato sandwich, Christmas became an adult obsession."
Blechman, now 85 years old, has spent a lifetime telling and illustrating stories. "The Renaissance had a saying," he says. "'Every painter portrays himself.' I believe that every work of art is to some extent autobiographical. How can it be otherwise since it is your pen, your brush, your eye, ear and head creating the work?" This new Dover edition ensures that a version of his distinctly original edition will remain in print for a very long time. Yet despite its lofty status, Blechman has one predictable reservation: "I would love to redo the drawings. Many of them are so primitive. But they're honest and authentic, and maybe that's their charm."
We want to hear what you think about this article. Submit a letter to the editor or write to letters@theatlantic.com.
Steven Heller
is a contributing writer for
The Atlantic
, the co-chair of the MFA Design program at the School of Visual Arts, and the co-founder of its MFA Design Criticism program.