Ornette Coleman, Still the Shape of Jazz to Come
The saxophonist, composer, and free-jazz innovator, who has died at 85, remained one of the genre's true polarizing geniuses right up to the end of his career.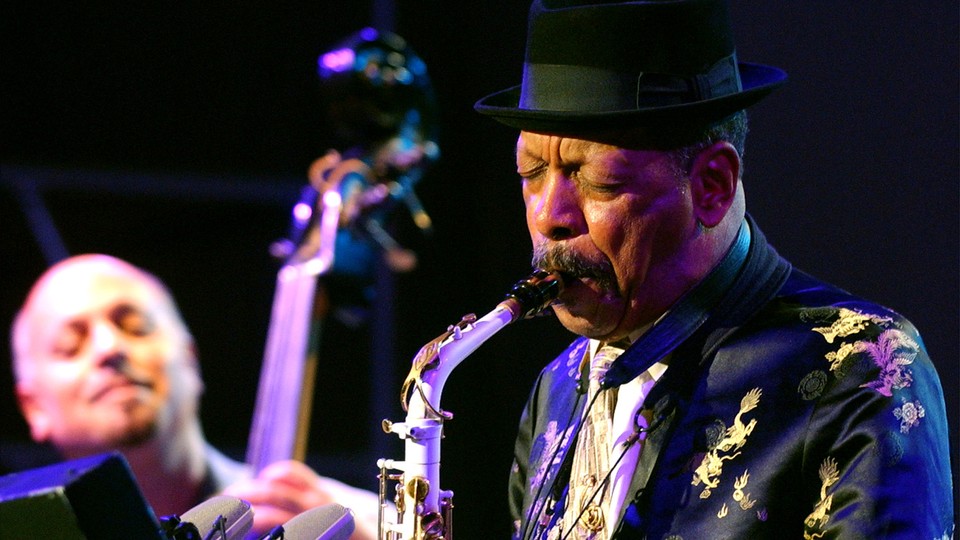 Jazz's version of the famous—or infamous—1913 Armory show that introduced Americans to modern art came on November 17, 1959, when Ornette Coleman began a run of shows at the Five Spot Cafe in New York.
It was an era when giants walked the jazz landscape. Charlie Parker had been dead for four years, but bebop, his brainchild, had propelled jazz to musical peaks, even as the genre's commercial appeal faded. Miles Davis's Kind of Blue, perhaps the greatest jazz record ever, had just been released. John Coltrane's Giant Steps was about to ship. Then Coleman, a short, eccentric alto saxophonist from Texas by way of Los Angeles, arrived with his band, playing something that sounded nothing like what was on the scene—but sounding quite a bit like a provocation.
New York was baffled by Coleman's music, a style now known as "free jazz." As Francis Davis described it in The Atlantic in 1985, "All hell broke lose." Listeners stormed out. They derided him. Others sat in stupefied silence, unsure whether what they were hearing was charlatanism or genius. Davis pronounced, "The man is all screwed up inside." Dizzy Gillespie, a founding father of bebop, scowled, "I don't know what he's playing, but it's not jazz." (Whether Gillespie, whose own bebop had been derided by swing musicians not two decades earlier, appreciated the irony is unclear.)
Coleman died Thursday morning at 85, of a heart attack. Listening to his 1959 LP The Shape of Jazz to Come (the title another provocation) today, it doesn't sound much less weird than it did in 1959. The first track, "Lonely Woman," is the closest thing free jazz has produced to a standard. First you hear Billy Higgins's drums, playing what seems like it might turn into something conventional. Then Charlie Haden joins in on bass, playing a menacing melange of chords and notes, nothing like a swinging walking bass line. Finally, Coleman and trumpeter Don Cherry enter in unison with a haunting, meandering melody. The tune is hummable, just, but completely alien. There's no piano and no discernible chord structure. The two duos—Haden and Higgins, Coleman and Cherry—slide around each other, occasionally locking in together and at other times appearing to have hardly any relation to each other at all. At any given moment, it seems the whole thing might fall apart. Of course, it never does.
Despite his detractors' insistence that he was toppling all that was right and good in jazz, and despite his own grandiloquent stylings (the follow-up record was titled, no less arrogantly, Change of the Century), Coleman's music wasn't the calamitous break with the past that his critics imagined. They missed two essential ways that he was firmly tied to the black American musical tradition. One reason they might have missed that was because of jazz's increasing focus on an urbane, northern-born sound during the 1950s. Coleman, by contrast, was a product of the South.
A Fort Worth native, he belonged to the storied lineage of Texas saxophonists. The state was once famous for producing horn players with a big, raw sound that was deeply rooted in the blues—from Herschel Evans to Illinois Jacquet to David "Fathead" Newman. As a teenager and young man, Coleman played juke joints and blues bars, and he could honk out R&B with the best of them. From the early recordings, through Coleman's strange experiments with electric music, up to his final records, the blues sensibility is central—far more, in fact, than it is in many of the musical descendants of the mainstream players who dismissed him as noise. As they got deeper into elaborate harmonies, they lost some connection to the dance-centric African American roots of jazz. Not so with Ornette: If the plaintive wail of "Lonely Woman," delivered in Coleman's eerily voice-like sound, isn't blues, the blues doesn't exist.
The second way Coleman was rooted to tradition was how his group interacted. In mainstream jazz, the band plays the melody and chords through, and then each player takes a turn soloing while the rhythm section—usually piano, bass, and drums, and perhaps a guitar—play the chords and rhythm beneath. Coleman's great early groups dispensed with a chordal instrument altogether. They also dispensed with the standard song form, adopting a practice of collective improvisation in which the musicians listen to each other, bobbing and weaving together, stepping forward or stepping back. That approach was reminiscent of nothing so much as the earliest jazz—the collectively improvised music of New Orleans, often called Dixieland. "In the music we play, no one player has the lead. Anyone can come out with it at any time," Coleman explained to Robert Palmer in a 1972 Atlantic article.
Testimony to the way Ornette's music was, while revolutionary, still inside the tent came during a star-studded 2010 concert to celebrate the 80th birthday of Sonny Rollins. Rollins launched into a rendition of his syncopated blues "Sonny Moon for Two," then paused partway through to announce that there was one more unannounced guest. A few minutes later, Coleman slowly shuffled on stage, alto sax in hand. (The recording, released later, captures the applause; it doesn't capture the collective gasp when he emerged from the wings.) It was a rare summit of two legends with radically different approaches to their horns. For more than 10 minutes (starting around 8:09) the two men went back and forth, part conversation and part competition. Coleman showed he could play Rollins's brand of jazz—and Rollins demonstrated he was at home with Coleman's freer approach, too.
As Francis Davis wrote in 1985, "For those of us who began listening to jazz after 1959, it is difficult to believe that Coleman's music was once the source of such animus and widespread debate." That's true, but one reason was surely that jazz elders felt Coleman must be poking fun at them. In addition to the bizarre sounds he produced, Coleman often played a plastic saxophone. He would also frequently pick up a trumpet or a violin on stage, producing sounds that were interesting but clearly less proficient than what he could do with a sax. It must have seemed like he was clowning them.
In fact, Coleman seemed to be an earnest oddball. As a teen, Palmer wrote, Coleman "was dismissed from the tent show for playing bebop, stranded in New Orleans, threatened by racist sheriffs in Mississippi. In Baton Rouge a gang of roughnecks beat him up and threw his tenor off a hill, so he went back to the alto, which is still his principal horn." He reportedly adopted the plastic sax when his instrument broke and he couldn't afford to replace it. He tended to make oracular statements that fascinated even as they kept comprehension at arm's length. His speech was like his music, Palmer decided: "circling around the theme, moving far afield, returning to the starting point when you least expect it, and moving away again, progressing by variations of feelings and ideas, balanced like Humpty Dumpty on the edge of the void, the hole in the middle of space and time."
Moreover, Coleman proved his sincerity by continuing to push musical boundaries up to the end of his life. His 1972 record Skies of America was a single long composition for orchestra and saxophone. Later, he attempted a synthesis of jazz and rock that sounded nothing like the increasingly commercial and Muzak-y fusion many other jazz musicians were making. (He called what he was doing "harmolodics," a concept I've tried to understand repeatedly with little success.) Take this track from his 1988 album Virgin Beauty, with a band he called Prime Time. It's funky, rhythmic, and propulsive, yet never cheap or compromising. It seems to prefigure world music, but there's a hillbilly breakdown in the middle. It sounds like nothing you've ever heard.
Taking in the full sweep of Coleman's music—Wikipedia's discography lists more than 60 recordings—would be practically impossible. He recorded with Lou Reed, joined the Grateful Dead on stage, and cut a challenging disc with Pat Metheny. Coleman also recently sued members of the indie-Afrobeat band Antibalas for releasing recordings of a jam session, reportedly without his consent.
In his laudatory 1985 essay, Davis wrote that Coleman, despite his musical creativity and integrity, had failed to redefine jazz as decisively as many had expected when he arrived at the Five Spot. With the benefit of another 30 years of hindsight, I'm not so sure that's true. It's true that no one sounds quite like Coleman, though that may be mainly a testament to his originality. It's also true that "Coleman's way has never really supplanted Charlie Parker's as the lingua franca to jazz."
But today, jazz may not have any lingua franca at all—Parker's or anyone else's. The music has splintered into so many different directions that there's no single vocabulary. That split has allowed Coleman's influence to grow, both through his own former sideman—guitarist James "Blood" Ulmer keeps harmolodics alive and well—and through a new generation. Perhaps his most influential followers at the moment are the Bad Plus, a band that, like Coleman, is deeply immersed in the history of the music but refuses to take orthodoxies (or itself) too seriously. The Bad Plus has produced a reinterpretation of Coleman's classic Science Fiction, and its pianist, Ethan Iverson, has produced some of the most important writing on Coleman.
Coleman also won some mainstream acclaim late in life. He earned single-name status, becoming known mostly as "Ornette," even to non-jazz fans, and snagged a Grammy Award for lifetime achievement. Yet unlike some aging radicals, his music remained implacably weird and adventurous. He won a Pulitzer Prize in 2007 for his album Sound Grammar. It's a magnificent disc, recorded live with a quartet that included his son Denardo on drums and two bassists—perhaps the least likely jazz band format imaginable. On the opening track, the band surges forward, halts abruptly, waltzes sideways, prances back forward—each member doing something different and maybe dissonant, but each one inextricably following each other toward a common destination.
I saw Coleman with the same band in 2008. The show wasn't in a dark, smoky jazz bar like the Five Spot, and the audience wasn't critics and jazz luminaries. Ornette was by now a living legend, and that status brought all the trappings: a packed house in a baroque wedding cake of a hall at the University of North Carolina, full of patrons who had paid handsomely to be there.
Coleman seemed physically fragile but musically strong. His band was in fine fettle, and his playing on all three instruments was powerful. The music was mystifying and transfixing, and I wouldn't pretend to have grasped all that he was doing. Yet even in this refined setting, nearly 60 years after the Five Spot gigs, some patrons shook their heads in confusion and disapproval; a few even walked out. I have to believe Coleman wouldn't have wanted it any other way.