What Happened to Nina Simone?
A new documentary explores the High Priestess of Soul's inimitable voice in song and activism.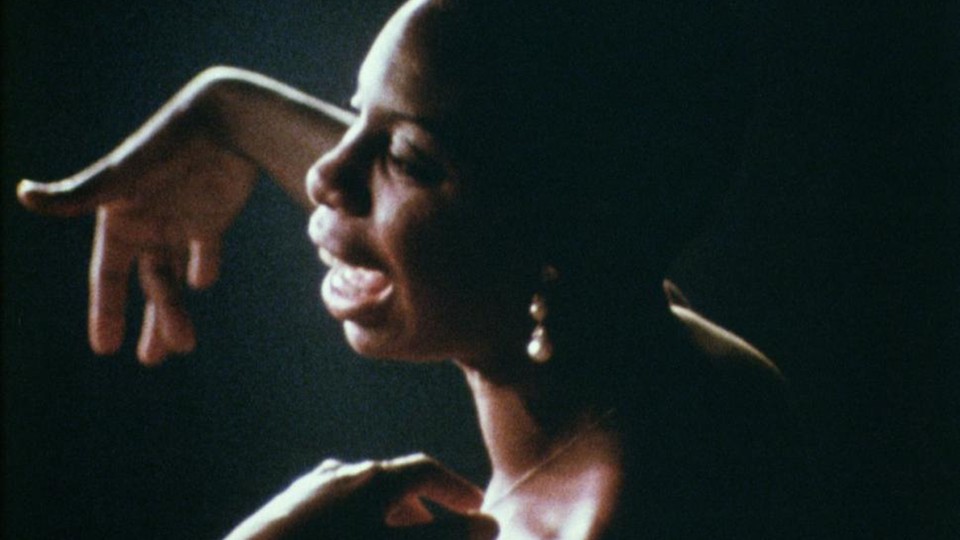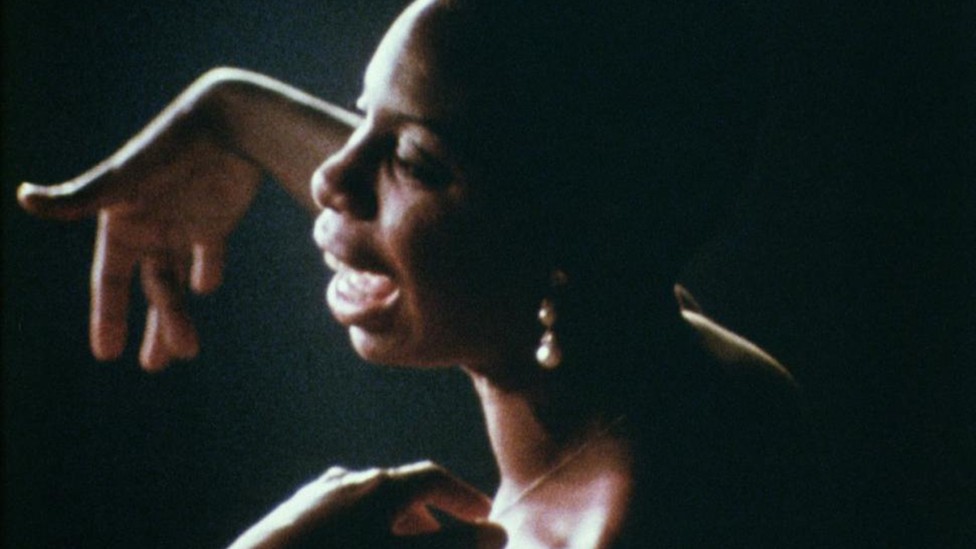 In the 1990s, some years after Nina Simone had fled America, the country that fueled both her meteoric fame and her crippling depression, she agreed to give an interview at her home in France. During the exchange, a seemingly sincere television personality asks her to gauge the how far the civil-rights movement had come.
"There aren't any civil rights," Simone says.
"What do you mean?" the bemused interviewer asks.
"There is no reason to sing those songs, nothing is happening," Simone replied. "There's no civil-rights movement. Everybody's gone."
Simone's exile hadn't been a sunny haze of Riviera vistas and Haut-Médoc wines. After spending some time in Barbados and two years in Liberia, she settled in Paris, where, broke, she performed in dingy cafes for a few hundred dollars a night. But still, she expressed no longing for the country where she'd been rich and famous.
The clip is from a new documentary, What Happened, Miss Simone?, which arrived on Netflix on Friday. The film is just one part of a renewed interest in the singer, with an accompanying tribute album set for July and two other Simone-related films set for release this year.
The timing of this particular release, though, is poignant. On the same day that the documentary was released, President Obama delivered a eulogy for Clementa Pinckney, the state senator and Emanuel A.M.E. pastor who was murdered by a white supremacist on June 17. What Happened, Miss Simone?, which gets its title from a Maya Angelou poem, focuses heavily on the years after Simone went from being an ambivalent activist to a pillar of the civil-rights movement.
As depicted in the film, what ultimately spurred the artist to risk the safety of her musical success in order to pursue activism was another act of violence in a church—the 1963 bombing of the Sixteenth Street Baptist Church in Birmingham, Alabama, which killed four young black girls who'd just concluded a Bible-study session.
Accounts differ, but legend has it that it took Simone anywhere from 20 minutes to an hour to write "Mississippi Goddam" in response—an anthem that would become a standard in the 1960s protest repertoire.
Writing in The New Yorker last year, Claudia Roth Pierpont eloquently tied the song to its era.
A freewheeling cri de coeur based on the place names of oppression, the song has a jaunty tune that makes an ironic contrast with words—"Alabama's got me so upset, Tennessee made me lose my rest"—that arose from injustices so familiar they hardly needed to be stated: "And everybody knows about Mississippi, goddam!"
For Simone, who lived next door to Malcolm X in Mt. Vernon, New York, and whose first interaction with Martin Luther King, Jr. involved a heated declaration that her activism was on the "by any means necessary" part of the scale, the tune bore none of the turn-the-other-cheek wholesomeness of other protest songs. "Mississippi Goddam" was also an upshot of Simone's time spent in the care of intellectual co-conspirators like Lorraine Hansberry, James Baldwin, and Stokely Carmichael.
Via unreleased photos and diary entries as well as audio and video interviews, the film pivots on this revolution in song. Dick Gregory, the comedian, erstwhile presidential candidate, and activist, appears onscreen to doff his cap. "If you look at all the suffering black folks went through, not one black man would dare say 'Mississippi Goddam.' We all wanted to say it. She said it."
In other words, Simone's brand of activism was like no one else's. Born Eunice Waymon and brought up in Tryon, North Carolina, a small town just miles from the South Carolina border, she was a piano prodigy who dreamt of playing Bach at Carnegie Hall as the venue's first black female performer.
Following a stint at Julliard, Eunice became Nina after she was rejected from the Curtis Institute of Music, ostensibly because of her race. She took the stage name so that her church-going parents wouldn't find out that she'd starting playing piano for money at a bar in Atlantic City.
In a perhaps overlong biographical sweep, the film does deliver viewers to Carnegie Hall, where "Mississippi Goddam" is performed and recorded as an album before a mostly white audience. "This is a show tune, but the show hasn't been written for it yet," Simone says acidly in the introduction.
The backlash was furious. The song was banned in several states. Simone's daughter Lisa describes how boxes of the records would return from radio stations around the country cracked in half. Her career never fully recovered. But the show went on. In 1965, Simone performed "Mississippi Goddam" before tens of thousands of marchers in Selma on a stage propped up by coffins.
In her later years, Simone, who died in 2003, recounted how the moment of credible civil-rights resistance had seemingly passed. "The protest years were over not just for me but for a whole generation and in music, just like in politics, many of the greatest talents were dead or in exile and their place was filled by third-rate imitators," she wrote in her 1991 memoir.
But in a year with no shortage of harrowing stories and despite Simone's late-in-life exhortations about her own irrelevance, there may never be a more appropriate time to slake a new generational curiosity about Simone than now. What Happened, Miss Simone is a pretty good place to start.