'Pele With a Skirt': The Unequal Fortunes of Brazil's Soccer Stars
One of the nation's best players makes $15 million a year. The other can't find a team to sign her.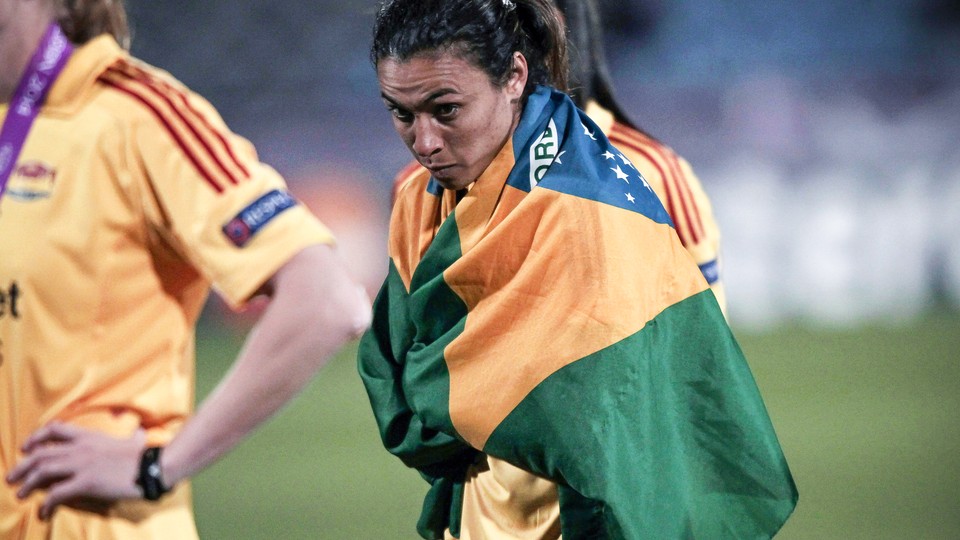 When it comes to soccer, Brazil is known worldwide as the land of the magicians. There's even a word for the specific fusion of sorcery and skill embodied by so many of the nation's players: ginga, the Portuguese term for a certain kind of sublime deftness on the pitch, something incorporating both the sway of hips and unfettered imagination.
During the 2014 World Cup, the tournament felt similarly enchanted, with the endless goals in group play, the drastic reversals of fortune, and the impossible injury-time saviors. Even the spectacular failure of the Brazilian team at home felt otherworldly, with the squad too thoroughly ravaged for it not to have been fated. After more than a decade without a World Cup victory, Brazil forsook ginga in favor of a more aggressive determination to win at all costs, leading the World Cup in fouls committed. The 7:1 loss against the German team felt like a reprimand from the angered pantheon—a sign Brazil should get back to the magic and beauty it's known for.
At that tournament, Neymar was the totem representing the ginga of the past; his pedestrian teammates throwing his extraordinary ability into sharper focus. When the striker's injured vertebra prevented him from playing in the semi-final, the country mourned the loss of its magician.
But Neymar isn't the country's only hope.
In the 2007 World Cup semi-final against the United States, a then-21-year-old named Marta backheel-juggled the ball around one side of the defender, and pirouetted around the other before scoring, marking one of the first moments Brazil became aware of another magician in its midst.
Before Marta, futebol feminino was nearly unheard of. While women's soccer had been popular in the early 1900s, with up to 40 women's teams in Rio de Janeiro alone, it was banned in 1941, an embargo that wasn't lifted until 1979. (The law stated that "women will not be allowed to practice sports which are considered incompatible to their feminine nature.") The conception that women playing soccer is "unnatural" hasn't entirely faded. But ginga, it turns out, overpowers prejudice: Brazilians couldn't resist what Marta could do on the field. The newspaper headlines read "MARTA MARTA MARTA." Pele himself referred to Marta as "Pele with a skirt." She was named the FIFA World Player of the Year an unheard of five years in a row between 2006 and 2010.
While Neymar has vaulted to colossal success around the world, with Barcelona paying a transfer fee of more than 57 million Euros to acquire him two years ago, Marta has struggled for the past eight years to find a league that could support her. Of the eight professional teams she's played for in the past, seven have folded, unable to stay financially afloat. As she heads to the Women's World Cup in Canada this month, she carries the complicated hopes of a nation that's never found much reason to care about women's soccer, even while it recognizes her exceptional skill on the field. Can she make people care? Can the admiration of her male counterpart, Neymar, force soccer fans and sponsors alike to recognize the ginga Marta embodies?
* * *
In December 2011, Marta and Neymar played together in a charity match. After the game, the pair high-fived, lacing their hands together and looking equally impressed by the other. When the reporter said, "Here we are with two craque players" (craque being the ultimate compliment in Portuguese), Marta responded, shyly, "He's more craque."
"Nah, nah," Neymar said. "She's the best in the world. I am so happy to have her here, to at least have the chance to play with her."
Marta and Neymar are both jaunty tricksters who invent and surprise, both wearers of the iconic number ten jerseys, both Pele's successors. While it's well-known that Pele and Neymar played for Santos FC, the most storied club in Brazil, it's less well-known that Marta did as well, in 2009 and then again in 2011. Santos Futebol Feminino was the best women's team in Brazil, and with Erika, Cristiane, and Marta in their lineup, they were one of the best women's teams in the world.
On the men's side, when Neymar was courted by European clubs in 2010, it was Pele who urged Neymar to stay. And Santos management did whatever it had to in order to pay Neymar a salary that could compete with the European sides.
Including cutting the entire women's team in 2011.
At a press conference, when a reporter asked Neymar if he felt bad that his high salary resulted in the dissolution of the women's team, Coach Álvaro grabbed the mic before Neymar could respond. "I didn't say that Neymar was guilty for the end of women's football," he said. "What I said is that the goal of Santos is to have professional football that can last for hundreds of years. Other side activities [like the women's team] are possible when possible. As we're champions, wages are higher, the players are more expensive and we have to readjust."
The women's team operating budget was 1.5 million reais a year ($667,000); the club was then paying Neymar 1 million reais ($447,000) a month.
Later Neymar would say, "Of course I was sad. If it's possible to help, I'll help. Not just me, I think all the players could help just a little bit so that the futebol feminino can return. The women have won titles for us too." His anguish sounded sincere, as did his admiration for the women.
Neymar didn't stay in Santos—in May 2013 he signed with Barcelona. The Santos women's team wasn't reinstated until April 2015.*
This wasn't the first time Marta had played for a team that folded. Her debut squad, the women's side at Vasco de Gama, shut down after two seasons; her next team, a club in Minas Gerais, did the same a season later.
In 2009, Marta went to play for what was the second attempt at a U.S. women's professional league, Women's Professional Soccer, and as MVP, she led the Los Angeles Sol to a league championship. At the end of the season, the Sol ceased operations. In 2010, Marta, again league MVP, led the Santa Clara team FC Gold Pride to another league championship. At the end of the season, FC Gold Pride ceased operations. In 2011, she led the Western New York Flash to one more championship. At the end of that season, the entire league folded. In 2012, she returned to Sweden, where she'd played for Umeå from 2004-2008—it seemed to be the one league she could rely on. She signed with Tyreso FC, who then won their regular season championship. In June, Tyreso FC announced their withdrawal from the 2014 league, citing a financial meltdown.
On the field, she always delivered, but FC Gold Pride—who, like Tyreso FC, found sponsors to cover her controversial six-digit salary—had banked on the power of her ginga to bring in revenue. "We weren't selling out stadiums and Marta jerseys weren't being sold off the racks," FC Gold Pride general manager Ilisa Kessler says. "It was a bit of an experiment for us to see if there was any considerable incremental revenue that could be driven by a player like Marta. And that just did not happen."
​* * *
With reference to Neymar's comment,"I think all the players could help just a little bit"—what would that look like? In England, when Chelsea FC's professional women's team suffered a funding crisis, the captain, John Terry, and other Chelsea players stepped in and offered financial assistance. But it's difficult to imagine a world where male players habitually pitch in some of their millions to keep women's soccer alive.
It's less hard to imagine a potential partnership between the male and female professional organizations of the most soccer-mad country in the world. In Europe, many women's teams are paired with a men's professional team (such as with Paris Saint-Germain, Liverpool, Arsenal, and FC Bayern) that provides backing and allocates money for their women's club. In the U.S.' third reincarnation of a professional league for female players (the National Women's Soccer League), the Portland Thorns, who are closely paired with the Portland Timbers, attract an average of over 13,000 fans per game—more than triple the average attendance of the other NWSL teams.
But despite the modest success of a handful of leagues around the world, Marta, five-time World Player of the Year, struggles to find teams that remain financially solvent. After Tyreso went under, Marta approached Sweden's FC Rosengard last year, who said they were "flattered" but didn't have the budget for her wages. She agreed to play for less, signing a six-month contract.
And in Brazil, futebol feminino remains largely invisible. Marta's ginga doesn't go unnoticed—national team supporters called for her to replace members of the struggling men's side a few years back. But is it enough to buoy an entire game, similar to the way Neymar, her fellow magician, carried the men's selecaco? Both on the field and in the public's imagination, Neymar took the team on his shoulders—until his back literally broke.
On the field, Marta can do it all herself in a way that no other player can, but off the field, Neymar's support could be just as significant as the women fight for exposure.
In the United States, Kobe Bryant raved about Marta in 2009:
My daughter [Natalia] plays AYSO soccer, right. The first time, she really didn't know what she was doing. I tried to work with her and stuff. Then we go home and I bring up Marta on YouTube and said, 'Watch this.' She sat there for like 15 minutes just watching. She's only 6, but she [recognizes] what's amazing. What [Marta] does is phenomenal. It's incredible. Marta's gifted, man. The things that she does on the pitch, I've just never seen anybody do, male or female.
Does this kind of audible, genuine admiration from cultural icons with huge followings have an impact? (Granted, Kobe's comments didn't help keep the LA Sol alive.) If Brazil saw their heroes—Neymar and the rest of the Brazilian squad—keenly following the women, tweeting, attending their games, would the country follow suit?
The inverse of this is already in effect—in the 2014 World Cup, the women enthusiastically cheered for the men; interviewed on Brazilian radio, when Erika was asked if she supported the national team in spite of the protests surrounding the Cup, she said, "I am Brazilian and it is in the blood. We don't know how to not cheer for the team. I'll cheer for our boys always."
Could a collaboration between male and female players in advertising help? The Mia Hamm-Michael Jordan Gatorade commercial comes to mind. A garish song plays in the background—"I can do anything better than you"—as Mia throws Jordan to the ground. In this commercial, as well as Nike's "I will have two fillings" ad campaign, the marketing heavyweights helped propel the women into the national consciousness and onto magazine covers. This surely influenced the level of support the 1999 women's team enjoyed; selling out the Rose Bowl, and setting an all-time record  for a women's sporting event with 90,185 attendees. The public frenzy kickstarted the massive interest in female soccer—according to ESPN's Front Row, a whopping 13 million girls currently play soccer in the United States.
It's fun to imagine a Neymar and Marta commercial, or, say, a recast of the 1998 Nike ad with the Brazilian men juggling through the airport, but this time featuring Marta rainbowing the ball to Hulk, and Hulk lobbing it toward Erika. If you laced the women and men together, could this help give Marta, and as a result, futebol feminino, a sizable enough following to allow the women to make a living out of the game?
​* * *
During the 2014 World Cup, Marta expressed concern about the lack of support for women players, saying, "Maybe one day we will have a strong competitive league instead of our women footballers always having to play abroad." Professional women's soccer players' starting salaries in Brazil are close to minimum wage. (Full disclosure: I played for Santos FC in 2005. Nene, our leading scorer, had given up soccer twice previously because she could make more money to support her family by working at a toy factory outside of Sao Paulo.) Few games are televised, and the stands are usually empty.
While Title IX revolutionized women's sport in the U.S., and allowed for opportunities way beyond the field, there's no equivalent in Brazil.
There's also an absence of support at the youth level. Around 400,000 girls play soccer in Brazil, considerably fewer than the U.S.'s 13 million. Jonas Urias, a Brazilian club coach, estimates that there are only around 10 elite soccer clubs for girls under 17 nationwide.
So while the men's selecao have been hailed as the magicians, winning five World Cups and amassing a bandwagon of supporters across the globe, the women's side will be the ultimate magicians if they can manage to put together a World Cup winning team. While the men's players were nurtured and groomed, the women's ginga rose out of nothing.
It will take more than Marta's ginga to make a change, but initiatives, exhibitions, and female football collectives are cropping up throughout Brazil. Porto Alegre, a 2014 World Cup city, exhibited a photographic history of women in Brazilian futebol. In Sao Paulo, Bibi Martins created Pelado, a group of about 500 girls who play soccer everyday. The National Association of Women's Football, a grassroots umbrella group, formed two years ago, organizing women's teams and tournaments and advocating for more investment. The association now includes 200 teams across several Brazilian states.
The Guerreiras Project, founded by Aline Pellegrino, the former captain of the Brazilian women's national team, along with Caitlin Fisher, a Harvard grad and former Santos FC player, focuses on using the stories of female football players to initiate a conversation about gender equality. Professional female football players host workshops and visit neighborhoods, play with kids, showing them that women, too, can play futebol. The players hope that the kids will one day have the opportunities that they did not.​
During the 2014 World Cup, in the moments before Brazil's third-place game against the Netherlands, the Brazilian players sung the national anthem, each accompanied by one little kid (winners of a McDonald's competition). The cameras lingered on the girl standing in front of Luiz Gustavo, who shouted out each word—it's hard to imagine anyone anywhere singing any national anthem with more gusto.
Standing there alongside the Brazilian selecao, she was able to experience it, to see what it would be like to stand on the grass at midfield and look out at a packed stadium, your country watching, caring, following you no matter what.
When the 2015 Women's World Cup kicks off in Canada, it's a chance for Brazil to move past the memory of the 2014 humiliation. It's a chance to win the nation's first Women's World Cup, and to revive the faith in ginga, and in national glory. But it's also an opportunity for the women to show what they can do; what they could do if they weren't constantly fighting for their shot.
---
​* This article originally stated that the Santos women's team hadn't been reinstated. It was reintroduced in April 2015. We regret the error.