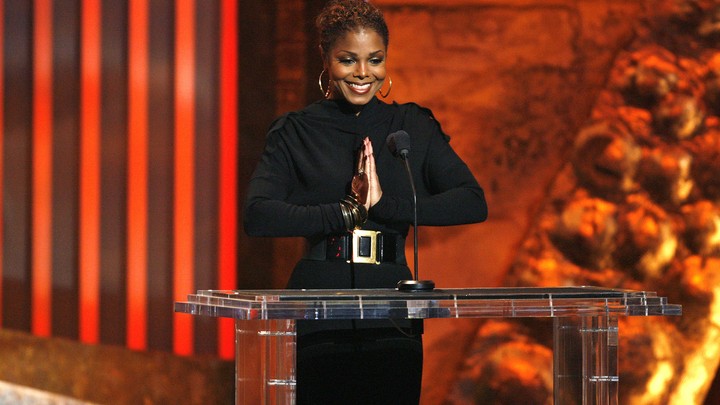 In April, a "missing person" poster began circulating around the Internet. The person's date of birth? May 16, 1966. The person's height? A little north of 5 feet. The location of the person's last known whereabouts? Milan, Italy. The person in question? Janet Jackson.
"Seriously Janet, where the hell are you?" the joke-poster asked the superstar. "We NEED you back. We miss you. Your fans miss you. THE MUSIC INDUSTRY NEEDS YOU. Come back and show these young whippersnappers how it's done!"
This was a cheeky way of acknowledging something that had been the source of both sadness and frustration for Jackson's fans for several years: The pop star—one of the few people in the industry who can unironically be called a "megastar"—had, of late, pretty much disappeared from the public eye. Her last album, Discipline, was released in 2008. Her appearances on awards shows had dwindled after the one she made at the BET Awards in 2009, where she tearfully paid tribute to her brother Michael just three days after his death. In 2012, Jackson married the Qatari billionaire Wissam Al Mana—and has, per reports, been spending the bulk of her time in the Middle East. Away from Hollywood, away from the music industry, away from her fans.
All of which makes today a great day for the #janfam: Janet Jackson, it seems, is making a comeback. Another comeback. On Monday, Jackson released a new single, "No Sleeep," on YouTube. The slow-jammed, sultry tribute to the various ironies of the phrase "sleeping together" is the lead track from her new album, Unbreakable, set for release in the fall of 2015. Per a press release, the song
is a collaboration between Janet Jackson and the legendary songwriting and production duo Jimmy Jam & Terry Lewis, with whom Ms. Jackson first teamed up with in 1986. Jimmy Jam and Terry Lewis have collaborated with Ms. Jackson on a number of her biggest hits, including a staggering nine Billboard Hot 100 number ones.
The song is also, however, a sign that Jackson is, indeed, no longer "missing"—and not just because of the oh-so-Internet-y extra "e" in "sleeep." Her reappearance had been teased for a while, via occasional tweets from Jackson's account and, last week, a video from the singer; now, though, the comeback is official. And: big! On Sunday, Jackson will appear at the BET Awards, where several artists (including, it's rumored, Ciara) will perform in a tribute to her. And then, when she releases Umbreakable, Jackson will do what you do when you're a pop superstar with a new album: Take it on the road. The Unbreakable tour, starting in late August in Vancouver, will see Jackson playing 36 dates in 32 cities worldwide.
It will see Jackson, in other words, insisting that she still has something to say, something to contribute—and something beyond the stuff of simple nostalgia. Mixed among the sultry notes of "No Sleeep" are tones of defiance: Being away, the song insists, is not the same as being gone.
Those are significant messages from an artist whose relationship with the music industry as a whole has been, at times, fraught. The 1993 album Janet.—the missing surname pointedly replaced by a period—was interpreted by many as Jackson's statement of artistic independence to an industry that had insisted on grouping her with her famous family. In a similar way, some blamed the "relative flops" of the singles on Jackson's last original album, 2008's Discipline, on the fact that many radio stations, after Jackson's "wardrobe malfunction" at the 2004 Super Bowl, refused to play her music. Billboard was punishing Jackson, the thinking went, for the obscenity that was baring a breast on live TV.
You could read "No Sleeep," which is so unapologetically sultry and so explicitly about sex, as another instance of Jacksonian defiance: as evidence of the artist deciding for herself what her music is, and is not, going to be. You could also see it as evidence of the social changes that have taken place since Jackson was last in the limelight: An almost-exposed nipple today doesn't seem like much of a scandal. But the song is also evidence of a simpler idea: that being down isn't the same as being out. As Jackson put it in a tweet this spring, just as she began to come out of her temporary reclusiveness: "Letting go doesn't mean you stop."
We want to hear what you think about this article. Submit a letter to the editor or write to letters@theatlantic.com.
Megan Garber
is a staff writer at
The Atlantic
, where she covers culture.