'You've Got a Hit': How a James Taylor Album Finally Reached Number 1
The collapse of the music industry has enabled first-time No. 1 records by a slew of unlikely artists—from Tom Petty to Weird Al to Tony Bennett.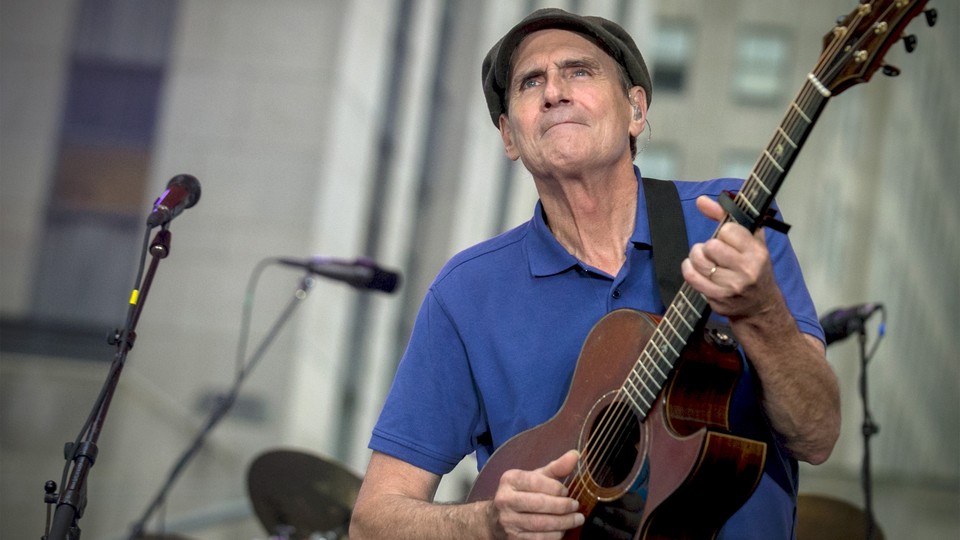 James Taylor is going to number one, but not just in his mind—on the Billboard charts, too. The folky singer-songwriter notched the first top record of his career this week with Before This World.
Let's contemplate how unlikely this is. Taylor's first record came out in 1968. Sweet Baby James, generally considered his biggest record, only made it to No. 3. These days he seems more in demand as an ad-hoc Obama administration aide—performing at the 2012 Democratic National Convention or dispatched to France after a jihadist attack. He hasn't had a song in the Hot 100 since 1988, and even that one only made it to No. 80. The song was "Never Die Young," a synth-adorned lite-reggae period piece that makes one yearn for the Eagles, but Taylor was apparently wise to take its counsel.
Taylor's late-career success isn't a fluke, though. The collapse of the music business has been bad for many people, good for some musicians, and beneficial to cash-strapped listeners. But the changes have been great for the chart prospects of aging white dudes who play guitar-based rock.
In August 2014, Tom Petty and the Heartbreakers notched the first No. 1 record of the band's career with Hypnotic Eye. Two weeks earlier, Weird Al Yankovic did the same with Mandatory Fun. In October, Tony Bennett's record with Lady Gaga topped the charts, but it wasn't the first No. 1 of his decades-long career—he'd achieved that in 2011, with Duets II. (Bennett's 54-year gap between his first chart appearance and first No. 1 is the only one to exceed Taylor's 45-year wait.) 2011 was also the year in which Cake had its first No. 1 record, unseating Taylor Swift's Speak Now. The sardonic Sacramento rockers didn't go the distance, though—they were knocked off the chart the following week by, and I am not kidding you, the Decemberists.
What's going on? Are these guys all having late-career renaissances? Probably not. You'd be hard-pressed to find many listeners who think any of the first-time No. 1 records cited above were the musical peak of the artists' careers (except perhaps the Decemberists). What's changing are patterns of buying in the music industry. Shaped by the Internet, music consumption has shifted away from albums, first to the buying of individual tracks, and now to streaming. The result was that the album chart was getting warped, offering an unrealistic impression of what was "popular," even as the Hot 100 offered a more accurate look. In late 2014, Billboard changed the way it calculates the album chart to account for this:
The updated Billboard 200 will utilize accepted industry benchmarks for digital and streaming data, equating 10 digital track sales from an album to one equivalent album sale, and 1,500 song streams from an album to one equivalent album sale. All of the major on-demand audio subscription services are considered, including Spotify, Beats Music, Google Play and Xbox Music.
The shakeup seems to have had some effect. Just look three slots below Taylor on this week's chart and you'll see another Taylor—Taylor Swift, who has criticized royalty rates for streaming and is arguably the most influential person in the industry right now. In fact, the album chart is full of artists who are more of the zeitgeist: Scanning over the last few years of the chart, Swift, Beyoncé, Justin Timberlake, Adele, and Coldplay appear frequently, and they stick around for a long time—unlike Cake and Weird Al and co., who tend to drop out of No. 1 after just a week. The music those artists make—dancier, poppier, and more rhythm and synthesizer-based—is unquestionably closer to what contemporary music sounds like in 2015.
Even with the streams included, the number of albums being sold is way, way down. Taylor's Before This World sold only 96,000 copies. That's tiny; not long ago, selling fewer than 100,000 copies in week one wouldn't land you anywhere near the top spot. Cake's Showroom of Compassion, which hit No. 1, sold just 44,000 copies, the lowest ever for a top record. That's not just a slide for the chart—it's a slide for Cake, too. Two of the band's previous records went platinum and a third went gold, but none of them got past No. 13 on the Billboard chart. Showroom topped the chart but hasn't been certified gold.
It isn't too hard to see what's happening. The people who buy CDs and full-albums tend to be older, whiter, and more male than the general music-buying population. So when Tom Petty or, say, Bob Dylan (who's had several No. 1 records in the last decade) or Bruce Springsteen (likewise) releases a new record, a small army of aging Boomers (and maybe their nostalgic children) emerges from its pop-culture cocoon and buys the new record in a shiny, shrink-wrapped jewel case. That burst of buying is enough to vault the disc to the top of today's anemic sales numbers for a week. Just last week, the Rolling Stones' Sticky Fingers was at No. 3 on the chart, in a fancy new edition with extra bonus tracks, which sure looks like a clever way to convince those same Boomers to buy a record they already bought on vinyl, on CD, and maybe even a third time in a previous souped-up CD edition. (And who knows, maybe on 8-track or cassette or Blu-Ray or Pono or MP3, too. These are the same fans willing to shell out hundreds of dollars to see the Stones on tour, after all!)
But since most of the music-buying population isn't really into it, the sales peak and decline quickly—which is why most of these unlikely late-career No. 1s only last for a week. In other words, it's great for James Taylor that he finally snagged a No. 1 record, but this is a sunny day that's sure to end.