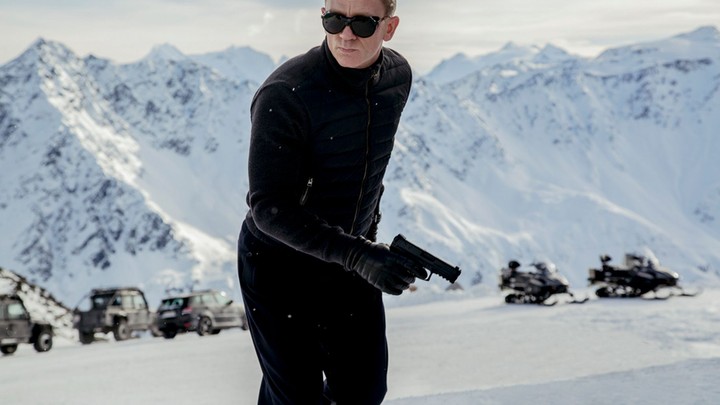 In Britain, a beloved institution is facing calls for a radical overhaul. No, not the monarchy, or the House of Lords, or the BBC, or even the unwritten constitution. The pillar of culture currently being agonized over, upon which the nation's identity rests, is the James Bond franchise, and the question of which actor might next be chosen to play the titular spy. Will Brits finally be ready to cast aside old prejudices and embrace diversity? Might the next 007 be … a redhead?
For several years now, rumor has had it that the next actor to play the hard-drinking, womanizing MI6 agent might be Idris Elba, the London-born actor best known for his roles as Stringer Bell in The Wire and Nelson Mandela in Mandela: Long Walk to Freedom. Much of this conjecture has manifested in betting offices, as most decisions of national consequence do. Most recently, Elba's odds at the bookmaker William Hill are 5/2, making him the favorite in a race that also includes the Man of Steel actor Henry Cavill (7/1) and The Walking Dead's Andrew Lincoln (14/1). But in recent days, odds have shortened considerably on the Homeland and Wolf Hall star Damian Lewis, prompting media speculation that he's "in the running" to take on the role.
Never mind that the current Bond, Daniel Craig, has a contract that locks him in for another film after the upcoming Spectre. As it always has, the British press treats any rumor about the next 007 with the kind of hysteria usually reserved for the birth of a future king, or the choosing of a new pope. The fictional MI6 spy is still one of the country's most popular exports, hence the handwringing that goes on whenever change is discussed. Any fuss about Lewis's red hair would echo the outcry Daniel Craig weathered ten years ago as the first strawberry-blonde Bond (promptly silenced by the release of the acclaimed Casino Royale). But with Elba, the debate enters much more sensitive territory, as the franchise's reactionary fan base wrestles with the possibility that the next 007 might not be white.
There's no real evidence that Elba will get the job—he'll be in his mid-to-late 40s by the time the role becomes available, which is a little long in the tooth for a role that typically ends up dominating an actor's career for at least a decade. Elba himself has said the longstanding rumor, which started when Craig touted his suitability for the role, has no viability, but that hasn't stopped some fans from expressing hope that the next Bond could represent a real departure from Ian Fleming's original creation. Nor has it stopped celebrities associated with the franchise from airing their opinions on the matter.
Roger Moore, who played James Bond in seven films, reportedly told Paris Match earlier this year that Bond should be "English-English," adding, "A few years ago, I said that Cuba Gooding Jr. would make an excellent Bond, but it was a joke!" Moore disputed Paris-Match's account of the interview on Twitter without clarifying just what he meant, but it's an unfortunately common sentiment (never mind the fact that Elba, who was born in Hackney, is more "English-English" than half the other actors who've taken the role). Yaphet Kotto, who played the Bond series's only black villain in 1973's Live and Let Die, told The Big Issue that "political correctness be damned," Bond could never be played by a non-white actor: "He was established by Ian Fleming as a white character, played by white actors. It's silly. Play 003 or 006 but you cannot be 007."
The Bond rumor mill has always played out this way: a mix of fairly safe choices (i.e. any British action star of a certain age, a list that right now includes Tom Hardy and Michael Fassbender as well as Cavill and Lincoln) and slightly more left-field options. For years, the black actor Colin Salmon, who played a minor role in three Bond films, was floated as a possible successor to Pierce Brosnan by the bookies, a rumor encouraged by Brosnan himself. Again, there was no real evidence that the people in charge of this decision—the producers Michael G. Wilson and Barbara Broccoli—seriously considered Salmon, but the rumor seemed to serve as an intended salve to any complaints about the character's homogeny. The same debate surrounds the casting process for another beloved British character, Doctor Who: Bookies repeatedly raised hopes for Paterson Joseph, an accomplished black actor, but the new Doctor always ends up being a white guy (David Tennant, Matt Smith, and now Peter Capaldi).
Amid all this, it's worth remembering that Brits are so touchy about who plays Bond that serious complaints arose about Daniel Craig's casting because of his hair color. Forget that Roger Moore's sandy mop didn't match Fleming's description of Bond's black hair; Craig was "the first blonde Bond," and there was enough uproar over his replacing the more classically handsome Brosnan that a subset of fans swore they would boycott his films. Ten years removed from his casting, the fuss about Craig seems ridiculous, and it's hard to imagine a public outcry if Lewis really did sign on to the franchise. But the same can't be said for what could happen if the producers defied change-averse Brits to make a truly bold casting decision.
We want to hear what you think about this article. Submit a letter to the editor or write to letters@theatlantic.com.
David Sims
is a staff writer at
The Atlantic
, where he covers culture.