Pop's Septuagenarian King
Giorgio Moroder's first album in 30 years, featuring Britney Spears and Sia, is no throwback.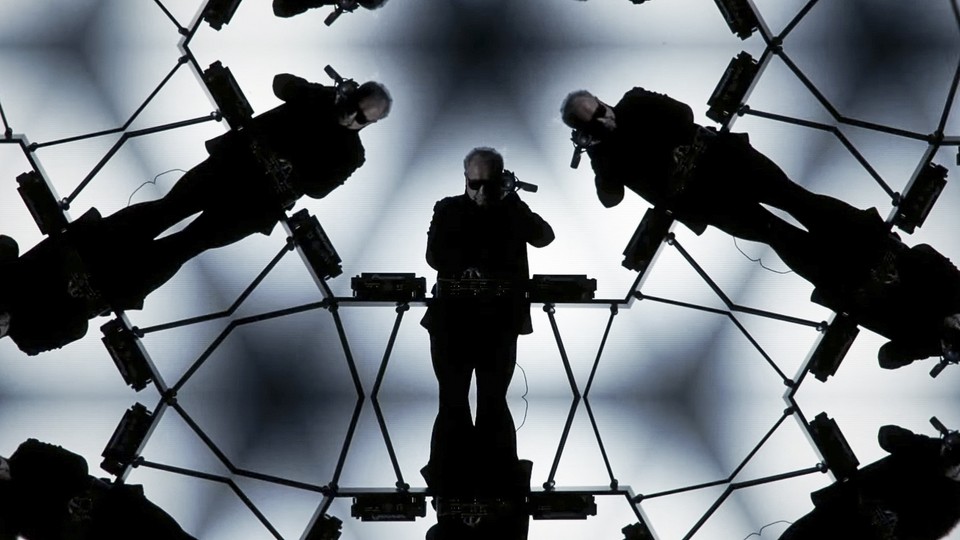 Giorgio Moroder's first solo album since 1985 represents either a tale of overcoming odds and reclaiming success late in life, or of record-company cynicism and the stagnant state of much of pop music. Let's check out the heartwarming option first.
Moroder, a 75-year-old Italian producer, is one of the most influential disco and electronica musicians of all time, having set the template for years of songs to come with his '70s work with Donna Summer. Any popular track featuring four-on-the-floor bass thump, synthesizer arpeggios on loop, and a general sense of whooshing and acceleration and robots grooving owes something to him. He kept finding success through the mid-'80s, helping mint hits for the likes of David Bowie, Blondie, Freddie Mercury, and the Top Gun soundtrack. Then he mostly disappeared from public consciousness, until Daft Punk's 2013 album Random Access Memories featured a track called "Giorgio by Moroder," on which he could be heard talking about wanting to create "a sound of the future." He's said that song helped restart his career, and now he's back with Déjà vu, featuring collaborations with Britney Spears, Kylie Minogue, Sia, Charlie XCX, Kelis, and other Top 40 staples.
You might expect this to be a throwback affair, one that highlights the lineage of some of today's newest stars. Instead, it sounds like it could be the latest That's What I Call Music Now! compilation (yes, those still exist) except for the fact that most of these songs aren't yet popular. That the album's on-trend, to some extent, shouldn't surprise: Pop's currently obsessed with dance music that has Moroder's sonic DNA, both in the form of the sleek drama of EDM and the warm, springy disco repopularized by Pharrell.
But Moroder's new music doesn't just harken back to the styles that everyone else is hearkening back to—it sounds like the 2015 versions of them, like it's been recorded with the same presets that Max Martin uses, made in the same studio as "Blurred Lines," mixed by Calvin Harris to slot into a Las Vegas nightclub set. Accordingly, the Kylie Minogue-featuring single "Right Here, Right Now" shot to the top of the Billboard dance chart. It wouldn't be surprising if the "Call Me Maybe"-esque title track featuring Sia, or the speak-and-spell workout "Diamonds" with Charlie XCX, or the Maroon 5 imitation "Tempted" with Matthew Koma, end up having similarly strong showings. (Meanwhile, the Britney Spears cover of "Tom's Diner," with gloriously overdrawn production from Moroder, represents a perfectly modern act of trolling.)
The uncanny relevance of these songs is enough to make even the most poptimistic listener a little alarmed—has mainstream music really evolved so little that the reigning champ of 1975 can reclaim his spot with such ease? Well, maybe. But there are current tropes—tension building in the verses with mathematic predictability, zillion-hook choruses, the existence of Mikky Ekko—that would have taken a certain amount of studying-up to replicate. It's tempting to suspect that folks hired by RCA, the label that coaxed Moroder into recording the album and helped line up singers and writers, focus-grouped and fidgeted with each measure for maximum impact.
But it seems more likely that Moroder himself figured out how to play the 2015 game. Name checks from Internet-age boundary-pushers like Daft Punk and James Murphy of LCD Soundsystem have built him up as an indie touchstone, but Moroder's always been interested in chart domination. Kraftewerk and their contemporaries helped make electronica into art; Moroder made it into product. "The way I know if something works is if it sells," Moroder told Spin in 2013, going on to talk about how in his heyday he knew which particular BPMs and bass sounds would get people to dance in New York. In a 2015 interview with the same publication, he talked about keeping knowledgeable about current recording techniques. "It's quite complicated right now," he said. "Certain sounds, especially the drums, they get old after six months."
The interest in staying 100 percent relevant like this is rare for a senior citizen in popular music, to say nothing of the ability to pull it off. In art forms like literature and film, elder icons regularly keep producing major works late in life, but in pop—youth worshipping, novelty-obsessed, self-consciously disposable pop—former hitmakers are often consigned to nostalgia-act status. Or they become venerated credibility-keepers, like when Johnny Cash turned younger artists' songs into solemn reflections on mortality. But as is perhaps fitting for someone who helped artificial sounds go mainstream, Moroder might chuckle at traditional ideas of how aging works. The most distinctive thing here is called "74 Is the New 24," which surfs on waves of darkly thrumming Tron sounds that almost recall industrial music. The song seems to signal doom, not for the septuagenarian behind the vocoder, but for all those who've tried to take his place.