The Modern Family Effect: Pop Culture's Role in the Gay-Marriage Revolution
TV has convinced America that same-sex couples can be just like straight ones. What's next?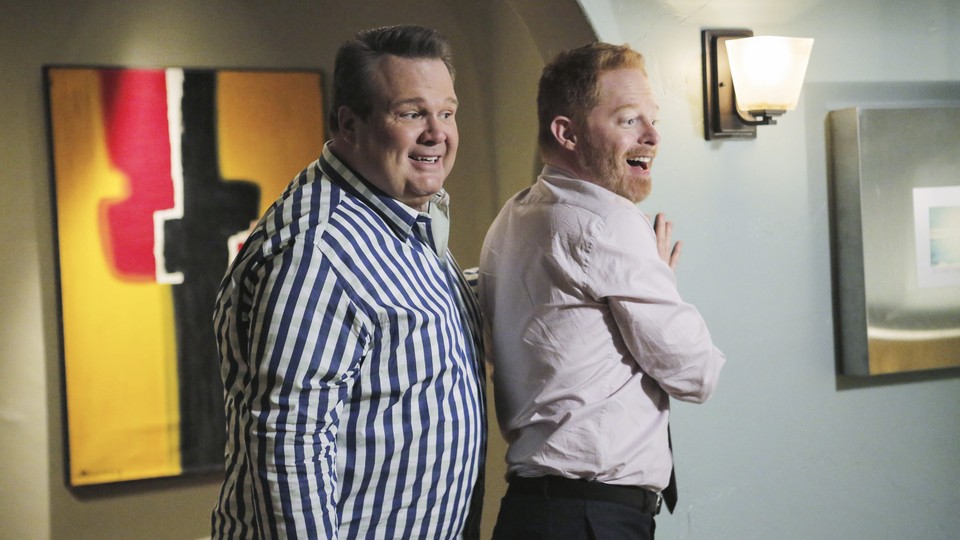 It you look at the trend line for the Gallup poll about American attitudes towards gay marriage, you'll see that support for same-sex marriage, after cratering for a year, began to climb toward its now-historic height in 2009. A number of factors influenced that shift. Maybe one of them was Modern Family.
It's impossible to know how much entertainment ever drives society rather than merely reflecting it. But it's hard to avoid the feeling that the past five or six years have seen a virtuous cultural cycle. 2009 was the year that audiences met Cam and Mitch, a gay couple living together with an adopted daughter. They weren't married when the series began—Proposition 8 in their native California forbade them to, and they tied the knot once it was overturned—but they were navigating the challenges of being in a long-term relationship on screen every week as around 10 million people watched at home. The show became one of the few cross-culturally appealing TV works of the Obama years, viewed in red states and blue states, name-checked by Ann Romney and the president alike. A 2012 Hollywood Reporter poll found that 27 percent of likely voters said that depictions of gay characters on TV made them more pro-gay marriage, and there are news accounts of people crediting their newfound sympathy toward gay people to Modern Family.
Of course, television has spotlighted queer people for decades, both in major roles on shows like Will & Grace and Glee, and in minor ones on shows like All in the Family and Golden Girls. Progress has happened fitfully: Many of these programs perpetuated stereotypes, and often they focused on white people at the exclusion of all others. Cam and Mitch have been about as tame as anyone could ask—in contrast to the straight couples they hang out with, they rarely touch, never talk about sex, and make a big deal over kissing in public. But the fact remains that each popular depiction of gay life helped encourage networks to take chances on others, and today there's unprecedented diversity in representation of sexuality on television, as shown in programs like Empire and Orange Is the New Black.
Did any of this matter to the Supreme Court, which just declared gay marriage a legal right? Antonin Scalia, whose dissent charged the majority with orchestrating a "super-legislative" power grab, clearly thinks the justices were influenced by popular attitudes and emotions rather than the idea that equal protection under the law applies to marriage. But speculating on judges' motives is a losing task, and the rise in national support for gay marriage possibly owes less to sitcoms than it does to demographic shifts and political organizing efforts following ballot-box defeats in 2008.
When it comes to pop culture, it's probably best to just focus on what it can accomplish now, in the wake of Obergefell v. Hodges. Film and TV has helped popularize the idea that gay couples can be "normal"—as banal as Cam and Mitch; as in dire need of counseling as Cyrus and James on Scandal; as lovingly parental as Stef and Lena on The Fosters. But the idea of "normal" is a dangerous one that can validate old, oppressive ideas about who's abnormal. Same-sex couples, statistics show, often differ from straight ones when it comes to divisions of labor, monogamy, and problem-solving, and many gay people don't want to get married and won't after this decision. The norms are less fixed for same-sex couples—which can be a beautiful and frightening thing for them, and a fabulous prompt for storytellers.
One example: HBO's Looking closed its most recent (and final) season with two men moving in together—and promptly getting into a fight when one party frankly stated his interest in sleeping with other people. Another example, related to both marriage and a different, arguably more urgent LGBT struggle: Sophia of Orange Is the New Black figuring out what it means for her wife and kid now that she has transitioned to female. The next-generation Modern Family might spotlight other kinds of situations that are new for TV, focusing on couples in the process of negotiating the rules as they go along. Already, Cam and Mitch seem a bit old-fashioned, which is in itself a sign of progress that they might deserve some credit for.