Fun Home's Success Defines the 2015 Tony Awards
The musical adaptation of Alison Bechdel's memoir won big while women took trophies in every major category.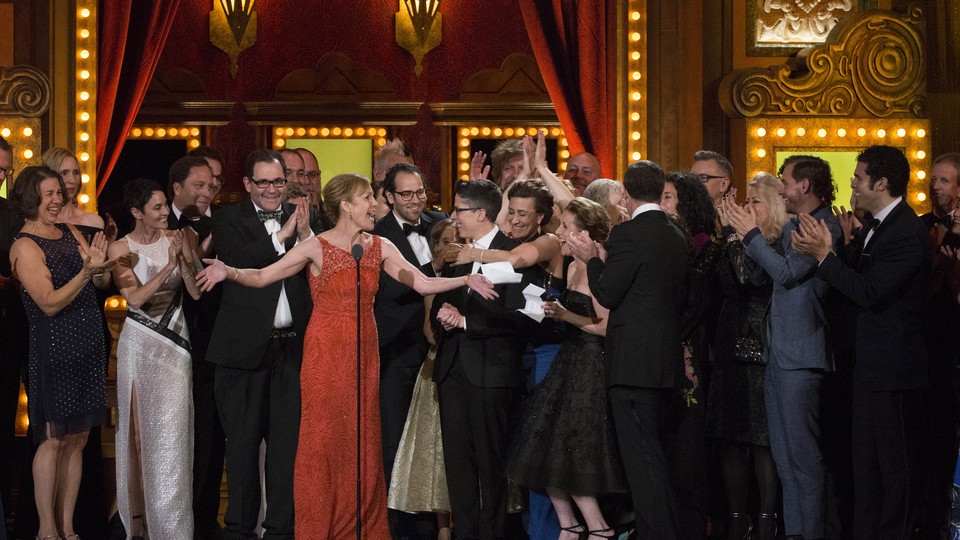 Fun Home, the musical adaptation of Alison Bechdel's graphic-novel memoir, won the night at Sunday's Tony Awards, a triumph that capped a groundbreaking ceremony where women collected trophies in every creative field. Fun Home's composer Jeanine Tesori and lyricist/book writer Lisa Kron made history as the first female writing team to win in their categories, and despite rave reviews, Fun Home's wins were a genuine surprise, upending industry predictions that had tapped a stage version of the 1951 film An American in Paris as the favorite because of its potential as a national touring production.
Along with Fun Home's success, the ceremony, broadcast on CBS live from Radio City Music Hall, saw women accept trophies for Direction of a Play (Marianne Elliott for The Curious Incident of the Dog in the Night-Time), Scenic Design of a Play (Bunny Christie for the same production, along with Finn Ross), Costume Design of a Musical (Catherine Zuber for the revival of The King and I) and more. It felt like an inadvertent rebuke to the homogenous slate of nominees offered by the Academy Awards this year, and an advertisement for the creative diversity that seems to be on an upswing this year on Broadway. Only nine women have won a Tony for directing—but that's eight more than have won an Oscar in the same category, and 33 percent of this year's Tony-eligible shows were directed by women this year, compared to 13 percent the year before.
Still, CBS's presentation of the slate of winners left much to be desired—the Oscars may be predictable, but there's a reason why they remain the gold standard in entertainment industry award ceremonies. An "in memoriam" segment commemorating actors who had died in the past year was presented as a Josh Groban concert (the artist sang "You'll Never Walk Alone" as a list of names rapidly scrolled by behind him). Tesori and Kron's win occurred during a commercial break, and was briefly recapped as a ten-second snippet. And Fun Home's producer Kristin Caskey was played off the stage by the orchestra during her speech before a predictable closing performance from the cast of Jersey Boys.
The Tonys have never quite been able to shake their chintzy feeling—the actors Kristen Chenoweth and Alan Cumming made for competent hosts, but their jokes largely relied on costume-change sight gags. Several new musicals that weren't even eligible for awards this year were given space to perform songs, which felt like an advertisement for both the shows and next year's ceremony. The time would have been better spent on this year's winners, particularly on more clips highlighting the year's nominated plays, which were mostly brushed over so as to give more room to the musical numbers.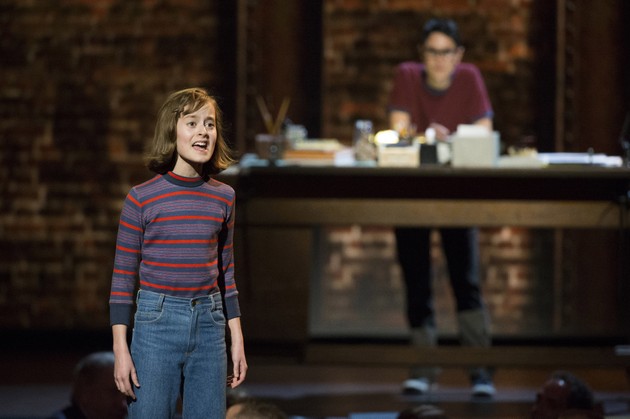 Still, the power of a hit song played to a room of theater professionals is hard to ignore, and Fun Home cemented its terrific night with Beth Malone and Sydney Lucas' show-stopping rendition of "Ring of Keys." The song details the moment a young Alison Bechdel noticed, and felt instant kinship, with a delivery woman who "wore men's clothes and had [a man's] haircut." The night featured several other notable performances—a medley of The King and I's best-known songs featuring nominated actors Kelli O'Hara and Ken Watanabe, and a fourth-wall breakdown of musical theater itself from the multi-nominee Something Rotten. But Fun Home's performance was moving enough to underline why it swept the major awards (Michael Cerveris, who plays Bechdel's father in the show, also won for Best Actor in a Leading Role).
In true award-show tradition, the most memorable speech came from a theater veteran collecting her first award—O'Hara, who finally won for her performance as schoolteacher Anna in The King and I. Previously nominated five times for her  highly praised work in The Light in the Piazza, The Pajama Game, South Pacific, Nice Work if You Can Get It, and The Bridges of Madison County, O'Hara had the breathless excitement of someone who genuinely didn't expect to win. "You would think that I would have written something down by now, but I haven't," she said, thanking her parents for grinning through her subsequent losses.
The same could not be said for Helen Mirren, who won for her role as Queen Elizabeth II in Peter Morgan's play The Audience, which charts the monarch's meetings with each of Britain's prime ministers since 1952. The Audience also won for Best Featured Actor (Richard McCabe as Harold Wilson), but the big winner in the original play category was The Curious Incident of the Dog in the Night-Time, another innovative adaptation of a major literary work. Simon Stevens and Marianne Elliott's staging of Mark Haddon's novel, which is told from the perspective of an autistic teenage boy, wowed critics and proved another surprise hit. While Mirren's victory was assured, Lead Actor in a Play went to Curious Incident's Alex Sharp, the category's youngest-ever winner and a recent Juilliard graduate, who beat big names including Bradley Cooper in The Elephant Man and Bill Nighy in Skylight.
The American Theater Wing, which organizes the Tony Awards, is often criticized for embracing commercial success, big-name stars, and shows that have the potential to tour nationally rather than better-received works. But the group rewarded creativity and risk taking in 2015—a model other awards shows would do well to follow. Next year, hoping that the Tonys continue this trend, CBS would be better-served if it actually sought to highlight such innovation to its national audience, rather than swiftly ushering it in right after the commercials.