The Art of Impersonation
Darrell Hammond, the longtime Saturday Night Live cast member and interpreter of everyone from Bill Clinton to Colonel Sanders, explains how it's done.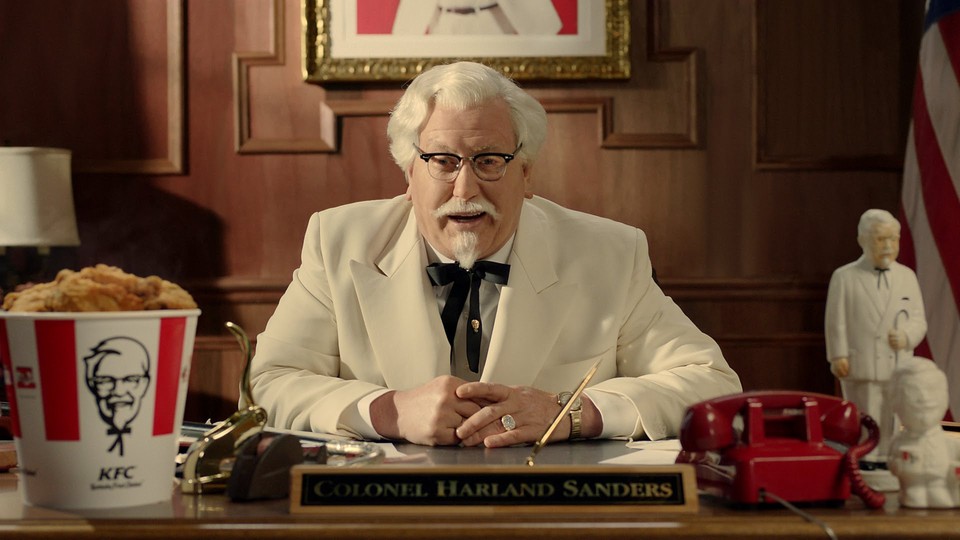 Among the many skills that enabled Darrell Hammond to become the longest-tenured cast member at Saturday Night Live is for his knack for impersonation. During the heights of the various scandals that consumed both daytime and evening American television in the late 1990s, Hammond's portrayal of President Bill Clinton became something of a standard under the lamps of Studio 8H in 30 Rockefeller Center.
Of course, Hammond didn't just Clinton. He also Gored, Conneryed, D'Amatoed, Dr. Philled, Dubyaed, Nixoned, Cartered, Falwelled, Mizrahied, Husseined, Shatnered, and Cronkited.
Over 14 seasons, Hammond played nearly a hundred others on the show. According to legend, the performer's record for celebrity impressions was only recently surpassed by cast member Kenan Thompson. Last year, Hammond returned to SNL to replace Don Pardo, the only other announcer in the history of the show, who passed away in August. And he's also turned to impersonation once again, playing Kentucky Fried Chicken's reincarnation of Colonel Harland Sanders in a series of ads that launched last month.
Replicating such a distinctive and once-living commercial icon is fraught with challenges. I talked with Hammond last week to ask him what goes into the process of composing a sketch of a real character.
Researching the Dialect
"First, you have to determine where they're from. How long did they live there? That means, does he have a dialect and, if so, how thick is it?
"We have what's called an 'educated dialect,' where a person is born in one region and they move somewhere else, so their dialect is affected by the cultural education they get when they move from, say, Alabama to Spokane, for instance. So you have to find that."
Searching for an Irregularity
"Then you find if the voice is high or if it's low and does he have any sort of irregularity—such as tongue in teeth like [James] Gandolfini had, an irregular speech pattern. Bob Costas, on the other hand, has perfect speech and is not very easy to do.
"You hope there's something a little irregular there. Then you pick a couple of hand gestures. But then after you do all of that and you sort of duplicate the person, my approach has always been to—I don't know if you're familiar with the artist [Al] Hirschfeld—italicize all these features. It's not a photograph, but on some level it's more telling than a photograph.
"That's something I worked out with Lorne Michaels on everything that I ever did on SNL. You start out as accurate as you can be and then when you start working with the writers, the writers write like you talk and you start talking like they write and the next thing you know, a photograph has been turned into a Hirschfeld. That's sort of the idea that I try for.
"The thing about SNL is, you only have a few hours to prepare. It's not often that you get to do a repeat character. Clinton was different a year later. Colonel Sanders will evolve a little bit too as we work with the writers."
Determining the Challenge
"It [Colonel Sanders] wasn't as challenging as you would think, growing up in the South. The good thing about the Colonel is that he has a slightly irregular [speech pattern].
"The [recorded] phrase I kept going off of and that I auditioned with for KFC was 'Two-four-six-eight, what do we appreciate?' So you hear when I say 'se-se-se' for six, it's slightly irregular, so you have that to hold onto. The rest of it is the dialect which comes fairly naturally for me being from the South.
"After that we developed his laugh because we knew from all the videos you ever watch of the guy and you talk to people at KFC about the guy, he really enjoyed his life. He was an eccentric guy. There's something compelling about a guy who's utterly himself and to be that guy."