Colin Farrell's Evolution: From Movie Star to Actor
The True Detective player got his start in Hollywood as a bland marquee idol, but it took a career crash and a series of flops for him to truly come into his own.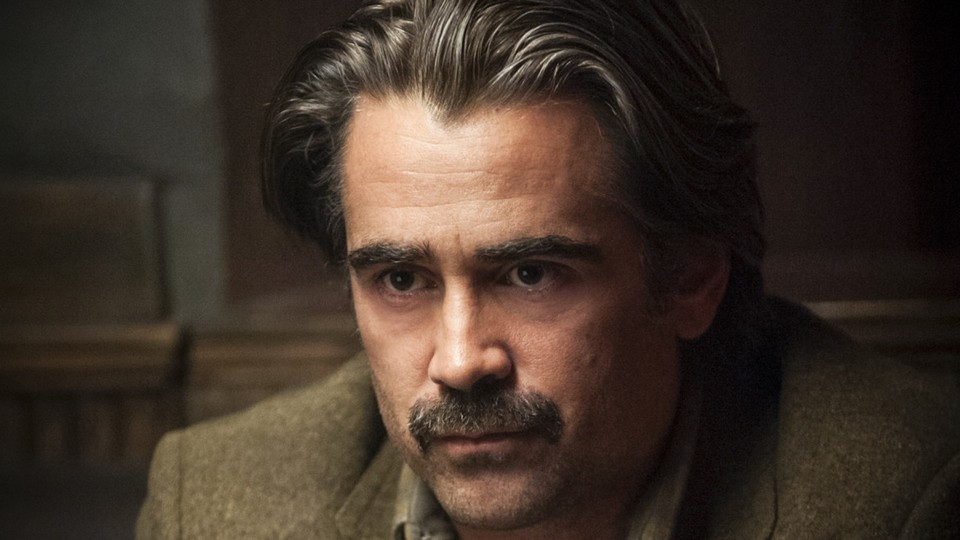 In True Detective's second season, Colin Farrell is playing exactly to type. As the washed-up, corrupt Detective Ray Velcoro, his skin looks leathery, his temples are gray, and he pours endless glasses of whiskey under his push-broom mustache. If brooding were an Olympic sport, Farrell would be a repeat medalist, and so it seems hardly notable that he's endured in an industry that loves haunted male protagonists. But Farrell's career in many ways has subverted the typical Hollywood model. After becoming a pin-up early in his career, and taking on high-profile roles in huge studio movies, he flamed out, personally and professionally. But failure, rather than ending his career, allowed him to tackle more daring and versatile roles, and find subsequent credibility as an actor.
Farrell entered show business as a ready-made star, thrust at audiences in the kind of pandering Hollywood way that almost guarantees backlash. He had the charisma to sell subpar work, but whenever he was given the chance to cut loose, it was in trashy genre exercises like Phone Booth or Daredevil that critics largely ignored. Following the initial boom and bust of his early years in Hollywood, though, Farrell has carved out a more serious reputation by working with legendary directors, taking on offbeat projects, or both. It's the opposite of the typical A-list trajectory: Actors like Jennifer Lawrence or Leonardo DiCaprio started small and built up credibility in independent movies before transitioning to blockbusters. Farrell, by contrast, was thrust into that territory instantly, and it almost proved his undoing.
It's easy to forget that he was once Hollywood's newest golden boy. A young Irish actor who had a handful of TV roles in the '90s, he got his big break as the darkly charming lead of Joel Schumacher's Tigerland (2000), a low-budget Vietnam drama that made no money but received acclaim and a handful of critics' awards. After that, he appeared in a glut of studio films, from the forgotten American Outlaws and Hart's War to a memorable supporting turn in Steven Spielberg's Minority Report. His one true box-office hit was the 2003 action drama S.W.A.T., which took $116 million at the domestic box office. But the rest of his career is a collection of middling hits and outright flops: Only four years from after his Hollywood debut, Farrell headlined a one-two punch of big-budget bombs that seemed to confirm his overrated status.
The first was Oliver Stone's 2004 biopic Alexander, a misguided three-hour rumination on the life of the legendary warrior, told largely through flashbacks, with Farrell playing the Macedonian with an Irish accent alongside Angelina Jolie as his mother (despite her being only a year older than him). Stone has repeatedly recut the film for multiple DVD releases, but at best it remains an ambitious failure, and Farrell looks lost amid its epic trappings. His next blockbuster was 2006's Miami Vice, a retelling of the '80s cop drama from Michael Mann. Billed as an action thriller, it plays as a big-budget, avant-garde mood piece with occasional surges of gun violence. Audiences were baffled, and the production was reportedly torturous—Farrell checked into rehab soon after it wrapped.
After these failures, the actor turned to artier projects, but he was already well on that road even if no one saw it. His work in True Detective echoes his Sonny Crockett turn in Miami Vice; Farrell suggests the weight of the world through just a mournful gaze, furrowed brow, and half-mumbled dialogue. His role as the explorer John Smith in Terrence Malick's Pocahontas drama The New World (2005) worked along the same lines, suggesting rage and sadness with every glance. Farrell's early film work saw him playing roguish charmers jittering with energy; it was only as his career began to spiral, and he began to work with demanding auteurs like Malick and Mann, that he tapped into a darker well.
In a 2010 interview with the Daily Telegraph, Farrell acknowledged that getting so famous so fast thrust him into the L.A. party circuit, which stunted his development. "There was an energy that was created," he said, "a character that was created, that no doubt benefited me. And then there was a stage where it all began to crumble around me." The breakdown began with the punishing filming on Alexander and crested during the making of Miami Vice, he said, where he finally had to confront how unprofessional his behavior had made him.
His rebound began with the violent, raucous 2008 comedy In Bruges, written and directed by the playwright Martin McDonagh. As Ray, a hitman ordered to lay low after accidentally shooting a young boy during a botched job, Farrell is maniacally funny, but only in an effort to distract himself from the terrible weight of his actions. He won a Golden Globe and rebounded into consistent, but less high-profile Hollywood work, giving memorable supporting performances in hits like Horrible Bosses and Crazy Heart while also pursuing auteur-driven indie projects like Liv Ullmann's adaptation of Miss Julie, or the recent Cannes hit The Lobster, from the Greek filmmaker Yorgos Lanthimos.
The clearest analogue to Farrell's decline and rebound is Marvel's franchise star, Robert Downey Jr., who is currently the highest-paid actor on the planet. After a similar wunderkind start, Downey Jr. struggled with substance abuse and could no longer book big-studio pictures. He regained his credibility with little-seen but highly-praised work in indies like Kiss Kiss Bang Bang, but used that to catapult himself back to the top of the Hollywood heap. Now he's the centerpiece of two franchises (the Marvel Universe and Sherlock Holmes) and has publicly vowed never to make another indie film. He's lost none of his on-screen magnetism, but may never take a creative risk again.
In True Detective, Farrell is walking the line between indie hits and high-profile projects. The role is an opportunity to cement his rehabilitation from junky B-list star to respected performer, as it was for Matthew McConaughey in the anthology series' first season. Nic Pizzolatto, the show's writer, has handed Farrell plenty of ponderous, weighty dialogue to deliver in a half-audible growl, and while he rises to the challenge, the show always seems to be operating at the very edge of self-parody. But whether or not True Detective sustains the atomic critical buzz and viewership it attracted last year, Farrell's participation, at the very least, suggests that something special could happen.