The Pure Presence of Christopher Lee
The film legend, who died this week aged 93, was the definition of an actor the camera adored.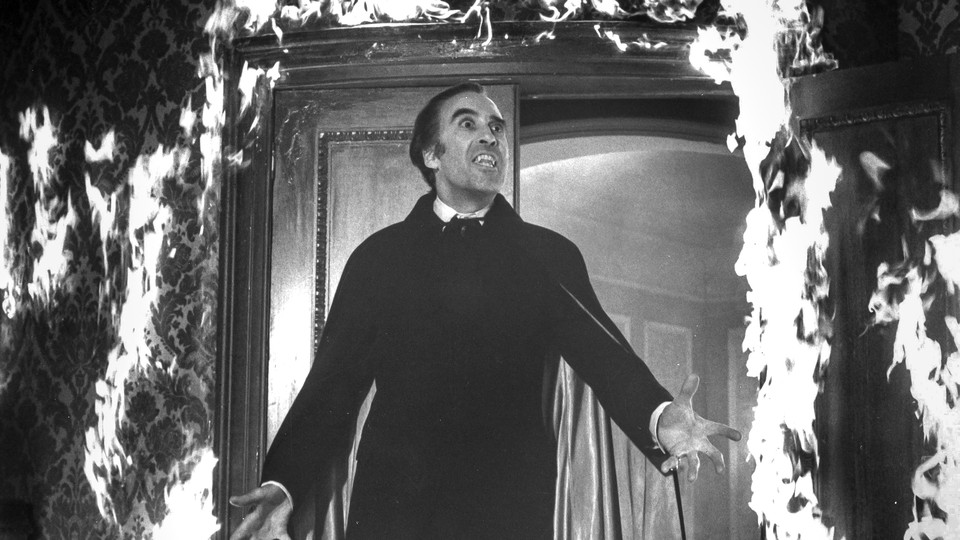 Christopher Lee doesn't speak a word in Dracula: Prince of Darkness, the 1966 entry in the Hammer Horror series that helped launch him to fame. He occasionally hisses, but stated he otherwise rejected the dialogue written for him because it was terrible. And yet, it doesn't matter: He commands the screen when he's on it, and the film feels emptier when he's not. Such was the case throughout his storied 68-year film career, which ended with his death June 7 at the age of 93 after he was hospitalized for respiratory problems and heart failure.
A legend of genre cinema, Lee was the definition of presence; no matter how creaky the material, he lent it instant legitimacy simply by showing up. The son of a career military officer and an Edwardian countess of Italian descent, Lee served in the Second World War as a military intelligence officer in the Royal Air Force, then returned to London and spent more than a decade trying to break into film acting before landing his first major role as the Creature in Hammer's The Curse of Frankenstein (1957). It was another wordless role, and Lee was supposedly cast because he was tall (he stood 6'5"), but like Boris Karloff before him, he inhabited the role with ineffable style—when he tears off his bandages to attack his creator, Victor Frankenstein (Peter Cushing), the threat seems to be not in his strength, but in Lee's wild eyes.
Lee and Cushing formed a celebrated partnership for Hammer Studios, a London-based outfit that became notorious in the 50s and 60s for its lurid updates on horror classics, many of them starring Lee (usually as the villain or monster) and Cushing (who would play the dark antihero). Lee's most lucrative role was as Dracula, beginning with 1958's Dracula and continuing for several more entries, each featuring Lee less and less as he grew tired of the role. No matter how shoddy the writing, whenever Lee appears in any of the sequels, the screen lights up—a kind of magic that persisted throughout his career.
Lee's other Hammer roles included the Mummy, Rasputin (The Mad Monk), and Henry Baskerville (in The Count of the Baskervilles). He played Fu Manchu (in terrible Chinese makeup) in a five-part series of films, and at the height of his career in the 60s and 70s would show up in four or five films a year. Audiences' tastes changed, but Lee was always there to change along with them. For the actor, his crowning achievement was the role of Lord Summerisle in Robin Hardy's 1973 horror masterpiece The Wicker Man, a film Lee helped develop alongside screenwriter Anthony Shaffer. A far subtler affair than the Hammer gore-fests, The Wicker Man sees a policeman search for a missing girl on a remote British island, where he encounters a cultish community led by Summerisle, whom Lee plays as charming and erudite. But once again, there's danger lurking in his eyes, as revealed in one of horror cinema's greatest endings.
Lee spent most of his career playing villains, but he always invested them with both menace and class, as seen when he played the James Bond nemesis Francisco Scaramanga in The Man with the Golden Gun or Rochefort in Richard Lester's Three Musketeers series. Steven Spielberg recognized Lee's gift for self-deprecation in a Saturday Night Live appearance and cast him in his madcap comedy 1941; the horror legend Joe Dante paid homage to Lee's illustrious career with a role in the brilliant, meta-textual Gremlins 2: The New Batch. Lee's work dwindled in the 80s and 90s as he grew older and less spry, a problem as genre films got more and more action-packed. His late-career resurgence started when Tim Burton cast him in a small role in 1999's Sleepy Hollow; from there, he landed the role of the evil wizard Saruman in Peter Jackson's Lord of the Rings trilogy and the Sith Lord Count Dooku in George Lucas' Star Wars prequels.
Lee had long coveted the role of Gandalf, but knew he was too old to play it in Jackson's films; Saruman proved a worthy consolation prize, allowing him to pit his wits against Ian McKellen on screen and turn J.R.R. Tolkien's sub-Shakespearean dialogue into poetry. His lines in the Star Wars prequels are even more trite, but coming out of Lee's mouth, they suddenly sound like spun gold. No matter the role, his age, or the genre trappings around him, Lee never lost his pure presence.