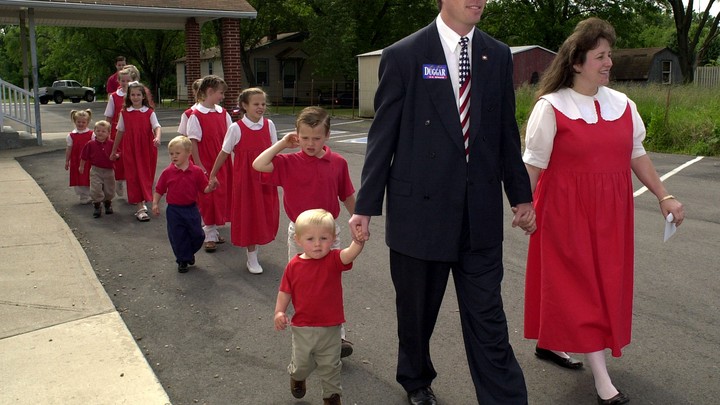 "There's an agenda," Michelle Duggar told Megyn Kelly on Wednesday. "There's people that are purposely trying to bring things out and twisting them to hurt and slander."
The matriarch of the Duggar family was talking, of course, about the allegations that recently came to light about her oldest son, Josh—allegations that he had, as a teenager, molested underage girls, four of whom were his sisters. In an interview with the Fox News Channel anchor, Michelle and Jim Bob broke their silence about the allegations, emphasizing that the whole Duggar family, not just their daughters, were victims.
The Duggars also, however, made another contention: that, both despite and because of the allegations, they are … role models. Not for the things they have long sold themselves as models for—faith, family values, a lifestyle that is as rare as it is conservative—but also for something decidedly less wholesome: the violation of those values. The Duggars want other people to learn from their mistakes and misfortunes, they said. Which are, Jim Bob Duggar insisted, not as unusual as they seem. "As we talked to other parents and different ones since then," the Duggar patriarch told Kelly, "a lot of families have said that they've had similar things happen in their families."
The Duggars are selling themselves, in other words, not just as paragons of virtue, but also as paragons of the very thing that would seem to contradict it: what Jim Bob referred to in the interview as their "public shame." They are selling themselves as role models of, in general, the mistake-making and course-correcting that is, for every family, so much a part of raising children. The Duggars are, in a neat inversion of Matthew 23:12, using their humility to exalt themselves.
As Jim Bob, driving home the talking point, reiterated later in the Kelly interview: "We've talked to other families who have had other things happen."
Perhaps they have. Perhaps the particular strain of abuse alleged in this case—older brother touching younger sisters, inappropriately and repeatedly—is more common than convention would lead us to believe. Perhaps the allegations against Josh, and by extension against parents who did so little for so long to change his behavior, will lead to an important conversation. Perhaps it will help us all to reconsider how we talk to kids about sex, how we think about child abuse, how we discuss the range of damaging behaviors that can exist under the broad term of "molestation."
Perhaps. And that would certainly be a productive result of a story that is sad for pretty much everyone involved.
What it means for the Duggars, though—as celebrities who fashion themselves as moral leaders—is unclear. The Duggars have existed, until now, in a kind of paradox of publicity: They have largely separated themselves from mass culture—home-schooling their children, adhering to strict codes of dress and behavior that are far right of even the conservative Christian norm—but they have publicized that separation through the most mass-culture-y thing there is: reality TV. They have built an empire that is premised on isolation. And they have used that empire—its books, its blogs, its TV shows and social media accounts—to evangelize for not just a particular lifestyle, but for something even deeper and more transcendent: a particular set of values. A particular approach to morality. A particular collection of ethics about the most fundamental functions of society: guiding how we, as humans, relate to and treat one another.
The Duggars are extending that paradox, now, to their current condition—one that finds their sad secret exposed, that finds them the subject of conversation and consternation, that involves accusations not just of hubris, but of hypocrisy. (In the Fox interview, Kelly asked the Duggars about the robocall Michelle had recorded arguing against protections for LGBT and transgender residents of Fayetteville, Arkansas, about the seeming irony of producing that given what Michelle had experienced with Josh. The couple did not seem to grasp, fully, why people would see that as evidence of hypocrisy.) They are taking their "public shame" and attempting to reclaim it as yet another reason that the American public should look to them for moral guidance.
In that, essentially, the Duggars are suggesting that notoriety can have the same function as fame. That it can be a source of influence and guidance. That it can put the (in)famous in a position of moral authority, by virtue of the infamy itself. The Duggars have found yet another way of rejecting mass culture by embracing mass culture. Jill and Jessa, who came forward as two of the sisters Josh had allegedly fondled, did their own interview with Kelly. "They can't do this to us," Jill told the Fox News anchor. "We're victims."
She wasn't talking about her brother. She was talking about the media.
We want to hear what you think about this article. Submit a letter to the editor or write to letters@theatlantic.com.
Megan Garber
is a staff writer at
The Atlantic
, where she covers culture.