Can the Duggars Be Role Models for 'Public Shame'?
In an interview with Fox News, the 19 Kids and Counting stars defended their son—and insisted that their experience is a common one.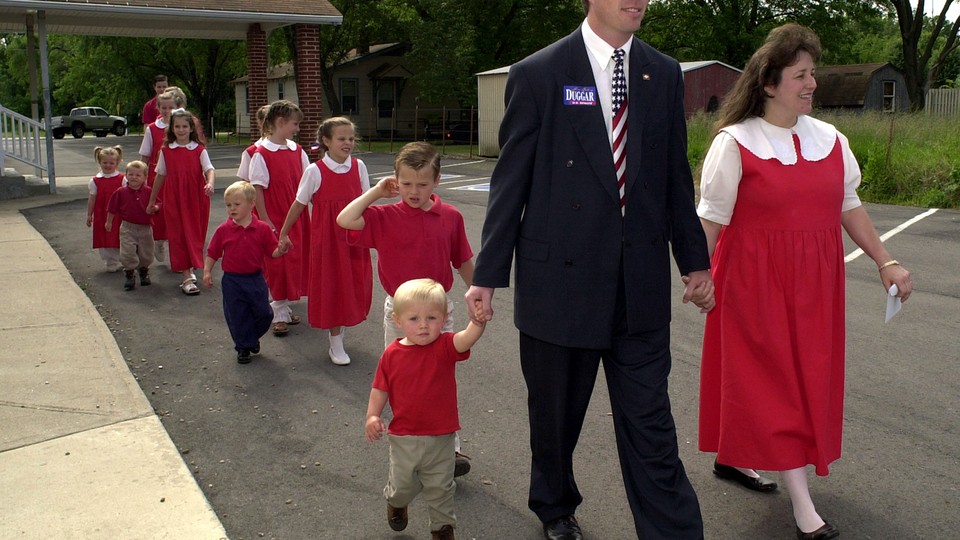 The Duggars also, however, made another contention: that, both despite and because of the allegations, they are … role models. Not for the things they have long sold themselves as models for—faith, family values, a lifestyle that is as rare as it is conservative—but also for something decidedly less wholesome: the violation of those values. The Duggars want other people to learn from their mistakes and misfortunes, they said. Which are, Jim Bob Duggar insisted, not as unusual as they seem. "As we talked to other parents and different ones since then," the Duggar patriarch told Kelly, "a lot of families have said that they've had similar things happen in their families."
As Jim Bob, driving home the talking point, reiterated later in the Kelly interview: "We've talked to other families who have had other things happen."
Perhaps they have. Perhaps the particular strain of abuse alleged in this case—older brother touching younger sisters, inappropriately and repeatedly—is more common than convention would lead us to believe. Perhaps the allegations against Josh, and by extension against parents who did so little for so long to change his behavior, will lead to an important conversation. Perhaps it will help us all to reconsider how we talk to kids about sex, how we think about child abuse, how we discuss the range of damaging behaviors that can exist under the broad term of "molestation."
Perhaps. And that would certainly be a productive result of a story that is sad for pretty much everyone involved.
She wasn't talking about her brother. She was talking about the media.