American Pharoah Reigns, Wearing a Triple Crown
The horse won the Belmont Stakes Saturday, cementing his place in history with the first such title since 1978.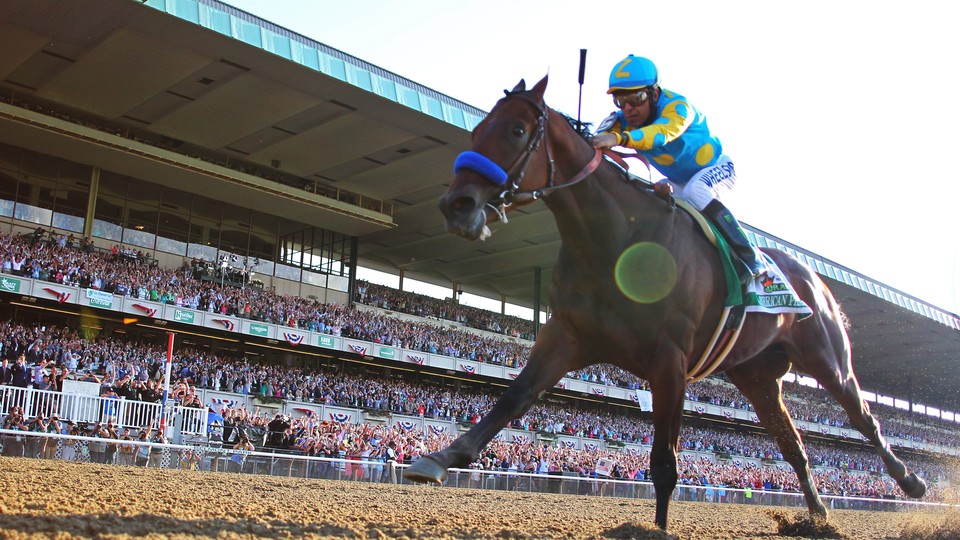 Who says America rejects royalty?
Fans gleefully acclaimed a pharaoh and granted him a new crown Saturday, after the horse American Pharoah won the Belmont Stakes. That makes him the first Triple Crown winner since 1978 and only the 12th in history. The horse, ridden by jockey Victor Espinoza and trained by Bob Baffert, ran the mile-and-a-half track in 2:26.65.
It's a historic victory. While 17 horses have won the first two legs of the Triple Crown—the Kentucky Derby and Preakness Stakes—completing the hat trick has eluded them. American Pharoah's victory defied both science and superstition—some had speculated that no one horse would win as long as Frank Sinatra's "New York, New York" was the post-parade song at the Belmont, rather than the traditional incumbent, "Sidewalks of New York," which was unseated in 1997. Just last year, California Chrome won the first two races of the Triple Crown, only to falter in the Belmont.
American Pharoah was, however, the favorite in the race. Now, he's likely to continue winning huge money as a favorite—but now as a favorite of breeders seeking to take advantage of his genetics, rather than bettors expecting him to run fastest. CNN Money reports that the horse could earn $6.5 to 7 million every year for the remaining decades of his life.