The American Idol Dream Came True
The show helped usher in an era where fans campaigned for their faves, prefab pop and authenticity weren't contradictions, and anyone could make themselves a star.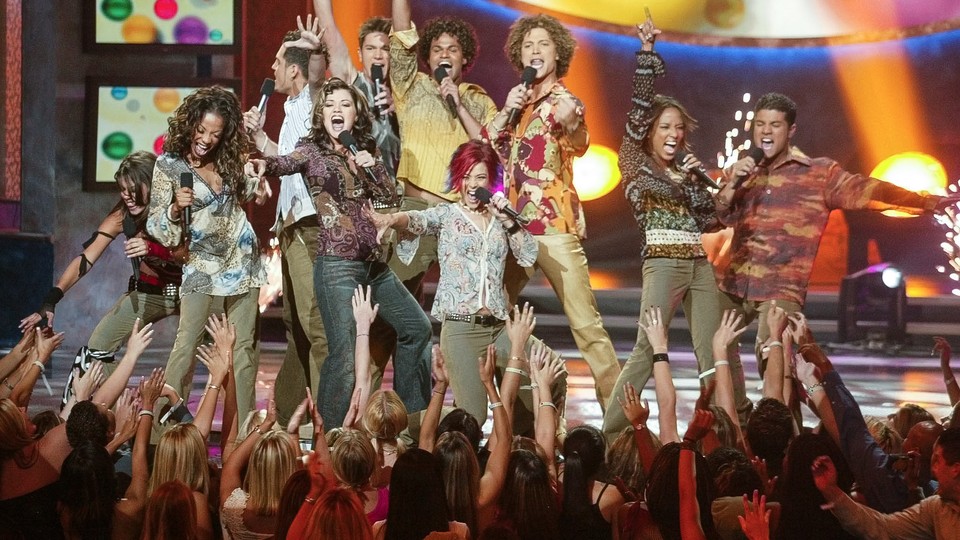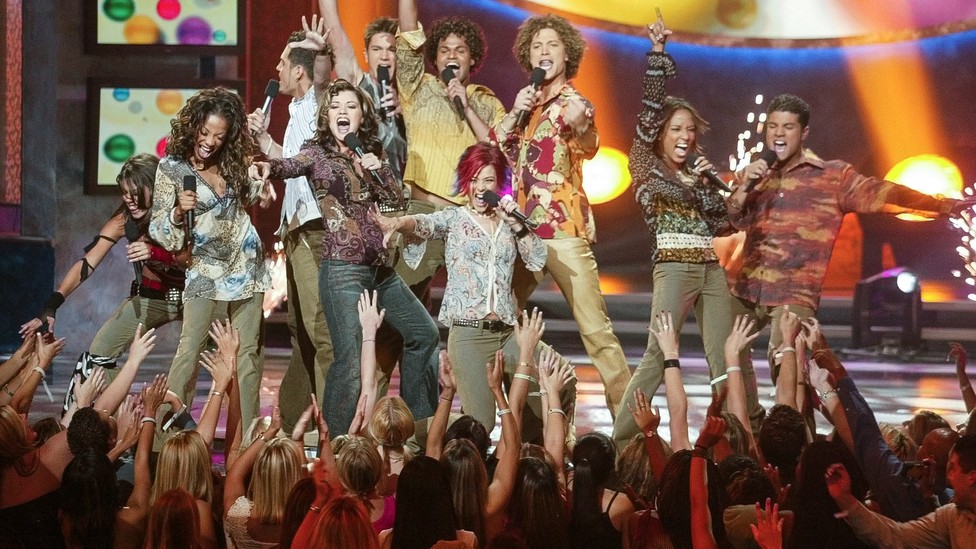 It was a beautiful myth, American Idol was. The show originally sprung from the U.K.'s Pop Idol and was spun off in more than a hundred markets worldwide, but in the U.S. viewers could still imagine that there was something quintessentially American about the way it used democracy to grant fame and wealth to one worthy commoner each season, while Ryan Seacrest presided with dental hygiene that only the world's greatest superpower could have produced.
But the promise of idoldom was never really the point, at least not for viewers. Though American Idol minted a few bona fide superstars, most of its winners and runners up never managed to cling on to household-name status. The first champ, Kelly Clarkson, remains a commercial force 13 years later, but the most recent one, Caleb Johnson, sold only 11,000 copies of his post-Idol debut album in the first week. But with the recent announcement that the show is ending after its 15th season, the best place to take stock of its pop-culture legacy isn't by exploring the fates of its contestants. Instead, it's by looking at all the pop stars, and all the pop fans, and all the TV shows that aren't directly connected to Idol but that might not be what they are without it.
The program started shortly after American album sales began to nosedive, and it came to define the kind of musical career that thrives in a post-CD era. Which is to say: musicians as entire-package personalities—let's go ahead and say brands—rather than as artisans issuing discrete pieces of work to be snapped up at the mall. The singers' performances mattered week to week, but perhaps not more than than their narrative as presented in heartwarming vignettes, their stage presence, and their most loyal followers' passion. In making these ordinary people into carefully presented mini-celebs, it was as if Idol offered viewers preparation for how social media would transform everyone's life into a kind of constant broadcast. Moreover, by rallying viewers to treat music as a sport (root for your team) and as politics (organize, campaign, vote), Idol created a dynamic that likely fed into the "stan wars" of pop music in the Web 2.0 age, where cutely nicknamed factions of music fans act with quantifiable objectives: Katycats get Katy Perry trending, Little Monsters get Lady Gaga charting, Beliebers push up Justin's perfume sales. Idol's effect on the television landscape is almost too obvious to get into, rivaling Super Bowls and elections with cultural dominance in its earlier years and inspiring a slew of knockoff televised talent contests.
It also workshopped the best ways for rising artist-celebs to present themselves to the public. By reveling in the process by which stars are manufactured—contestants performed covers of others peoples' songs, and winners debuted with a single prewritten by a third party—it further popularized the notion of stars as media creations rather than as fully self-made. But in doing so, it also showed the role that talent, hard work, and intangibles play: The things that can't be faked are what set contestants apart. The singers, the judges, and the voters were constantly negotiating the line between personal expression and widely accessible entertainment, between maintaining an identity and hitting the notes. In her 2011 book Idolized: Music, Media, and Identity in American Idol, Katherine L. Meizel zeroed in a 2004 audition from a singer named Micah Read as a perfect example of the push and pull over "realness" that defined much of Idol:
Read began his broadcast audition with Bob Seger's "Old Time Rock and Roll." Praising the performance, judge Simon Cowell recalled that he had found the "obligatory rocker" in the previous season's cast "fake" but that he heard Read's as a true rock voice. Nevertheless, he warned the singer, "If you're into rock and roll, you have to understand you may have to sell yourself out a bit." He asked to hear a few lines of "A Whole New World," a pop hit from the 1992 Disney film Aladdin, and when Read had finished, the panel agreed that the song had made him sound "like a fraud." "You just did the whole Bob Seger throaty rock sound," Paula Abdul explained, "and we thought that was you. And then you sang this ..." and "... it was bad," interjected Randy Jackson. "You've got to stay and remain who you are. You can't change just to please us." To be on the show, Read learned, he would be asked to sell out, but when he did, he'd be seen as an impostor. The judges, contradictorily, admonished Read to stay true to his "real" musical identity as a rock singer but also implied that, if he wanted to be on the show, he couldn't.
Being able to come off as authentic even while engaged in profit-minded calculation has been an important task for pop success from (or really, before) Madonna till now. Idol upped the meta aspect of pop stardom, encouraging singers to let the public witness the forging of their facades, and other artists have taken note. Taylor Swift, with her perfectly casual social media presence, is the virtuoso of this kind of presentation, able to convince fans that, say, a move from singer-songwriter styles to pure pop came from a genuine and deeply felt artistic impulse. Another example in this mode is One Direction, the boy band that Cowell assembled on his British Idol knockoff The X Factor. The group's appeal is built on the seemingly easy chemistry between the four—formerly five—guys in it. That Cowell mashed them together on TV is part of the magic.
Idol's viewership decline in recent years has been well-documented, and it's not hard to guess at the main reasons: fatigue with the format, lots of competition from fresher Idol copycats, and the fact that TV audiences are ever-more-fragmented. But it's also probably true that the big dream of the mass-democracy televised talent contest is becoming obsolete in the world that it helped create. For a chance to be discovered, you needn't line up for a day to sing for 30 seconds of "I Have Nothing" in front of Jennifer Lopez. You need only get on Youtube or Vine and start selling yourself with much the same combination of skills and expertise any viewer could pick up watching Idol for a few seasons. Idol promised to make music-industry success more broadly accessible, and compared to the old model of hoping an A&R agent stumbles upon your gig or someone at the label opens the demo you sent, it did. But it was also just another gatekeeper, and eventually people figured out how to hop the fence.