Hot Chip's Electrical-Emotional Power
Why Makes Sense? sees the British band using synthetic sounds to bittersweet, beautiful effect.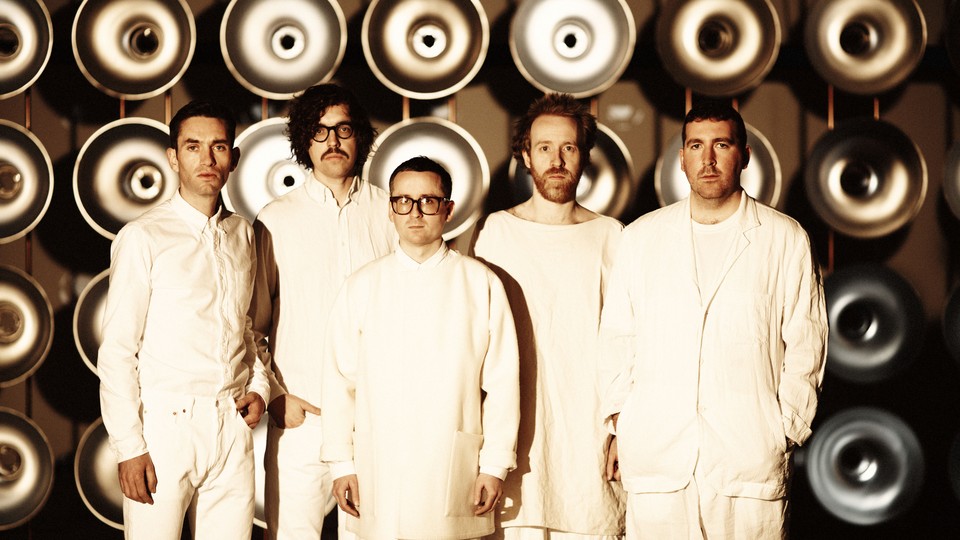 Dissing the songs dominating the radio at any given moment has become standard practice for musicians on press tours, and Hot Chip member Joe Goddard recently kept the tradition going. "It is a little frustrating because when I listen to quite a lot of modern chart music … it sounds very much as though it relies on the computer," he told The Independent in an interview promoting his band's sixth album, Why Make Sense? "Pretty much all the rhythms are quantized, so rhythmically they're very severe. And people do make amazing music like that, modern popular music that I think is incredible for those things, but I also think a lot of the time it squeezes the humanity out of music, which makes it harder to fall in love with those songs."
It's an interesting complaint, coming from him. When people think of London's Hot Chip, they might think of computers, or at least sounds that recall computers. The music's largely synth-driven, references electronica history, and is often laden with samples and vocal manipulation. The band has played up the mechanistic aspect of its shtick in promotional photos that have the members dressed a bit like lab techs.
But Goddard was talking in particular about rhythms that result when percussion's not recorded with drum sets but rather with software that allows beats to be laid precisely on a grid. The imperceptibly off-kilter elements that come when a person and not a machine is keeping time—or playing a melody, or singing—can indeed add a feeling of novelty and surprise to music. So even though the synth pads and keyboards that Hot Chip take the stage with create artificial sounds, in Goddard's words, the effect should be more "human."
"Human" is a pretty good description for everything Hot Chip does, in fact. Three years ago, after helping to define the sound of dance rock in the aughts, the band made its masterpiece—or, depending on how much you like their earlier work, a masterpiece—with its fifth album, In Our Heads. Inspired by the epic sweep of both house music and gospel, the songs rolled out with steady beats and lush keyboard textures intermixed with horns, children's choirs, and birdsong. The band has its detractors, and they're mostly people who can't get past frontman Alexis Taylor's voice: comically gentle, almost whimpering at times, a nerd's take on soul. But he writes with both an earnestness and precision that suits his voice and dispels notions that he's aping better singers. For In Our Heads, the overriding theme was love as a kind of joyful negotiation, marked by openheartedness but not naivety. "These chains you bound around my heart complete me," he sang. "I would not be free."
After the life-affirming vibe and flat-out brilliance of that album, super-fans might see Why Make Sense? as a letdown. But it's still pretty wonderful, an example of a band doing something that's entirely its own. The cover of each copy sold of the new album is a one-of-a-kind piece of artwork, generated by ever-so-slight alterations in color and line placement during the printing process. The idea works pretty well as a metaphor for what the band's up to: shading fine gradations, attempting to encapsulate complicated parts of life in an appealing, striking package.
The emotional palette here has become a little bit darker than previous Hot Chip releases; listening to it, you wonder if someone involved has gone through a breakup, or is at least missing an ex. "Started Right" contrasts head-over-heels infatuation against the difficulties of lifelong romance, with a cheeky stop/start arrangement—complete with fake bass sounds that recall a toy keyboard—accompanying lyrics about the illogic of love: "You make my heart feel like it's my brain." Similarly, "Easy to Get" opens with thin funk riffing as Taylor tells of a late-night seduction; by the end, the affair seems to have ended but he's telling the subject of the song to "wipe away your regret" as the band joins in for worship-service singing. Often, this kind of wistful, bittersweet feeling is communicated with single sounds tuned to lump-in-throat frequency: a high thread of guitar distortion piercing through the sad mantra-singing of album centerpiece "Dark Night," thrumming organ chords underlying "Need You Now," huge drum echoes on the psychedelic title track that closes the record.
The press notes for Why Make Sense? say that 15 years into Hot Chip's career, the members were wondering what their place was, whether they had anything new to say, and what set them apart from other bands. They took a stab at an explicit answer on the album-opener and first single "Huarache Lights." Early on, it features a sample of the 1977 Philadelphia disco song, with a female vocalist yelling that she's "got something for your mind, your body, and your soul." By the end of the song, those same words are being quoted by Taylor or another band member using a talk box or vocoder, and what had started as a stripped-down dance beat has been gilded with layers of shuddering synths, robo-vocals, and tender sighing. It's indeed a mind/body/soul experience, just like all the great music should be.