The Death of an Underdog in American Art
The tiny Museum of Biblical Art was unique thanks to its secular discussion of art's religious origins. Its closure highlights a stunning disconnect in U.S. museums between masterpieces and the context within which they were created.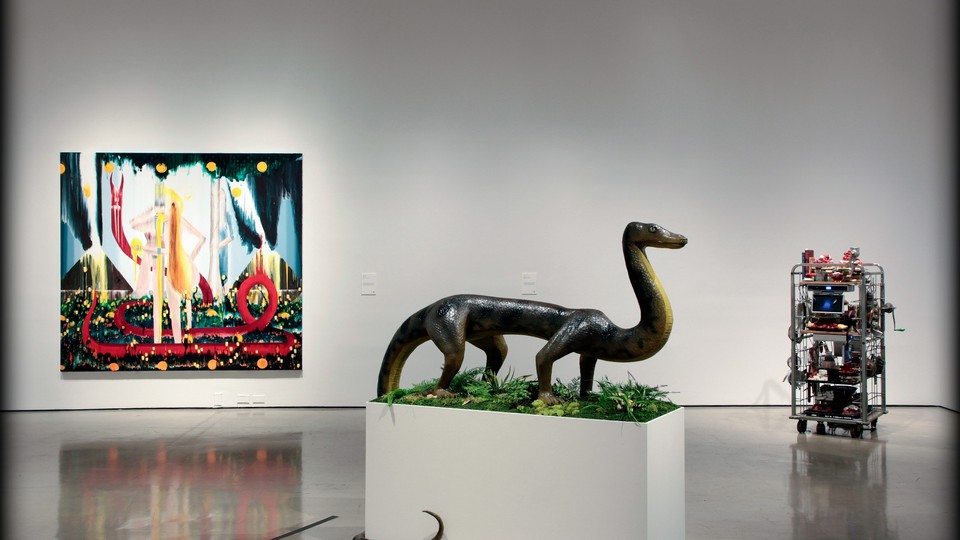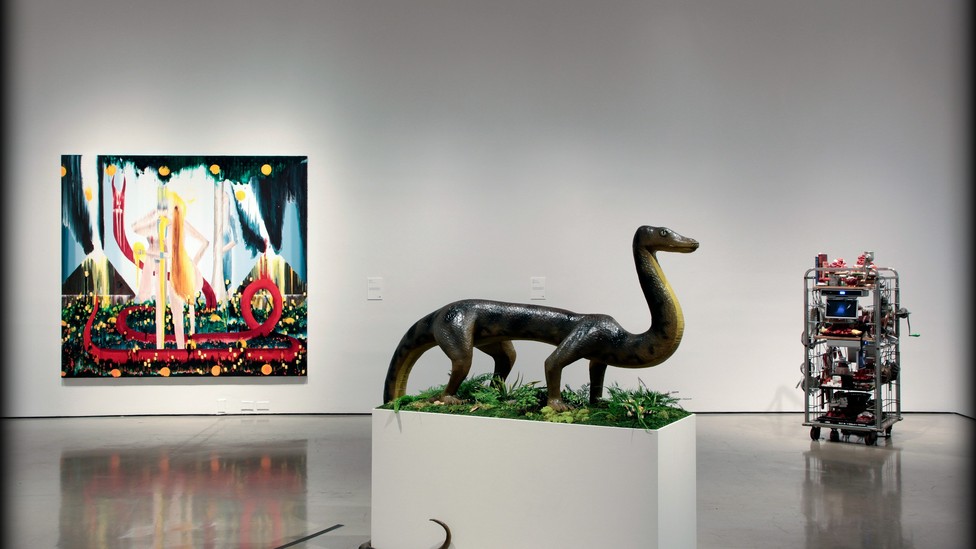 One by one, the Master's figures will take their leave. Saint John the Evangelist. Abraham and Isaac; two little "profetini," or  child prophets; a gaunt figure known as the Zuccone, whose quizzically fierce expression has caused almost as much art-historian speculation as the Mona Lisa's smile. Eventually, nine marbles created by or ascribed to Donatello, the greatest sculptor of the early Renaissance, will all be carefully packed into super-re-enforced wooden crates, sealed, and will leave the place that's served as their home for the past four months: a tiny (2,500 square-foot) museum almost nobody had heard of.
That's until last February, at least, when The New York Times visited and announced, "Hard to believe, but true: an exhibition that includes three major works by … Donatello has come to New York, and it's not at the Metropolitan Museum of Art or the Frick Collection. It's at the Museum of Biblical Art." The review lauded the "beautiful, soul-stirring exhibit." The New Yorker's critic called it "splendid." But in June the iconic figures will return to their home in the newly renovated Florence Cathedral Museum, and carpenters will tear down their temporary wooden pedestals.
And the little New York museum that could? A few months later, carpenters will tear it down too.
Art museums go out of business all the time: The truism is that few last more than three years. But fewer still disappear on the heels of a triumph like Sculpture in the Age of Donatello: Renaissance Masterpieces From the Florence Cathedral. It's not only that the Museum of Biblical Art's exhibit is probably once-in-a-lifetime in this country—Florence's Cathedral Museum (Museo dell'Opera del Duomo) won't be renovating again any time soon—so much as it's the fact that even the Duomo has never arranged these pieces with this kind of charged intimacy. The show, just as the critics said, is a wonderful, startling event, instilling in busy, secular New Yorkers the awe that 15th century Florentines must have felt under the scrutiny of dozens of marble saints when the sculptures were new; and one imbued with MOBIA's deep understanding of early Renaissance spirituality.
And yet last Tuesday the museum's board announced "with great sadness," that it would be closing to the public on the last day of the Donatello show (June 14), and closing "altogether" on June 30. The American Bible Society, which had essentially been donating MOBIA space in its own building just north of Columbus circle, announced in February that it was selling the space to a developer and moving to Philadelphia. In "such a short time frame," the board wrote, it was impossible to raise funds to rent and renovate a new site.
Said Marcus Burk, senior curator at the Hispanic Society of America and a past MOBIA collaborator, "This is just a torpedo at the water-line. It's an enormous loss to the cultural life of New York and the whole country."
***
Immediately following the news of MOBIA's closing, it was clear that professional commentators knew that they had lost something, but they didn't seem to know exactly what. In Slate, Ruth Graham mourned an institution that (as quoted from MOBIA'S  "Mission and History" page) "celebrates and interprets art inspired by the Bible." Graham legitimately took both secular and religious donors to task for not stepping up, but  reported cheerily that all was not lost. "Luckily," she announced, "the Metropolitan Museum's remarkable collection of Christian art is just a 30-minute stroll across [Central] Park."
That reaction, and others, suggested that the issue here was the simple loss of a venue for the art of religion. But MOBIA served a far more particular purpose that made it nationally unique. (A couple of museums in far smaller markets come close.) It corrected for a massive flaw in museum culture by being a gallery dedicated to the religious nature of religious art. And not only that, but it was a secular museum dedicated to the religious nature of religious art.
If "religious nature of religious art" seems tautological, blame Western curatorial history for making it not so. Although most important American institutions abound with the art of faith, until recently, those museums provided almost no information about that art's spiritual inspiration, its ritual use, or where it fit into the roiling histories of popular belief or religious politics. Or as Ena Heller—MOBIA's founding director and now director of the Cornell Fine Arts Museum at Rollins College in Orlando, Florida—remarked in 2004, most museums displayed "an undeniable reluctance to interpret the religious component of art."
That flaw is breathtaking: Imagine a museum showing Warhols being "reluctant" to talk about late-20th-century consumerism, or an institution exploring German Expressionism being leery of bringing up World Wars. For a decade, MOBIA, which Heller founded in a shoebox in 2005, has acted as a kind of two-cylinder antidote, presenting Christian and Jewish religious art with all the context museums traditionally ignored. And it's done so while maintaining a strictly secular curatorial philosophy, confuting those who think that to concentrate on religion means to evangelize. The victorious Donatello show seemed to assure that MOBIA could continue to explain the cultural influence of the Bible on art—obvious yet ignored—from a perch of true national stature.
Now, it's up to art consumers to internalize the museum's insight for themselves.
***
The absence of religious context for religious art in American museums was not, as one might assume, a product of the culture wars or a precocious expression of the new atheism. It was actually the result of several hundred years of aesthetic politics. The first "modern" art museum, the Louvre, was the re-purposing of Louis XVI's collection by the Revolution, which stripped out its religious aspect.
The Yale art-history professor Robert Nelson provides the English-language variant in his 2004 essay, "Art and Museums: Ships Passing in the Night?" Nelson recounts the immensely influential critic John Ruskin's popularization of Venetian (Catholic) church architecture, but explains that "English Protestant prejudices, which [Ruskin] shared," made it necessary to "aestheticize and thus secularize the churches." Ruskin advised art pilgrims to avoid days when the churches were filled with "woeful groups" of believers, "fixed in paralytic supplication." You could call it a triumph of the eye over the soul.
Nelson describes museums as becoming little factories for secularizing their own collections. The habit also caught on in the U.S., where curators were often Protestant—or later, Jewish refugees—with limited appetite for Catholic ritual or devotion. Other trends —an enthusiasm for abstraction, Vietnam-era anti-establishmentarianism, and postmodernism—made faith a non-topic, except when treated ironically. Eventually, said Gary Vikan, the former director of the Walters Museum of Art in Baltimore, what may have started in Europe as a Protestant aversion became "more a matter of intellectual snobbism and glib cynicism." Religion "was something you didn't discuss in polite company," and museums were the epitome of polite company.
By the 1990s, labels for religious paintings in permanent collections rarely included mention of the biblical verses the paintings were based on. As MOBIA's current (and final) director, Richard Townsend, notes, "If a piece of art were based on a scene in Ulysses, it would be on the label." The very function of Orthodox icons, created as mystical windows through which to access saints, went unmentioned, as did art's role as a pictorial Gospel during Europe's centuries of illiteracy. Excepting trailblazers like Vikan and Helen Evans at the Met, few curators offered shows organized around religion—or even admitted it as a category of interest: The subject subheadings in the 2001 Smithsonian Institution Traveling Exhibitions Services (SITES) catalog included gender studies, maritime history, and sports, but omitted naming religion even when faith-based art loomed large in a show.
***
MOBIA wasn't initially conceived to redress centuries of imbalance. It started out as the brainchild of the American Bible Society, a nearly 200-year-old Bible translation and distribution ministry. The ABS website announces, "We long for a world where no-one is separated from a loving and restorative relationship with Jesus Christ," and its hope in 1997 for what became MOBIA was to further that mission with a gallery at its spectacular Midtown headquarters.
To run it, the ABS approached Heller, then a 33-year-old art historian . She accepted, but not out of evangelistic verve. "I was thinking, let's look at these works of art not just as we're used to looking at them in museums, but as objects that had been employed for a very specific purpose," she said. "Let's understand how they were conceived, the way they were used and the way they were looked at." She demanded that the gallery be secular, presenting the faith-based art in a religiously neutral light. She argued that this would expose the art to more people, and the ABS accepted her terms.
This non-devotional status was codified in 2005 when the space, initially called the Gallery at the American Bible Society, changed its name to the Museum of Biblical Art and was chartered under the State University system of New York. MOBIA also began taking city, state, and federal money, which meant it risked a lawsuit if its work was perceived as devotional. It was a kunsthalle, a museum with no permanent collection besides ABS's world-class library of old Bibles, and had to either solicit shows from elsewhere or compose its own through creative borrowing. To facilitate the necessary contacts and further guarantee MOBIA's nonsectarian  status, Heller wooed figures as disparate as the multi-millionaire Roberta Ahmanson, a conservative Christian culture warrior who eventually became the museum's biggest individual benefactor; and Tom Freudenheim, a high-profile executive both with Berlin's Jewish Museum and the YIVO Institute for Jewish Research.
Under the guidance of three subsequent directors after Heller's 2012 departure, the museum mounted or hosted more than 60 shows of high quality and spectacular variety that consistently illuminated the theological context of the works on display. An early exhibition used multiple representations of Mary Magdalene to trace the roles of women in Christian thought. Another presented painted proof that 15th century Andalusian Jews had worked side-by-side with Christians creating church altarpieces. A 2006 show on the French Expressionist Georges Rouault, arguably the 20th century's greatest religious painter, was particularly telling: The Museum of Modern Art, about a mile from MOBIA, owns many Rouaults from a famous series applying the image of the suffering Christ to the abominations of World War, but it prefers to display his pictures of circus performers.
Sometimes MOBIA's explorations prompted surprising reactions. Visitors left money on a Guatemalan kitchen altar, as believers do back home; and the museum had to put signs up to prevent the pious from kissing a collection of Russian Orthodox icons. "[These shows] excavated the real importance that religion has in peoples' lives," said S. Brent Plate, a religion professor at Hamilton College.
In time, MOBIA won over the cultural elite. In New York, the simplest metric for this is column inches in The Times. Initially MOBIA reviews arrived once a year, but by 2010 the frequency had doubled, and although never prominently featured, the notices were universally positive: The shows were "enthralling," "superb," "captivating," and "beautiful and fascinating."
When Townsend became MOBIA's director in 2013, he was positioned to run the table. More of a showman than Heller, he said, "My strategy has been to begin to grapple with larger figures in the history of art." Completing negotiations by his predecessors and Ahmanson, he landed a whopper. The Times took notice immediately: "Museum Draws Donatello from Italy," it announced. "The Donatello feast … represents a curatorial coup for the tiny museum." A year later came the opening and the critical raves. The exhibit nailed a perfect convergence of church history and art history: the Florence cathedral's magnificent early 15th century augmentation, which helped kick off the Renaissance. At the opening, trustee Jody Hassett-Sanchez remarked, "We have once and for all quashed any perception that there is any evangelizing, finger-wagging, preaching, or sneaky backdoor sermonizing at MOBIA."
***
The problem is that although MOBIA separated legally from the ABS, it never quite eliminated its financial dependence. By mutual agreement the Bible Society, once the museum's sole funder, was gradually decreasing its cash contributions to zero. Brian O'Neil, a MOBIA trustee from the beginning, said that fundraising would probably have enabled the museum to survive. But when the ABS decided to sell, the end of MOBIA's sweet dollar-a-year rent deal on the second floor was one blow too many. The museum, which had no endowment, made a frenzied attempt to spin the Donatello show's success into some kind of solution: O'Neil said it had located a possible space, but the $5-million tab to configure it properly, plus a million a year for operations, was unfeasible.
He said that although the Board would have accepted money from donors with a religious mission, "We weren't going to change to raise money from those sources." Through to the bitter end, MOBIA continued to see itself operating within the classic academically oriented museum model, rather than as institutionally pious or evangelistic. It welcomed believers and their devotions, but its own identity was as a card-carrying member of the same club that the Met, the Getty, and the Smithsonian belong to. It's just that unlike many members of the club, it actually saw the believers—and the whole rich dynamic between art and belief—as worthy of respectful recognition.
An irony of MOBIA's demise is that over its lifespan, the rest of the museum world appears to have taken the hint. To cite one example, the Met has been gradually supplementing Evans's blockbuster Byzantium exhibits with other smart religion shows. Two years ago it hired Rhonda Kassel, a curator sensitive to religious context, from the Indianapolis Museum. The Met's European galleries sport a wonderful new video explaining the function of medieval altarpieces. The Met's online Heilbrunn Timeline of Art History, initiated in 2005, includes fine essays on religious themes. One can hope the trend will continue, in which case MOBIA's example may have had some impact.
But progress is slow. "Maybe the values that drove Ena [Heller] to do what she did have taken root seriously in major museums, but I'm a little skeptical," said Vikan. To return to the Met: The big museum's Medieval Hall, which consists nearly solely of religious objects, has neither labeling nor Acoustiguide entries addressing faith's overarching yet mutating presence. The informative Heilbrunn Timeline describes itself as "targeted at students and scholars of art history" ruling out the average viewer. Meanwhile, all Rouaults have disappeared from the Modern, where any religious imagery is scarce.
And Ruskin's aesthetic bias lingers, married with a nervous political correctness. The Los Angeles Times art critic Christopher Knight told me he had panned a recreation of a Buddhist meditation space that invited visitor participation on grounds that it divided visitors into participants and "others." The primary function of art museums, he asserted, "is to focus on the aesthetic aspect, which brings people together rather than dividing them," and he cautioned that institutions need to guard against engaging in religious advocacy. "One might as well set up a Roman Catholic chapel inside the museum in order to elucidate the work of art," he said, "which would be virtually unthinkable."
Except that it's precisely what the proudly secular MOBIA would have done, if the chapel's contents were interesting enough. And it would have done it without worrying that it would make non-Catholics feel like "others" or induce them to convert. Even if larger museums were catching up on religious context, MOBIA was on its way to establishing a breadth and depth of vision that only concentrated what long-term commitment can achieve. While the most open-minded big-box institution couldn't install a religion-themed show more than once every year or so, MOBIA launched one roughly every three months, enabling it to explore the topic's endless layers. The overall effect, said Hamilton's Plate, was not simply due diligence to religious material; but a re-knitting of religion back into art history. Beyond that, he said, "It showed religion infusing our culture. It suggested this enriched alternate history of the West."
***
Had MOBIA survived past June, its next show would have been on colonial Spanish religious art. Instead, that will open in Palm Beach next March. The show after that, another potential blockbuster, would have featured Andy Warhol's final series, on Leonardo da Vinci's Last Supper. The art has been shown before, but as described by Townsend, his museum would have examined how the cycle reflected both Warhol's personal spirituality and the Slavonic Catholicism in which he was raised. These were not things the artist took lightly: "He obsessed over this theme," Townsend said.
In other words, this is the rare Warhol exhibit where a long meditation on 20th-century consumerism wouldn't have been as appropriate as a detailed backgrounding on faith.
It would have been perfect for MOBIA.