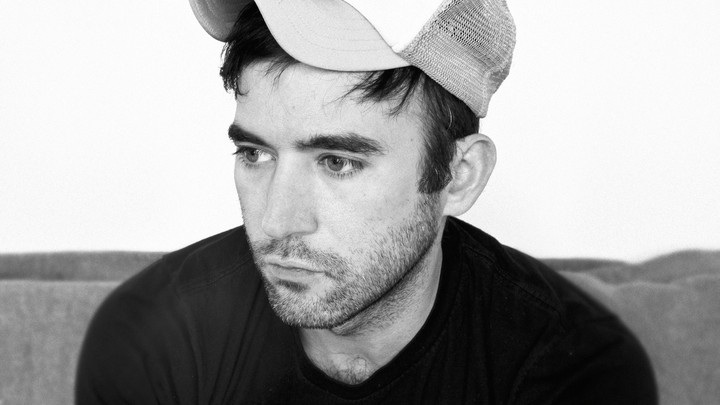 I made the mistake of offering a Sufjan Stevens ticket to a friend who, I soon learned, thinks Sufjan Stevens is a hack. Periodically during the concert at DAR Constitution Hall in Washington, D.C. on Tuesday night, I'd receive texts like—
"How's the master of melancholy?"
"The sovereign of sorrow?"
"The duke of dolor?"
—and, channeling John Travolta at the 2014 Oscars—
"The one and only, cheerlessly talented …"
This is the common knock against Stevens and most other singer-songwriters preoccupied with grief and depression: Isn't it all a little much? Stevens is certainly aware of his reputation for being a bummer. On Tuesday after playing 12 songs—one Michigan instrumental, 10 tracks from his mournful new album Carrie & Lowell, and the hushed 2010 ballad "The Owl and the Tanager"—he acknowledged the audience for the first time that night. "Thank you," he said to cheers from a previously silent room. "I'm going to take a break from singing songs about death."
Naturally, then came a few minutes of talking about death. He said he once had an albino rat named "Ronald McDonald" that contracted cancer and was put out of its misery by Stevens's father, who placed it in a coffee can and smashed it with a hammer. He said his great grandmother died at age 100 when Stevens was seven, and that his family made him look into her coffin before presenting him with the Tibetan Book of the Dead and the collected poems of Sylvia Plath. He said his parents were fans of the mystic Edgar Cayce, whose preaching about reincarnation frightened the young Stevens, who'd seen more than a few zombie movies.
The ramble was perfect—a funny and personal acknowledgement of the vibes he'd been giving off, and a reminder that he doesn't think his brand of self reflection is particularly special or profound. Death and sadness are banal parts of life, butting right up against hilarity and happiness. You hear the juxtaposition even amid the hazy finger-picking of Carrie & Lowell, his 11-song elegy for his mom. "There's blood on that blade / fuck me I'm falling apart," he sings at the album's climax of sorrow. But then: "My assassin / like Casper the Ghost." Casper the Ghost? The children's cartoon?
Seeing Stevens live is like upping the contrast in a photo. Carrie & Lowell sounds much the same throughout—it's mostly acoustic, mostly percussion-free, and definitely not a jam—but in concert there are higher highs and lower lows and a wider array of sounds. The sex-during-grief chronicle "All of Me Wants All of You" became a trip-hop slow dance, with Stevens shashaying behind the microphone. "Fourth of July" gained a full-band arrangement about as chipper as anything on 2005's Come on Feel the Illinoise, highlighting the fact that the song features words of encouragement from his mom rather than the fact that she's portrayed on her deathbed. As recorded, the bridge for "Should Have Known Better" sneak in series of happy lyrical images as the music barely changes; on stage, though, the drums kicked in and the catharsis was unmissable.
As for the sad parts: oof. Stevens appeared to be crying a few times, and behind the band was an array of hexagonal screens recalling church windows; sometimes, they projected what appeared to be home movies from the childhoods of Stevens and his parents. When he strayed from Carrie & Lowell, he picked his more downbeat material: The acoustic worship tunes of Seven Swans were well-represented, while the nutso electronica of 2010's Age of Adz went unheard entirely outside of its spare opener "Futile Devices." He closed the first part of his set with "Blue Bucket of Gold" turning into My Bloody Valentine-style noise swell that lasted somewhere around 10 minutes; as dual mirror balls swathed the auditorium in swirling points of light, anyone who didn't have a bit of an existential crisis must have been asleep in their chair.
Even the flubs were handled with emotional poise. During "Sister," Stevens broke into a coughing fit and had to stop the song; he joked that the three times when you're not supposed to cough are when you announce you're running for president, when you defend your dissertation, and when you sing a song about your sister. During the encore, showgoers applauded when he began playing "Casimir Pulaski Day," arguably the most beloved and heartbreaking song of his discography. But he screwed it up a number of ways—forgetting words, flubbing the banjo part, missing cues. Each time, he smiled and said something funny and self-deprecating. Then he went back to singing about cancer.
We want to hear what you think about this article. Submit a letter to the editor or write to letters@theatlantic.com.
Spencer Kornhaber
is a staff writer at
The Atlantic,
where he covers pop culture and music.