Snoop Dogg Reminds That Fun Can Be Forgettable
Bush uses the rapper's brand but not his talents as a vehicle for Pharrell's funk and disco revival.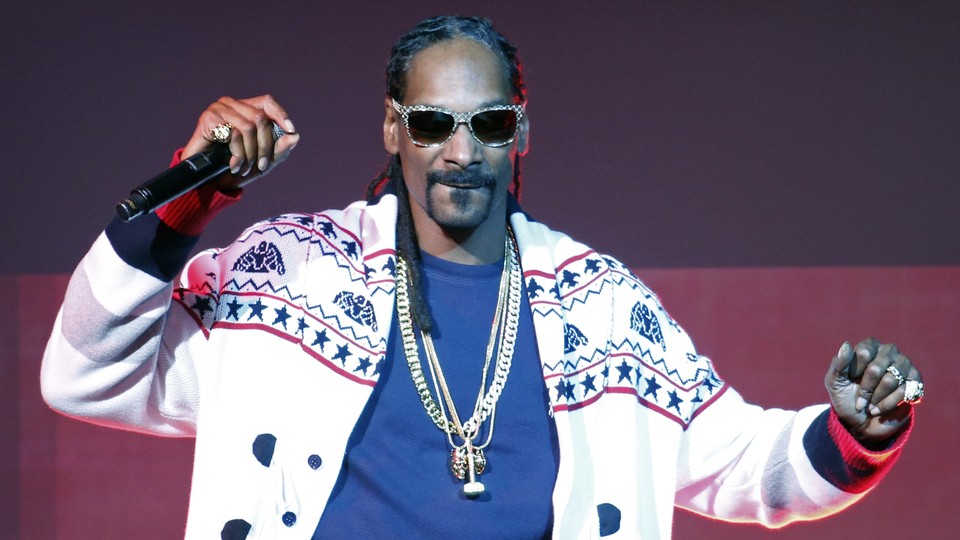 Snoop Dogg's memory of his own career is a bit hazy. Discussing the challenge of coming up with new sounds for each album in a recent New York Times Magazine interview, he asked Jon Caramanica, "When's the last time I had a Snoop Dogg record out?"
"About four years ago," Caramanica replied.
"Which was it? Doggumentary? Ego Trippin' ? Malice N Wonderland? I don't remember."
To be fair to Snoop, the last few years have been complicated. In 2013 he released the reggae album Reincarnated under the recording name Snoop Lion, which was followed by Seven Days of Funk, a collaboration with Dam-Funk, released under the name Snoopzilla. After all that rebranding and 23 years of making music, whose recollection of their earlier discography wouldn't be a bit spotty?
In that same Times interview, he explained that he packed his new album Bush with old-school funk and R&B sounds because "there's a void for that style of music." It was another perplexing comment, given that one of the biggest trends in pop in the past few years has been a resurgence of the style in question, in large part thanks to Pharrell Williams, the man who produced Bush. The album's crackling guitars, infectious bass lines, and mid-tempo syncopation are of a piece with "Get Lucky," "Blurred Lines," and "Happy." Snoop's not filling a need; he's providing more of what's recently proven to be a hot commodity.
Call it a cash grab if you want. The man who's famous for keeping his mind on his money and his money on his mind has remained consistent in his intentions: "I don't do it for the haters, I do it for the players," he says on the Bush single "Peaches & Cream" before correcting himself. "Well okay, I do it for the riches." Besides, the style he's working in is no betrayal of the g-funk sounds that helped make him famous. Much of Bush recalls the first minute and a half of the Doggystyle touchstone "Ain't No Fun (If the Homies Can't Have None)," which featured a strutting funk arrangement and Nate Dogg singing before Kurupt came in with a fierce verse of rapping.
There are no such verses here. Snoop himself has described the record as "only 30 percent rap and 70 percent singing," which is probably right. Singing, of course, is not what people come to him for; it's his unmistakable speaking drawl that has always made him stand out. Without it, the only definably Snoopish thing about the album is its lyrical preoccupations: weed, sex, weed. "She too fly for words / And where I'm at now I'm too high for birds" kicks off his verse on the aforementioned "Peaches & Cream"; the couplet just about sums up the album with its lazy, concise statement of themes. The only somewhat interesting refinement of those themes comes on the self-explanatorily titled "Edibles," which has vaudevillian background vocals reciting a casually sexist menu—"cupcakes … cookies … girls … chocolate … molly."
But looking for innovation or even effort here isn't just beside the point, it's against the point. Bush is a forget-your-problems album. "There is always a party, whether it's a birthday party or a house-warming party or a party in a club, and we wanted to represent the party, and represent sexy," Snoop said to The Guardian of the record's mentality. As fits the vibe, there's a big group of A-list collaborators—Stevie Wonder, Bootsy Collins, Gwen Stefani, T.I., Kendrick Lamar, Rick Ross—and individually, most of them put in more work than Snoop ever does.
It's probably best to think of Snoop this time out as emcee by the literal definition, presiding over the celebration but not actually running it. The real star is Pharrell, whose gift for familiar yet distinctive arrangements with ingratiating hooks serves up a few songs that demand repeat listens: the black-light sway of "Awake," the flashy disco of "This City," and the surprising smoothness of "I Knew That." In the right mood—partying, smoking, walking around a sweltering city at night—the other tracks offer a good time too. You might not remember them after they're over, but Snoop probably doesn't expect you, or himself, to.