Sex, Lies, and Animation
The cult indie filmmaker and cartoonist Bill Plympton remains a faithful advocate of the traditional hand-drawn method, on display in his latest romantic dramedy Cheatin'.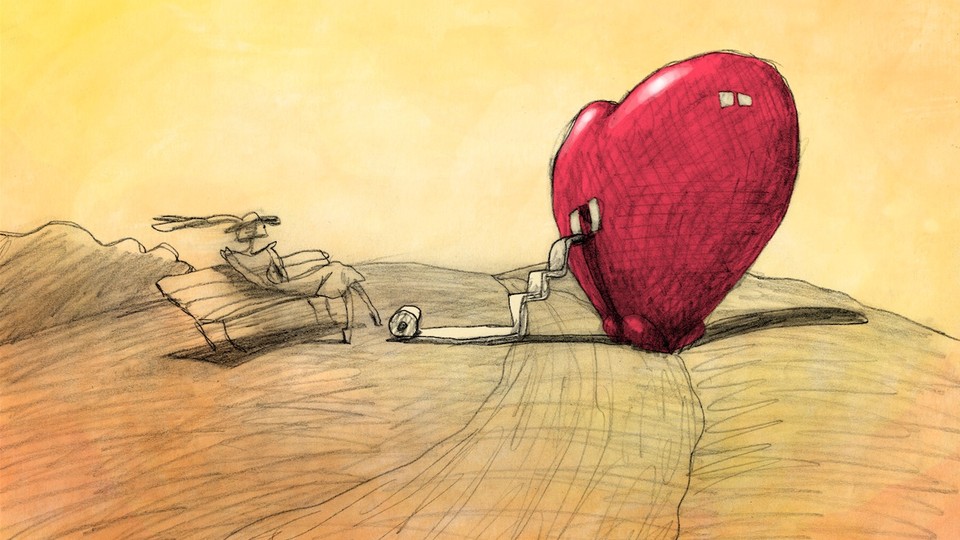 Cheatin', a new animated drama about a stormy romance between the recently married Ella and Jake, is no WALL-E, but it's a masterpiece nonetheless. Its creator, Bill Plympton, is an independent filmmaker who produces, directs, writes, and draws films pretty much by himself for a devoted fan base. Surrealistically rendered in the artist's shaky, sketchy, crosshatched signature style, the plot centers on a scheming "other woman" who tricks Jake into being unfaithful to Ella. She, instead of seeking revenge, finds a supernatural way to project herself into the bodies of the women Jake is sleeping with.
Plympton is a stubborn old schooler: Even in this age of CGI, he refuses to take his films in a Pixar-ish direction. "A lot of people wonder why I'm such a dinosaur, hand-drawing all my animation," Plympton told me. "Yet it's so much faster to draw my films myself, and 10 times cheaper."
The creative inspiration for Cheatin' comes from one of Plympton's relationships about 20 years ago, where he fell hard for someone and thought they'd be soul mates for life. But after moving in together, the two "were ready to strangle each other," despite still being immensely attracted to one another. The concept of a film about a couple who were violently in love stayed with him.
Plympton also drew from a slew of country songs about people cheating on each other, but he wanted to tell the story using another, even more old-fashioned music genre: opera. Ella is visually based on Linda Darnell, the sultry, come-hither movie star from 1940s noir films, while Jake is loosely based on a young Marlon Brando and his animal magnetism. Plympton's previous film, Idiots and Angels, was similar to this one, except that in the former, the characters had more realistic anatomies. "Because [Cheatin']had very exaggerated emotions and over-the-top passions, it felt appropriate to let the anatomy go crazy," Plympton said. "Besides, it was a lot of fun to draw."
Cheatin' took about three and a half years to create—one year for the original outline, storyboard and character design, a year and a half for the actual animation, and another year for post-production. Plympton himself made all 40,000 drawings plus backgrounds, because it allowed for an organic way of conceptualizing and improvising. In one scene, a hitman preparing for a big kill staples his own nipples and howls in triumphant pain. As Plympton was drawing the stapled nipples, he noticed they looked like little smiley faces, so he decided to draw a playful transition: six in-between drawings to make the hitman's nipple become his screaming mouth.
Plympton's movies have won such a loyal following that the cable channel Shorts HD bought his entire library and set up a Bill Plympton channel on iTunes—something he hopes hopes will engage a whole new generation of fans. He's received an Oscar nomination, appeared on MTV, and created one of the "couch gags" for The Simpsons. But his films are much more popular in Europe and in Russia than they are in the U.S.—probably, he speculates, because viewers there are more open to cartoons made for adults.
And despite the amount of energy Plympton is putting into the release of Cheatin', he's also working on finishing Hitler's Folly, a mock-umentary about Adolf Hitler's love of animation. He's also directing and drawing another film called Revengeance, which is being partially funded through a Kickstarter campaign. Which is, again, where his avid followers come in. "Even though I'm not rich, it's been so much fun, because I get to draw 100 drawings every day," Plympton said. "And to me, that's heaven."