Pitch Perfect 2 Is a Trifle Flat
The follow up to the unlikely 2012 hit about a misfit a capella group lacks the self-aware charm of the original.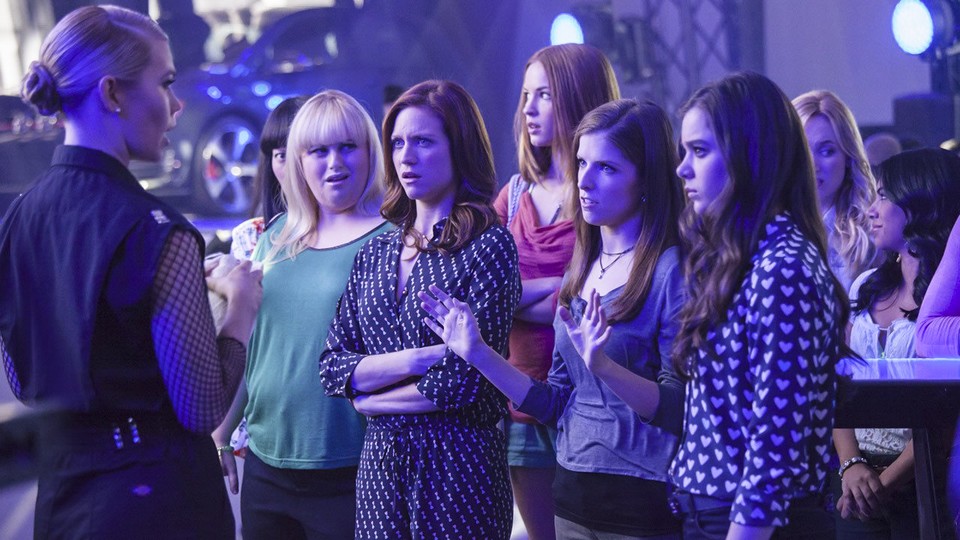 It's maybe fair to assume that nobody expected Pitch Perfect, the 2012 comedy about an ill-matched, preposterously awkward collegial a cappella troupe, to be as good as it was. For one thing, the demographic it targeted was women under the age of 25. Its director, Jason Moore, was a rookie whose only previous experience was in theater and television. And its premise was enormously dorky, even if the concept of a group of misfits coming together in song in an educational setting had been previously popularized by Fox's Glee. Pitch Perfect was, by turns, gross, offensive, and glorious, and its combination of acerbic one-liners and a cast full of oddballs made it that Hollywood white whale: a word-of-mouth success.
So it might be unfair to expect Pitch Perfect 2 to live up to the unanticipated brilliance of the first movie, and the film doesn't really seem to try, even with the producer Elizabeth Banks now in the director's chair. All of the characters are back—Anna Kendrick as the tomboyish wannabe DJ Beca, Rebel Wilson as the foul-mouthed extrovert Fat Amy, Brittany Snow as the sunny peacemaker Chloe—but this time, their chemistry is off, and what felt like winking cheekiness in the first movie can come across now more like clumsy provocation.
The film opens three years later, with Beca and the rest of the Barden Bellas living in a house on campus, having won three straight national championships. While performing an exhilarating set in front of the President and the First Lady at the Kennedy Center (a mashup of Kesha's "Timber" and Miley Cyrus' "Wrecking Ball"), Fat Amy comes in, indeed, like a juggernaut, suffering an unfortunate wardrobe malfunction that renders the Bellas, in the Barden University dean's words, "a national disgrace."
After this mishap, with their reputations in tatters and having been banned from recruiting new members, the plot revolves around the Bellas trying to redeem themselves and keep up with the competition: an absurd German troupe called Das Sound Machine, who manage to be world sensations even though accents this fake haven't been seen in cinema since Bram Stoker's Dracula. And after three years, the ladies are drifting apart. Beca secretly takes an internship at a recording studio where Snoop Dogg is trying to cut a Christmas album (her boss, played by Keegan-Michael Key, is a high point), Fat Amy is still secretly sleeping with Bumper (Adam DeVine), Chloe has deliberately failed Russian for three years straight so she never has to graduate and move on in the world, and … no one else gets anything to do. At all.
Pitch Perfect somehow delivered more than a dozen fully formed characters in under two hours, with much of the comedy coming from the supporting characters—the proudly sexually active Stacie (Alexis Knapp), the sexually ambiguous Cynthia-Rose (Ester Dean), the unabashed "I ate my twin in the womb" pixie Lilly (Hana Mae Lee). They're all here, as is writer Kay Cannon, whose history working on shows like 30 Rock and New Girl was felt in every inappropriate punchline in the first movie. But they might as well not be, because they're left alone almost entirely, with the focus instead being two new Bellas: a "legacy," Emily (Hailee Steinfeld), who's allowed to join because her mother was a legendary Bella in the past, and Florencia (Chrissie Fit), who gamely trots out gag after gag about the horrors of being from Central America ("when I was nine, my brother tried to sell me for a chicken.")
The movie is slyly feminist throughout: In her role as the a cappella commentator Gail Abernathy-McKadden, Elizabeth Banks points out that the Bellas are icons for "girls all over the world who are too ugly to be cheerleaders." The media criticism leveled at both Fat Amy and the Bellas feels appropriately hysterical in tenor, with everyone from Jake Tapper to the women of The View jumping in the fray to condemn the troupe's lack of dignity (even in 2015, nothing is apparently as shocking to America as uncensored lady parts). And the plot doesn't even try to mine drama from Beca's relationship with Jesse (Skylar Astin), who appears only briefly as a loving and supportive boyfriend. In this—in making a movie about women that's only summarily concerned with their love lives, at best—Pitch Perfect 2 should be saluted. But it also coasts on its own success, delivering quips that feel like pallid imitations of the first film's zany charm, and resisting any urge to make the few song-and-dance routines any bigger than they contractually have to be. After the opening montage, an hour rolls by with barely a single number. "Is it weird that we didn't do any singing?" asks Emily after her first Bella rehearsal. She's not the only one wondering.
There are undeniable highlights: Reggie Watts, John Hodgman, Joe Lo Truglio, and Jason Jones have cameos as the second-weirdest non-collegiate a cappella troupe (the first-weirdest is even better, but to say any more would ruin the fun). There's a weekend at a team-building lodge where another legacy member returns to try and whip the Bellas back into shape. There's Robin Roberts (really). There's Snoop Dogg singing "Winter Wonderland" while Keegan-Michael Key tries not to emit a primal scream of musical disgust. And there's ultimately a showdown with a group of genetically superior Germans, in which only history can point at the probable victors.
But there isn't the same sense of gleeful disregard for what people might think, or the weird, indescribable joy that comes from seeing a group of completely incompatible people come together in an interpretation of Kelly Clarkson that can only be described as transcendent. The actors don't seem all that energized to be back, and the overarching sense of ennui is contagious. Instead, Pitch Perfect 2 relies, like so many comedies do, on fart gags and racial stereotypes and odd-couple pairings, without any of the wryness from the first film to indicate that everyone, including the audience, is in on the joke. It is, in the most basic terms, the worst thing a reigning a cappella champ can be—flat.