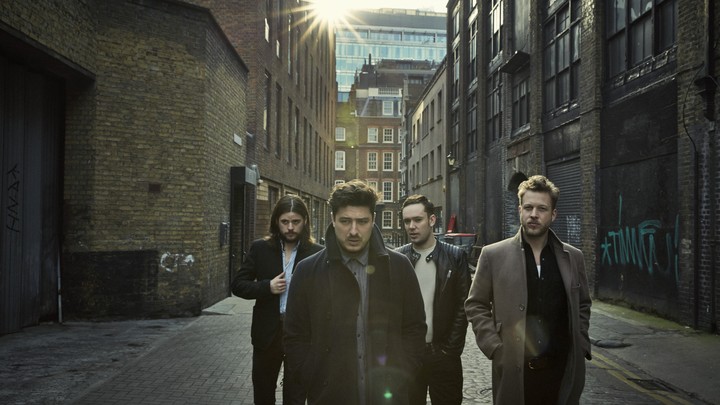 In music, in fairy tales, in legends, the most famous loves are the big loves. The recent deaths of soul singers Percy Sledge and Ben E. King have offered as good a reminder of this as any. In their greatest songs, love leads people to sleep in the rain; love protects when the mountains crumble down; love transforms space and time.
But there's just as rich a cultural tradition of not-so-epic love songs, opting for plain language and hedged declarations and a negotiator's precision. Three rock albums out this week work in this mode, offering examples of what makes a good relationship-real-talk song and what makes a generic one. Mumford & Sons, Best Coast, and My Morning Jacket all aim to portray feelings that fall somewhere between total infatuation and absolute heartbreak, an emotional zone that's not very cinematic but that certainly can be relatable and, occasionally, devastating.
Mumford & Sons have made lots of money, a few celebrity fans, and a contingent of dedicated haters over the past six years by becoming the figureheads for the new Americana movement, a fact widely seen as ironic given that they're British. But after two albums of strummy hoedowns with vaguely religious lyrical themes, they've ditched their banjos and started trashtalking the old-timey outfits they used to wear on stage. The band's new, sleek, modern-rock sound has drawn comparisons to the likes of U2 and Coldplay, but those band names give a false impression of big, goopy emotions. Mumford 2.0 is colder and more remote than that.
The real point of comparison is, improbably, Brooklyn indie mopers The National. The members of Mumford have talked about their obsession with that band, and The National's guitarist, Aaron Dessner, helped record their third full-length, Wilder Mind. Accordingly, the album aims for a kind of muffled momentum, driven by drums and bass locking into machine-like grooves, guitars often indistinguishable from synths, and singer Marcus Mumford more often opting for a low tremble than the festival-friendly howls he'd previously been known for. The lyrics, too, ape The National in their cryptic introspection, with a few turns of phrase directly recalling Matt Berninger's. The band has said the album is largely autobiographical and features their "very first love songs," which indicates that at least one member is going through a period in a relationship when passions start to dim, old promises are tested, and it gets harder to express an unconditional anything about the other person.
The opener, "Thompson Square Park," is a kiss-off made to sound inevitable, a lament to life getting in the way of a relationship. "No flame burns forever / You and I both know this all too well," Mumford sings in the chorus. Later, he yearns for the simplicity portrayed by so many other love songs—"If only things were black and white / Cause I just want to hold you tight." If those lines sound a bit platitudinal, they still stand out among the album's many vague mentions of monsters and beasts, city lights and tall walls. The National makes the mix of cryptic metaphor and direct emotional confession work with vivid, specific turns of phrase; Mumford & Sons aren't capable of that, though. When they opt for the big, singalong choruses and climaxes that characterized their earlier hits, something goes wrong—the message undermines the music. The only track where everything seems in harmony is "Ditmas," whose shanty-like melody recalls the band's old songs, and whose words work as a warning against anyone considering breaking up with Mumford & Sons for their new sound: "Don't tell me that I've changed because that's not the truth."
The California duo Best Coast hasn't undergone quite such a drastic sonic and emotional makeover for its third and most polished full-length, California Nights. Indeed, this album will only cement Best Coast's reputation as the platonic ideal of a group where "all the songs sound the same." The songs are simple but lushly rendered surf-rock tropes in short bursts, featuring singer Bethany Constantino's AA/BB rhymes about romantic longing. And the music's radical straightforwardness is what makes the band so pleasing to listen to. There's no mystery to be solved; you can plug directly into Costentino's wavelength, so long as the music's bubblegum traits and singleminded focus on certain topics doesn't annoy you.
This time out, Costentino's obsessing over end of a relationship—or rather, for the most part, the time after the end of a relationship. Where once she pined for someone she couldn't have—"I wish he was my boyfriend" went the refrain that opened the band's 2010 debut—California Nights has her trying to sort through where a relationship went wrong, and cobbling together some emotional acceptance. It's most moving on the second track, "Fine Without You," where Costentino seems to be talking to herself about a boyfriend who's moved on to another girl. "I know it's hard to understand / You've got to let it go / The situation is out of your hands," she sings, and the rumbling power-pop backing sounds as insistent as the sentiment. A couple other songs are a bit more on the doting-eternal-love side, but always sneak in a note of melancholy. "I know it's love that's got me feeling ok," she sings in one surging chorus, right after referencing a doctor prescribing her antidepressants.
My Morning Jacket's seventh album is, like all of the band's albums, more about the human race than about actual humans. The classic-rock reinvigorators aim for epic on The Waterfall, with multi-part songs that mash prettiness, jamming, and openhearted hooks that largely meditate on faith, existence, and nature. But a few songs have a smaller scope. "They are influenced by specific situations, but I'd rather not talk about it, because I want love in my life," singer Jim James told Rolling Stone about some of the lyrics. "In recent years, I've been trying to figure out, 'What have I done wrong in every relationship I've been in until now?' and tried to make them better."
It's not clear that he's figured out what his problem is. But he has figured out that when things start going wrong, it's better to state it plainly rather than ignore it altogether or craft euphemisms about it. "Thin Line," rides a woozy groove that dramatizes the wariness of the words, with James doing his best Marvin Gaye impression as he sings "It's a thin line / Between lovin' and wasting my time." On "Big Decisions," he tells of being stuck in stagnant codependency, with the other party not willing to do something about it. "Do I have to make all the big decisions for you," he asks over stop-start guitars, and it doesn't come across as caustic as it might seem. Instead, it's a pedal-steel-accompanied singalong, a moment of honesty about people coming apart that's meant to bring people together.
But perhaps the most powerful relationship song on any of these albums is "Get the Point," an explicit attempt to strip away the artifice, the metaphors, the philosophizing that normally accompanies love songs. "Well we talked and talked and carried on from sundown to the break of dawn," James gently sings over acoustic picking, before indicating that all the talking became useless. He wishes the person he's singing to "all the love in this world and beyond," but his main sentiment is not so easy to take. "I guess you get the point: Our love is done." Message received.
We want to hear what you think about this article. Submit a letter to the editor or write to letters@theatlantic.com.
Spencer Kornhaber
is a staff writer at
The Atlantic,
where he covers pop culture and music.