John Wick 2 and the Magic of the Surprise Sequel
The recently announced follow-up to the quiet Keanu Reeves hit is the rarest of Hollywood entities—a sequel that's been earned.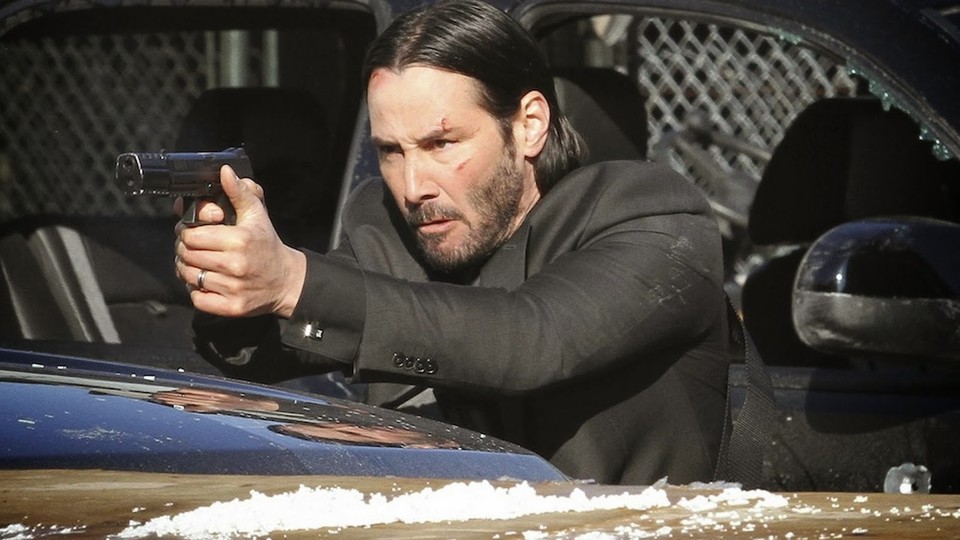 Everyone's heard the complaints that Hollywood has become a sequel-making machine, in recent years, eager to greenlight any franchise entry that might seem vaguely recognizable to movie-goers. But amidst the cinematic universes and nine-picture contracts for actors, it's easy to lose sight of the humble, unplanned sequel. In case you're wondering what that means, a perfect example cropped up this week: John Wick, a low-budget, R-rated action movie starring Keanu Reeves that made a small splash in 2014, is reportedly getting a follow-up. This is neither a preordained, big-budget installment nor a cheap direct-to-DVD knock-off: The star and directors are simply returning to tell another story, an achievement they earned on merit alone.
For an action flick in the Liam Neeson revenge-thriller mold, John Wick was surprisingly well-received. It did decent business at the box office, but nothing extraordinary, opening at the #2 spot in October (behind the already-forgotten Ouija) and earning $78 million worldwide on a $20 million budget. That's a solid take, but for the sake of context, John Wick was the 77th highest-earning film (domestic) of 2014, making just a smidge more than the Best Picture Oscar-winner Birdman. There's nothing there to indicate the necessity of a sequel, even with its comparably low budget.
But considering that it's a film about a retired hitman who murders hundreds of people in a revenge mission after his dog is killed, John Wick had the je ne sais quoi that a film with 10 times its budget dreams of—the kind of idiosyncratic attention to detail that spurs a cult following long after its theatrical run. The movie came out on home media and video-on-demand in February and unsurprisingly topped those charts, indicating strong word-of-mouth among action-movie fans who've recently been starved of the kind of fluid, beautifully shot set pieces John Wick boasts by the dozen.
The film's appeal is in the surprise of how fun it is. The dialogue is plodding and the plot is so obviously telegraphed that the characters barely need to speak, but there's a dreamlike quality to the New York underworld Wick navigates, down to the mysterious gold coins used as currency in the hotel of assassins he books himself into. The action, a seamless mix of kung-fu and point-blank gun violence, feels original, even if it's borrowing from Reeves' greatest hits.
How could one possibly be surprised by a John Wick 2? It's an ambitious challenge, but there are worse ways for Hollywood to try and get lightning to strike twice. John Wick had a very strange creative team: Reeves took the script to Chad Stahelski and David Leitch, his stunt doubles from The Matrix films, hoping they would choreograph and direct despite never having done the latter before. Both will return for the sequel, and should be hard at work cooking up even more glorious stunts for Reeves to tumble through.
The surprise sequel almost always comes for a modestly budgeted film that exceeded expectations, and the best of them are ambitious, even if they don't quite succeed. The clever 1984 horror-thriller Gremlins begat the postmodern touchstone Gremlins 2: The New Batch, in which director Joe Dante ran headfirst at audience expectations by making an unapologetically funny satire of sequel-making that gleefully broke the fourth wall. The same happened with Barry Sonnenfeld's The Addams Family, which took everything that worked about the 1991 surprise hit—the anachronistic charm of its stars—and dialed it up for the darkly slapstick sequel Addams Family Values. Perhaps more relevant to Wick are the great surprise action sequels like Crank: High Voltage or Hellboy: The Golden Army; follow-ups that tapped into what appealed about their predecessors while shedding everything that didn't work.
There's every indication that John Wick could go the other way, as has happened with the moribund Taken franchise or every flagging attempt to revive Die Hard. Sequels usually demand repetition of whatever formula worked, and for John Wick, that's Keanu Reeves shooting villains—the studio will make a quick buck on name recognition alone before script quality or originality enters the picture. But in an industry that's currently making more than 120 sequels or franchise entries for audiences to consume in the coming decade, it's important not to lose sight of the diamonds in that vast rough. May John Wick remain on the side of good as he approaches his most daunting challenge yet: keeping things fresh.