Hollywood's Griffith Observatory at 80: Still a Gateway to the Stars
A new book explores the architectural history and classic beauty of one of Los Angeles' most beloved attractions.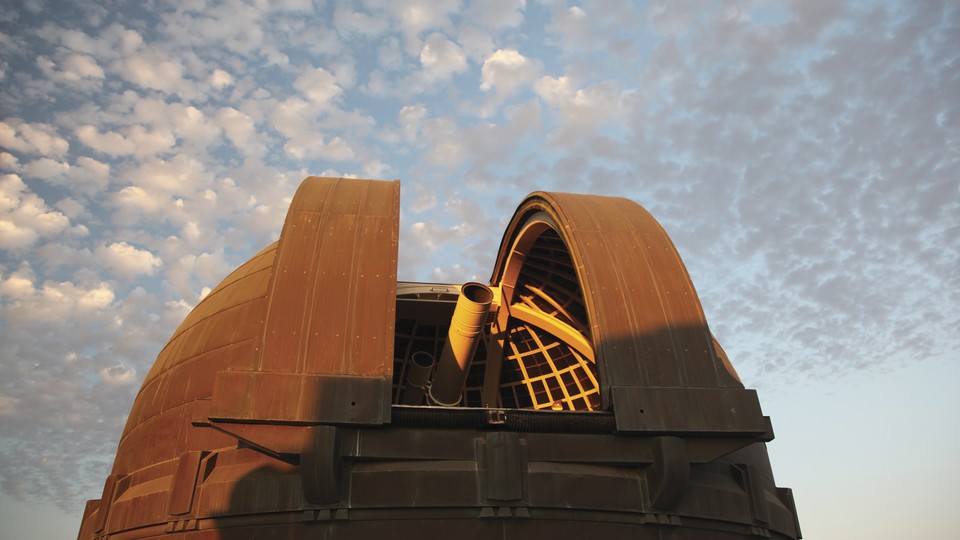 The landmark Griffith Observatory sits regally atop Mount Hollywood in Los Angeles, like an acropolis on some Olympian peak. As such, it has a long history of serving as a backdrop for scenes in movies such as Rebel Without A Cause, The Terminator, The Rocketeer, and Charlie's Angels, among others. It's captured the imaginations of many; the late Leonard "Mr. Spock" Nimoy was one of the Observatory's keenest supporters and with his wife Susan, donated $1 million toward the Observatory's 2002 renovation. Eighty years after the Observatory first opened on May 14 ,1935, it continues to function as a bonafide laboratory, and a new book of photographs, Griffith Observatory: A Celebration of its Architectural Splendor, by the graphic designer and documentary filmmaker Arnold Schwartzman chronicles the building's otherworldly beauty and mythic aura.
The Observatory's construction began in 1933 under Franklin D. Roosevelt's Works Progress Administration and was based on designs by the British-born architects John Austin and Frederic M. Ashley, as well as the consultant Russell W. Porter. Austin had previously collaborated with another British architect, John Parkinson, on the late-20s design of the iconic Los Angeles City Hall.
The architects' plan of adding a number of touches of Greek revival to the contemporary Art Deco style, such as fluting from the Greek classical orders, indicates that they wanted the structure to stand as a monument for all time, Schwartzman told me. It also neatly pairs up with the Greek Theatre, he noted, which was built nearby in 1929 as an open-air auditorium with a capacity of almost 6,000 seats.
The Observatory was the dream of the Welsh philanthropist Col. Griffith J. Griffith, who also donated the Greek Theatre. After a visit to Pasadena's giant 60-inch Hale telescope, built in 1908—then the largest in the world—Griffith's reaction to looking through the lens at the sky was: "Man's sense of values ought to be revised. If all mankind could look through that telescope, it would change the world."
This view into space inspired Griffith, who made his fortune in mining and real estate, to donate a "Christmas gift" to the City of Los Angeles for the building of the Observatory and a theater on the land that he had previously donated, now known as Griffith Park. Col. Griffith died in 1919 before more than a decade before work began on the building.
For Schwartzman doing the book was also something of a dream come true. "My wife Isolde, who was responsible for the book's art production, and I would observe the sky each day, especially during the winter as there tends to be less smog," he explained. "If there was an unusual cloud formation or a great sunset we would dash up the five miles from our home to the Observatory, sometimes to find that by the time we arrived, the optimal conditions had unfortunately changed."
Nonetheless, for the London-born Schwartzman, the two years he spent documenting the building gave him a sense of pride. "I like to think that I had captured every prospect, aspect, and angle of the building's gleaming white surfaces," he said. "Depending on the time of day, the building and the Astronomers Monument would take on a completely different look." His biggest surprise, he said, was "that the Observatory that I had seen featured in the film Rebel Without A Cause sixty years ago while serving in the British Army in Korea was not a studio set but the real deal."