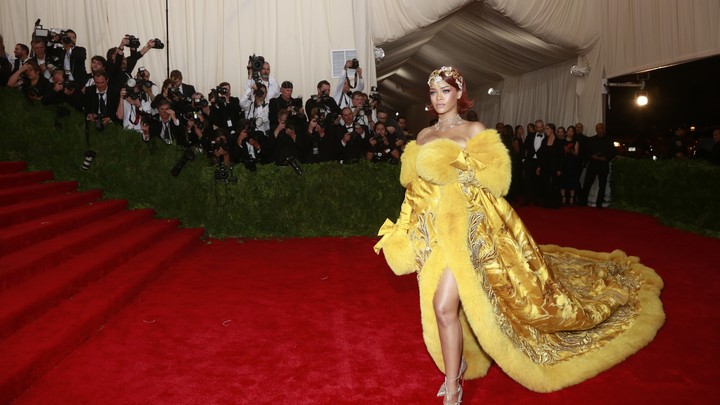 Did you see Sarah Jessica Parker's headthing at the Met Gala? The one that called to mind a flame emoji/a series of Q-tips/Aku/the 2008 Olympics/Sideshow Bob?
The Met Gala—full name: the Metropolitan Museum Costume Institute Gala—is sometimes called "the fashion Oscars" or the "Oscars of the East Coast." But it is, in its spirit, less like an awards show than an elaborate costume party—"Final Fantasy cosplay," @papapishi put it, "for rich people." Each Gala, which doubles as a fundraiser for the museum—the money the event raises traditionally provides the entire annual budget of the museum's Costume Institute—has a theme associated with the Met exhibit that opens the same night. (In 2008, it was "Superheroes: Fashion and Fantasy"; in 2013, it was "Punk: Chaos to Couture.") That theme doubles as a kind of sartorial framework for the 700 or so celebrities and other Important and/or Rich People who attend it: They're meant to pay tribute to the theme through their clothing. You could equate the whole thing, perhaps, to the challenges on Project Runway, or to the secret ingredients on Iron Chef.
And since people attend the Met Gala not so much to see as to be seen, they're meant to be as creative—and, more to the point, as interesting, and as weird, and as shocking—as possible with their outfits. Schlock and awe. Looking pretty, at this event, is pretty much beside the point.
The theme of last night's event was "China: Through the Looking Glass." Which is how it came to be that SJP, known both for her quirky headpieces and for her generally daring approach to fashion, donned a fire-themed headpiece to walk the red carpet with Bravo's Andy Cohen.
Aku gets bonus points for versatility RT @JChiron18: Who wore it better? pic.twitter.com/Pn9Q7moXaF

— Dionysus (@TheBlackHermit) May 4, 2015
who wore it best? pic.twitter.com/W72BQUeT7k

— L.A.S (@SartoriallyInc) May 4, 2015
SJP: "AFTER 10,000 YEARS I'M FREEE!" #MetGala pic.twitter.com/DsGkMCnZRp

— Jian DeLeon (@jiandeleon) May 4, 2015
Anyone else think Sarah Jessica Parker looked like Heat Miser at the Met Gala? Just me? Aight. pic.twitter.com/PI8Joa5jNN

— abby (@MissAbbyMcLain) May 4, 2015
This is also how it came to be that Rihanna walked the same red carpet in a yellow, furry, be-trained gown that reminded many of an omelette. And that Anne Hathaway did so in a Jedi-esque hood that resembled liquid gold. And that Vogue's Grace Coddington did so in floral pajamas.  
Which is all, for the most part, just as it should be. Playfulness and absurdity, the pretensions of the word "gala" aside, are baked into the annual Metropolitan Museum Costume Institute affair. In 2014, Anna Wintour—a chair of the event, and its unofficial spirit animal—raised ticket prices for those not on the official guest list by $10,000, to $25,000 apiece. This was meant, in part, to increase the prestige of the proceedings. But, on that other hand, what is exclusivity without publicity? This year, the gala was filmed as part of a future Andrew Rossi documentary. It was recorded by 225 event-approved photographers and reporters (among them official Snapchatters); it offered livestreams; The Cut had a live blog and a Periscope stream of its happenings.
The Met Gala may celebrate the varying exclusivities of wealth and celebrity; as a media event, though, it is all about that most democratic of things: dirty, craven spectacle.
There is something, despite and because of all the showmanship, wonderfully honest about all that. This is fashion, stripped down to its highest and lowest propositions: clothing as art, clothing as symbol, clothing as statement. This is fashion presented not as a practical concern, or even as an aesthetic one, but as a kind of philosophy. Rihanna's dress, and SJP's hat trick, and Solange's space-operatic mini-dress—they are what happens when the haughtiest of haute couture collides with the one percent: instead of "quiet luxurians," you get outfits that luxuriate in their very loudness. The looks that walked the red carpet last night were not, for the most part, pretty. And the ones that were pretty were also supremely boring. ("Cheer up, JLaw," People tweeted to a celeb who had bored the magazine with her beauty.) The goal here is statement-making, "whoa"-inducing, meme-making both literal and figurative; beauty, in general, gets in the way of all that.
Compare all that to the "West Coast Oscars": the Oscars themselves. The winter awards show, which many people watch for the same reason they watch the Met Gala—the clothes—has the pretense of actually being about something. The Met Gala, as a media event, has no pretense to be anything but itself. It's all about the clothes. It's all about the red carpet. Sure, there's a dinner. Sure, there's entertainment. Sure, the thing is nominally a fundraiser. But the point here is the fashion, and there is something at once callow and wonderfully refreshing about that. The Met Gala's red carpet may host a lot of ugliness. But at least it's an honest kind of ugliness.
We want to hear what you think about this article. Submit a letter to the editor or write to letters@theatlantic.com.
Megan Garber
is a staff writer at
The Atlantic
, where she covers culture.