David Letterman's Long Shadow
The departing host might be the last true innovator in late-night comedy.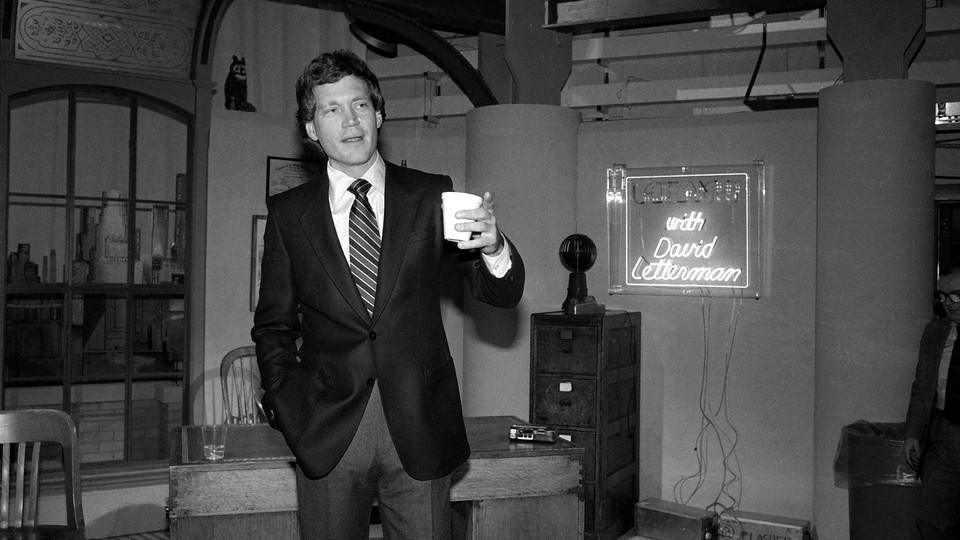 The simplest way to understand David Letterman's impact on late-night comedy, 33 years after his debut, is to look at the current state of his competition. For all the talk of the genre's generational turnover and its burgeoning new era heralded by young gun Jimmy Fallon, since Letterman upended the format with Late Night in 1982, its edges have merely been refined. When he retires Wednesday, he'll leave behind a landscape filled with imitators: an essentially unavoidable situation, considering that most American comedians who found major success in the last 20 years owe a debt to his work.
In one way, this is a symptom of the monoculture: In the 1980s, if you wanted to seek out alternative comedy, there were few avenues. Letterman always had one foot in the Sinatra-esque, clubhouse comedy generation of Johnny Carson and his ilk, retaining its sheen of Midwestern politeness. But despite his protestations to the contrary (in exit interviews, he's courteous as ever), there's always been a darkly rebellious edge to his work. Letterman was broadcasting in the 1980s from New York, a city the announcer Paul Shaffer jokingly mocked in his introductions by giving it names like the "birthplace of the menacing scowl." This wasn't Carson in sun-dappled Burbank; this was a city where people pushed back, and Letterman delighted in pushing back with them.
In his interview with The New York Times, Letterman says his disorderly streak was honed early on by NBC's strictures. "[The network] came to us and he said: 'You can't have a band. You can have a combo. You can't do a monologue. You can't do, like, Aunt Blabby. You can't do Tea Time Movie Matinee.' There were so many restrictions. So that was the framework we were handed, which was fine, because then they gave us an excuse not to think of that thing to do."
Many of Late Night with David Letterman's most famous bits—Stupid Pet Tricks, say, or running household items over with a steamroller—now feel time-worn to the point of being hackneyed. But then again, that's the price you pay for staying on air for more than 30 years (he carried almost everything over to his CBS show, which started in 1993 after NBC picked Jay Leno as Carson's replacement). In his earlier days, Letterman came across as someone who had stolen a camera crew and broken into an empty studio. He was broadcasting during an era of unparalleled American exceptionalism, as Reagan's presidency crested, and he lived to deflate it. If Jay Leno, in his far more mediocre way, defined the 90s by gently mocking America's bumbling mediocrity, Letterman similarly, yet far more cleverly, defined the 80s by lancing its self-obsession.
It's something that endured into the present day, and made Letterman easily the most-watchable interviewer on network TV simply because he was the only one still capable of being dismayed by his guests. There is still nothing more delightful than watching him talk to one of his friends, like Bill Murray or Regis Philbin, because their barbed banter and decades' worth of references makes the viewer feel like part of a special club. Even funnier, though, is Letterman's utter disinterest in a celebrity who has shown up simply to hawk their latest product—while some hosts can fake scripted banter as well as anyone, Letterman always excelled at keeping things cordial without being afraid to challenge people.
Every aspect of Letterman's on-screen personality is reflected in the current late-night comedy world. His sardonic side endures best with ABC's Jimmy Kimmel, who's admittedly put a "bro" spin on it. Letterman's gift for fourth wall-breaking absurdity was passed on beautifully to the man who followed him on Late Night in 1993, Conan O'Brien, who frequently and happily acknowledges his massive debt to him (a debt many young comedians coming through various comedy-farm systems today will, in turn, owe to O'Brien). And the masterful eye Letterman and his creative team had for bits that would persist and go "viral" (which, pre-internet, meant generating discussion by the water cooler) is apparent in Jimmy Fallon's brilliantly programmed Tonight Show.
Letterman's legacy is also a tremendously male one. It's hard to know how much he directly contributed to that issue, but it's easier to look up some statistics: His shows hired very few female writers over the years and booked very few female comedians to do stand-up routines. Letterman expressed praise for the work of many funny women, but his show always had a chummy, boys-club vibe to it. (That he had sexual relationships with multiple female employees on his show doesn't help). It's not only a problem that exists on his show: 33 years after his debut, late-night TV as a whole remains overwhelmingly white and male.
But that might be the only thing that makes Letterman's best years feel dated in retrospect (assuming, perhaps optimistically, that demographics will shift positively on that front in the future). The future of late-night TV remains hard to predict—it will never be the ratings bonanza it was when America only watched three channels, but any report of its death feels deeply premature when someone as big as Stephen Colbert is being poached from Comedy Central to replace Letterman and Fallon is making $12 million a year at NBC. The late-night show is an important brand, and more importantly, a content farm for the Internet age—of all the traditional building blocks of network television, nothing is more easily translated online into bite-sized clips than late-night comedy.
No matter how fancy the sets look now, or how wide the circle of late night expands into basic cable and online streaming, Letterman's footprint will always be detectable. On May 28, the cable network/website Fusion will make a foray into late-night comedy with The Chris Gethard Show, a hit on public-access TV that's about as renegade as broadcast comedy can possibly be without actually committing crimes on-air. But Gethard is the first to admit what he owes to the man who originally subverted the form of late night. When preparing for the move to cable, he said he showed his cast and crew old Letterman clips to give an idea of what he was aiming for. "One of our music bookers saw it and said, 'Oh, I thought we were original,'" he recalled. Broadcast television will always have its innovators—but Letterman was an even rarer beast: a true original.