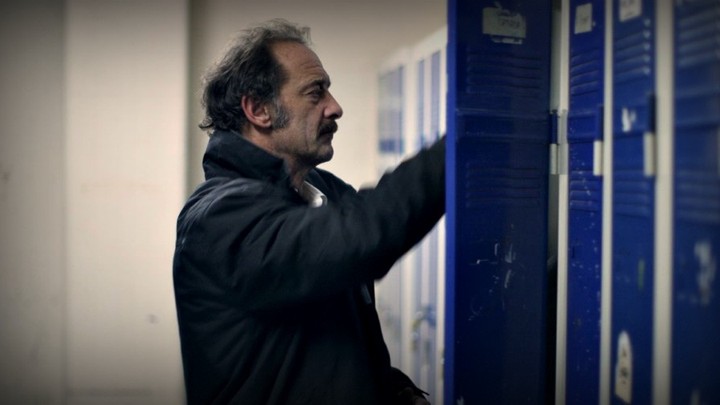 There are two kinds of French cinema competing at the Cannes Film Festival this year. One revolves around the intellectualized tales of frustrated love that French directors never seem to tire of, while the other tackles the socio-economic woes gnawing at a country riddled with hardship, joblessness, and self-doubt. With Belgian and British gritty social dramas conspicuously absent from the competition, it's worth noting, France is doing much of the heavy lifting in this domain.
Standing Tall, the festival's curtain raiser, charts the turbulent adolescence of a juvenile delinquent shuffled between social agencies. For all its foul-mouthed gloom, Emmanuelle Bercot's film carries a positive message: It's a celebration of French institutions and their attempts to rescue the drifting progeny of broken families. But it's harder to find redeeming features in Stéphane Brizé's searing The Measure of a Man, which drew earnest applause at its screening on Monday.
The Measure of a Man is the first competition entry by the Breton director. Like much of his previous work, it's a candid, searching study of society seen through the eyes of "small folk"—in this case, a 50-something mechanic on the dole. Audiences meet Thierry, played by Vincent Lindon, at his employment agency in an undisclosed location. He's recently gone through five months of training to be a crane operator. It was the agency's idea, but his counselor now tells him it was a waste of time. The counselor is neither mean nor particularly unhelpful; it's the system that's failing Thierry.
This impasse is a recurrent theme throughout the movie. Thierry is trapped in a system that exploits and misleads him, while constantly putting him down. His banker prods him to sell his only possessions in order to avoid bankruptcy, but then urges him to put more money into a life-insurance policy. In a Skype interview, an employer asks him whether he's prepared to accept potential demotions and lower pay, only to then rule out Thierry's chances and criticize his resume.
Prospective jobs are always "selective and demanding," stressing the inadequacy of candidates who don't make the cut. In a chillingly comical scene, Thierry's performance in a mock interview is dissected by other jobseekers at the employment agency. Fastidiously, they assess—and mostly censure—his attitude, tone, body language, and choice of shirt. When asked whether they would want to meet him in real life, most answer, "No."
Midway through the film, the narrative fast-tracks to a supermarket where Thierry has landed a job as a security guard. He spends his days walking the aisles and watching CCTV footage from the supermarket's myriad surveillance cameras. He's now the one tasked with monitoring and humiliating others, be they customers or employees. But the management is trying to get rid of staff, and in order to hold on to his job, Thierry must ensure others lose theirs.
The movie's French title, La loi du marché (The Law of the Market), reflects the notion of a harsh economic system in which one's success depends on another's failure. Its somewhat different English title is perhaps more evocative of the extent to which this cutthroat environment challenges a man's integrity and self-respect. This predicament is poignantly conveyed by Lindon's heart-wrenching performance, which is as restrained as it is moving.The fact that the lead actor blends in seamlessly with the rest of the cast, made up of non-professionals, is a measure of both his talent and Brizé's supple craftmanship.
Lindon's understated delivery finds its perfect match in the film's probing, handheld camera. Brizé takes his time, allowing feelings of unease and impotence to build, as when a desperate old man is caught with a steak in his coat and told to pay up or face the police. "Just pay for it and we'll leave it there," Thierry repeats, almost begging him to end this ordeal. But the old man simply can't. As Thierry quietly squirms, so does the audience.
We want to hear what you think about this article. Submit a letter to the editor or write to letters@theatlantic.com.
Benjamin Dodman is a journalist based in Paris and a film critic for
France 24.