The Dodger: Floyd Mayweather and the Impunity of Genius
This weekend, the 38-year-old will earn $100 million to box against Manny Pacquiao. Given all the hype, it's easy to forget that "the last great prizefighter" is also someone who's repeatedly battered women.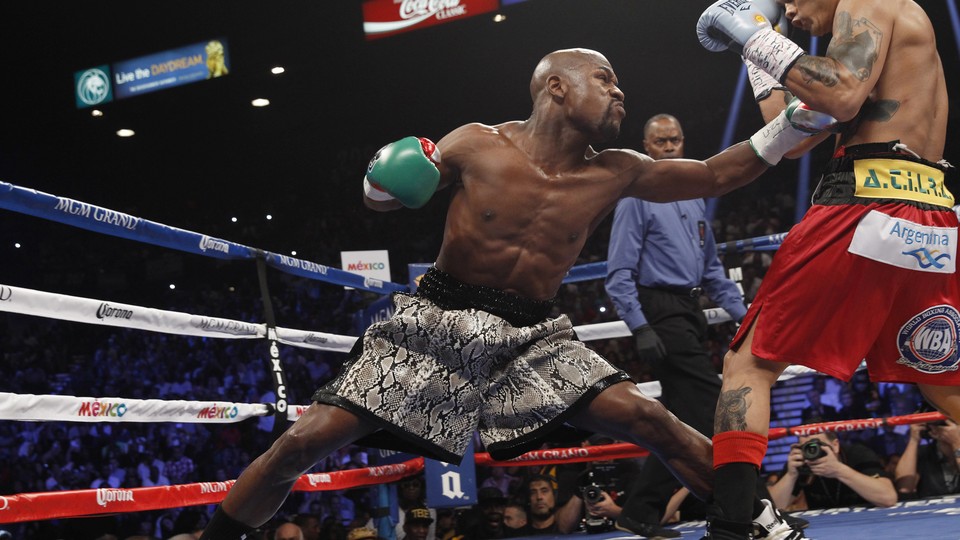 On Saturday, Floyd Mayweather Jr. will fight against Manny Pacquiao at the MGM Grand Garden Arena in Las Vegas—a contest that is being billed, at once melodramatically and uncreatively, as "The Battle for Greatness." Thousands of fans will watch the fight in person (according to Pacquiao's promoter, the event's live gate receipts will reach $74 million), and millions more will pay $99.95 apiece to watch it from their homes. The purse for the contest that "has quickly become the biggest, most important event in recent boxing history" could exceed $100 million (Mayweather himself is expected to make "well over" that amount, with a payout that will likely be more than twice what any other boxer has ever received). Mayweather, whatever happens in the ring this weekend, will be guaranteed a paycheck of $50 million simply for showing up.
Not, of course, that he needs the money. At 38, Mayweather is the highest-paid athlete on the planet. "The zeroes in his bank account," ESPN marveled, are "so numerous they blur together and become fuzzy to the naked eye." Mayweather used to go by the nickname, in recognition of his perpetually youthful good looks, of "Pretty Boy"; these days, though, he is more commonly referred to as "Money Mayweather"—"Money" for short. Mayweather has a sportswear line and "lifestyle brand" called "The Money Team." Justin Bieber helps him model it. The studio he once owned in Las Vegas was named Philthy Rich Records. He has been known to make wagers of $250,000 on the halftime scores of NFL games. He once counted out a million dollars, in cash, just for the spectacle of it. He wears $10,000 suits accessorized with hundreds of thousands' worth of jewelry. He collects cars—Bentleys, Rolls-Royces—and flies on private jets. During fights, he wears $25,000 mouth guards made of $100 bills.
Which would all be fine.
Except for this.
"I was powerless. He was holding me down. I couldn't fight back. The kids were screaming and crying, 'You're hurting my Mom.'"  -Josie Harris, the mother of three of Mayweather's children
Except for this.
"He was punching her and kicking her. He was punching her in the head and he was stomping on her shoulder."  -Zion, Mayweather's then-9-year-old son, describing Mayweather's beating of his mother, in a statement to police
Except for this.
"I fell to the ground, and Karra tried to help, and as she was, Mr. Mayweather hit her as well ... I have no clue [why Mayweather punched me]. I still have no clue. I think it was because I was friends with his kids' mom. He didn't like her to have friends."  -Herneatha McGill, whom Mayweather assaulted in a Las Vegas nightclub
Except. Except. Except.
"After the dust settled, club security instructed McGill and Blackburn not to file a formal complaint against Mayweather or they would "pay for it in the streets," according to the women's testimony."  -Deadspin
"I saw my dad was on my mom and my dad said go to the ofice my dad was hiting her... Then I heard yelling and I came out and my dad was hiting my mom. It happened at 4:00 a.m. in the morning."  -Koraun Mayweather, then 10 years old, in a self-written statement to police
"Just last month, a report surfaced that Mayweather allegedly put a rear naked choke on his ex-girlfriend's 19-year-old son." -ESPN, earlier this week
There is a certain purity to boxing. Sweat sprays, yes, and blood streams, yes, and bodies crumple in pain and defeat; combat waged in the ring, however—devoid of the typical causes and contexts and angers—strips the fight to atomic units of athleticism. Floyd Mayweather is sometimes described as "scientific" in his movements in the ring, boasting a precision to his punches that suggest not just the marvel of the human machine, but a triumph of a more symbolic strain: brain over brawn, control over chaos. Mayweather is smart and strategic, his hooks and jabs surgical in their accuracy and eloquent in their efficiency. Which is to say that Mayweather, as someone who is paid to punch, is great—not in the casual sense of the word, but in the epic. He may indeed be, as ESPN recently dubbed him, "the last great prizefighter." Mayweather has, in some sense, already won the Battle for Greatness.
And so "TBE"—short for "The Best Ever," a nickname Mayweather gave to himself—is a bona-fide celebrity, greeted with Roman-arena levels of adoration whether he's in the ring or outside of it, whether he's appearing on The Tonight Show or the ESPY Awards or Nickelodeon's Kids' Choice Awards. He competed on Dancing With the Stars, and danced a delightful cha-cha. He is supremely talented. He is extremely charismatic. He is widely beloved.
But that is Mayweather, the boxer. Mayweather, the athlete. Mayweather, the celebrity. The far more complicated character—Mayweather, the person—is very much not The Best Ever. Mayweather views women, it seems excruciatingly clear, as little more than property—as extensions, essentially, of all those collectible Bugattis and Gulfstreams and $10,000 suits. And he treats them accordingly. Last year, Mayweather produced an hour-long documentary about himself. In it, he explained:
When it comes to females … even though you can't drive 10 cars at one time, but … you got people that got 10 cars. So, you're able to keep maintenance up on 10 cars. So, I feel that, as far as when it comes to females, that same thing should apply. If you're able to take care of 20, then you should have 20.
Around the same time, Mayweather used his Instagram account to offer some unsolicited advice to women. "How a female dresses is her advertisement," the boxer's pictogram—scrawled, as if in schoolhouse chalk—began. "If a female shows half of her body, she's asking to be disrespected."
Mayweather has made a point of humiliating ex-girlfriends on social media—claiming to have paid for Shantel Jackson's plastic surgery, he joked that he wanted his money back because "I'm an Indian Giver"—and made jokes about her alleged financial difficulties. He took down Jackson's Instagram page, Deadspin notes, which he had previously helped to set up. (In response to this, Jackson created a new page, explaining that the old one "got erased by a jealous person who spent money to get it done. All because I said NO.") Last year, after reports came out that Jackson had begun dating the rapper Nelly, Mayweather posted, to his Facebook page, a sonogram image of what he claimed were two fetuses that Jackson had aborted. "The real reason me and Shantel Christine Jackson @missjackson broke up was because she got a abortion [sic]," Mayweather wrote, "and I'm totally against killing babies. She killed our twin babies."
The post was quickly flooded with outraged comments, after which Mayweather deleted it. In radio interviews he gave after the incident, however, he seemed to stand by his treatment of his former girlfriend.
In September, Jackson sued Mayweather, alleging abuse during the course of their relationship. One of her claims was that, when she threatened to leave him, Mayweather pointed a gun at her foot, asking, "Which toe do you want me to shoot?"
* * *
So there is Mayweather, the talent and the athlete and the entrepreneur, and there is Mayweather, the inflicter of domestic violence and the wager of psychological warfare. "The boxer and the batterer," Grantland summed it up, eloquently and perfectly. What are fans to make of that? Why haven't the repeated, egregious allegations against Mayweather—accompanied by conclusions of his guilt by way of both pleas and court findings—diminished his reputation, his wealth, or his fame? It's hard not to compare Mayweather, in all that, to Ray Rice. And to Bill Cosby. And to Woody Allen. And Michael Jackson, and R. Kelly, and Bill Murray, and CeeLo Green, and Sean Connery, and Sean Penn, and Roman Polanski, and Julian Assange, and Terry Richardson, and Charlie Sheen, and Nic Cage, and Chris Brown, and all the other men—it is usually men—who are extremely successful as performers but much less so, per the accounts of those who know them, as people.
Allegations, of course, are just that. And it is good that people are, in general, hesitant to assign and assume guilt until the guilt has been fully proven. But Mayweather's history of out-of-the-ring punch-throwing—the history we know of through arrest and court records, at least—extends over more than 12 years and includes at least seven separate physical assaults on five different women. The pattern of battery has been painstakingly documented, by the courts and the media. But it is treated, for the most part, merely as an awkward footnote to Mayweather's story of greatness and grandeur. It has become one of the most pernicious things there is: an open secret.
Which is bizarre, and disappointing, and sad. Mel Gibson made anti-Semitic comments, and they got tons of attention, and generated widespread indignation and outrage, and now his career is effectively over. Floyd Mayweather is said to have bashed his girlfriend's face with a car door; on Saturday, wearing a mouthguard made of money, he will stride onto a stage surrounded by thousands of cheering fans. He will throw a few (more) punches. He will walk away from the event with more than $100 million.
That is a failing—one in which anyone who watches the proceedings on Saturday is complicit. We can talk about the justice system and the court of public opinion, about celebrities and victims and plea bargains and the notion of "doing time"; the other matter, though, is how a man like Mayweather is able to operate, with nearly utter impunity, at the upper echelons of the culture. (When Katie Couric asked him about the charges against him earlier this month, he replied with an evasive "I'm black. I'm rich. And I'm outspoken. Those are three strikes right there.") He seems to revel in his own Teflonic status. Last year, after the NFL lengthened its suspension of Ray Rice, Mayweather commented, teasingly, "I think there's a lot worse things that go on in other people's households, also. It's just not caught on video." (Josie Harris has alleged that Mayweather's abuse involved "rabbit punches"—jabs to the back of the head that are banned across all combat sports for the dangers they represent, and that are also infamous for their tendency to leave few visible marks on their victims.)
Observers like to talk about great boxers' ability to "float" around the ring, as if they are somehow uniquely exempt from gravity's bulky inconveniences; Mayweather is translating the physics of athletic exceptionalism to the world beyond the ring. He is floating. And many people are buoying him.
Partly, likely, that has to do with all the millions that Mayweather will make on Saturday: At this point, he is not just a person, but a franchise. The boxing establishment has an interest, financial and otherwise, in Mayweather's success as a performer. So does the city of Las Vegas, and the state of Nevada, and the whole entertainment industrial complex. Mayweather did a (two-month) stint in prison following a plea deal (the bargain helped him avoid charges that could have led to up to 34 years in jail); the sentencing judge agreed to delay the start of the prison term so Mayweather could fight Miguel Cotto over the weekend of Cinco de Mayo. The reason for the extension? Mayweather's economic value to Vegas. And the Nevada State Athletic Commission, which is able to revoke a fighter's license for arrests, convictions, or crimes of "moral turpitude," never suspended Mayweather—"even though," Deadspin notes, "he has been arrested and charged with battery, theft, and/or obstructing police on multiple occasions." (The commission did, however, see fit to suspend the boxer Julio César Chávez Jr. for nine months and revoke the license of Joel Casamayor. Both of them, it seems, had tested positive for marijuana.)
It's about something more than money, though. Mayweather glides through the world with impunity for the same general reason that Mike Tyson, a convicted rapist, is enjoying a second life as a cartoon TV detective; and that Roman Polanski, who raped a 13-year-old, won an Oscar to a standing ovation; and that John Lennon, who admitted to battering women, remains revered as a musician and an artist; and that Jameis Winston just got a job with the Tampa Bay Buccaneers as the NFL's number-one draft pick. We are not good at distinguishing between "actor" and "character." We are not conditioned to see celebrities, in particular, as holistic people, subject to the complicated constellation of entitlements and responsibilities that personhood entails for the rest of us.
In the same way we strive to balance "work" and "life," as if the two can be tidily extricated from each other, we insistently distinguish between "talent" and the dirtier stuff of practice and struggle and desire. We may praise hard work—the cornerstone of the American Dream, and all that!—but what we really value, deep in our souls, is talent. The stuff that seems, in some way, pre-ordained. Work is sweaty, and messy, and a little bit desperate. Talent, on the other hand, is natural and effortless and serene. Talent floats. Talent, by the mere fact of its existence, allows us to believe in something bigger than ourselves—in beauty, in destiny, in "greatness." It allows us to trust in the order of things. It allows us to believe in heroes. It allows us our idols.
Except. Except. Except.
"I'm going to kill the man you're messing around with.... I'm going to get someone to pour acid on you."  -Floyd Mayweather, to according to Josie Harris, in a 2010 police report
Deborah Lippis, the Justice of the Peace who found Mayweather guilty of two acts of battery for his punching of Herneatha McGill and Karra Blackburn in a Las Vegas nightclub in 2003, told Mayweather: "You may be a terrific and famous fighter, but that doesn't make you a god."
Mayweather may forget that. He may hope the rest of us do, too. Last week, while the man who gets paid to punch was doing a red carpet event, an ESPN reporter attempted to question him about his criminal record. "In your case, there's been actual convictions and no governing body has ever suspended you or sanctioned you," John Barr pointed out. "What message do you think that sends victims of domestic violence?"
Mayweather did what he has become so supremely skilled at doing: He slipped the punch. "Honestly, I want everybody to tune in May second," he replied to his questioner. "Mayweather versus Pacquiao. This is the fight that you can't miss."