Boxing's Boring Night
The "Fight of the Century" between Manny Pacquiao and Floyd Mayweather, Jr. did not come close to matching the hype.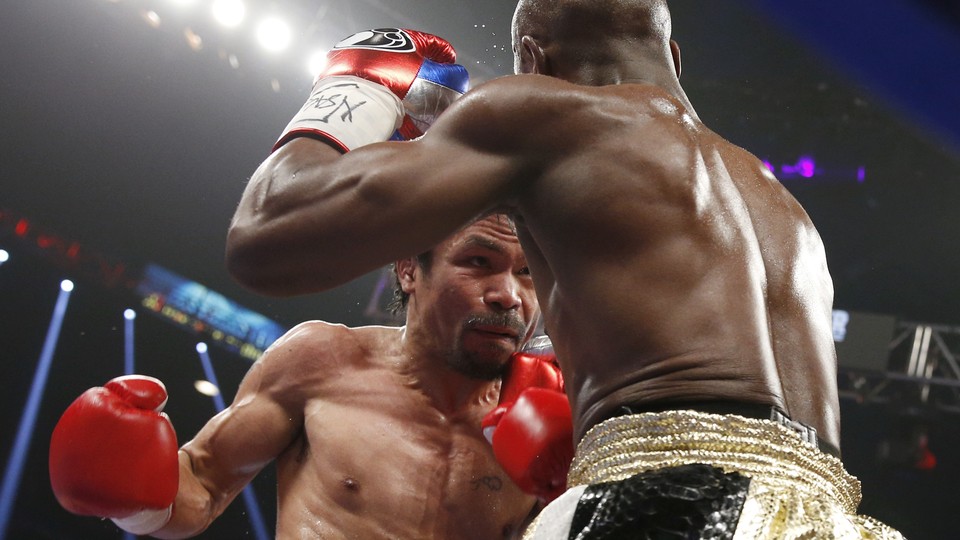 After all the anticipation, hype, and controversy surrounding Saturday's fight between Manny Pacquiao and Floyd Mayweather Jr., it was easy to forget that an actual boxing match was to occur. But sure enough, the two men entered the ring at Las Vegas' MGM Grand and fought each other across 12 tightly-contested rounds, trading jabs and dodges. In the end, the three judges awarded Mayweather, who landed 148 punches to Pacquiao's 81, a unanimous victory—his 48th without a single defeat.
The reaction was underwhelming. The fight had "no real intrigue," wrote Sharan Shetty at Slate, adding that "it's unlikely that anyone new to boxing became enamored with the sport after watching." But this isn't really surprising. For all of its literary flair, boxing, as a spectator sport, is often rather dull. Saturday's match was no exception. Both Mayweather and Pacquiao applied a defensive strategy that aimed to wear down his opponent, neither made many attempts at landing a knockout blow. For serious fans, this strategy is simply part of the sport's charm, and as a clinical display of boxing, Saturday's match was no disappointment.
"Boxing is like jazz," the heavyweight champion George Foreman once said. "The better it is, the less people appreciate it."
But as a form of entertainment for casual fans, the event didn't come close to matching the hype. Those who watched at home forked out a handsome $99.95 for the privilege, while commercial proprietors were hit up for as much as $15,500. (That explains why your local bar probably charged an exorbitant cover last night.) Live gate receipts in Las Vegas were projected to exceed $70 million, and international broadcasts, and merchandise will bring in millions more.
All of this translates into a rich purse for the fighters, who will each earn over $100 million for their 40 minutes inside the ring. But for Floyd Mayweather, this hype has brought his deeply troubling personal life to a wider audience. In the last two weeks, journalists (including The Atlantic's Megan Garber) have documented the boxer's history as a serial woman batterer while Las Vegas—a city that profits greatly from hosting events like championship boxing matches—looks the other way. Mayweather's attempts to exercise damage control have backfired. Last week, his camp denied press passes to two female journalists who have devoted significant coverage to the fighter's domestic violence record. Pacquiao's record, by comparison, is angelic. But the 36-year-old has been criticized in his native Philippines for marital infidelity, tax evasion, and homophobia.
Fans have long been willing to support athletes whose personal behavior appalls them, because no other form of entertainment can match the drama and kinetic thrill of live sports. But Saturday's bout lacked this sense of urgency. Instead, it featured two men, years past their prime, fighting as if the outcome didn't matter—because in a pecuniary sense, it didn't.
"To watch Floyd Mayweather box is to witness an elaborate exercise in self-preservation," wrote Drew Magary at Deadspin. "There's not much passion. There's certainly not much flair."
Mayweather has announced that his extraordinary 19-year career will conclude in September. No matter what happens, he'll retire as the highest-paid professional athlete of all time. But Saturday's "Fight of the Century" may mark a moment when his sport—once among the most popular in the country—withered under the spotlight.