Remembering Bill Zinsser
The author of the seminal manual On Writing Well died this month at the age of 92.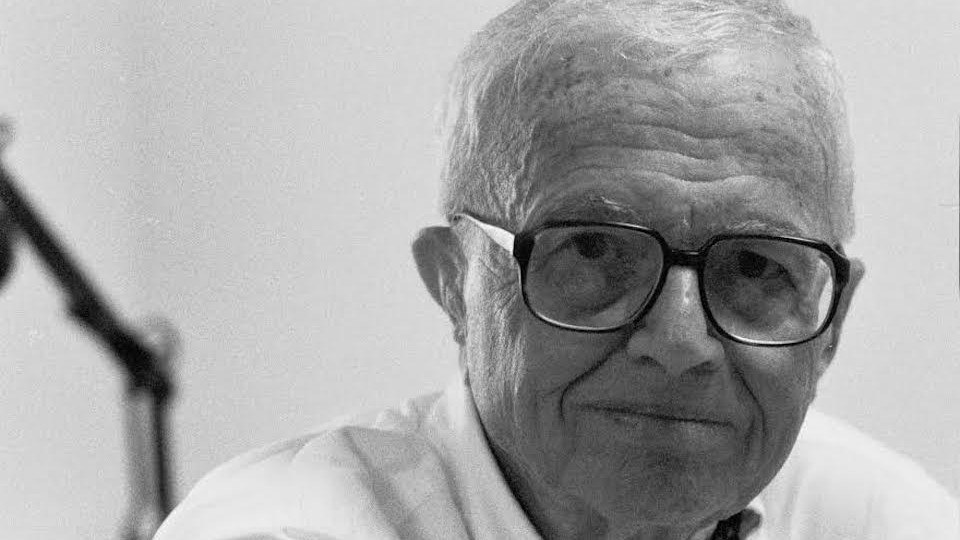 On Friday, family, friends, and legions of former students will gather in a church in New York to celebrate the life of William Zinsser, whose On Writing Well has sold more than 1.5 million copies and taught several generations of writers how to bring clarity, simplicity, specificity, and, most of all, their own voices to their writing. Like his devoted readers, his encouraging voice is the one I hear when I'm stuck on an article, and like his many former students, his red pen is the one I try to wield when revising my pieces, the hundreds of Atlantic stories I've edited, and now the many students whose writing I edit.
They will gather in the same church where we celebrated the life of his mother, Joyce Knowlton Zinsser, just a year after he and I drove together to New York City from New Haven to start new lives—he to edit the magazine of the Book-of-the-Month Club and me, about two days past getting a diploma, to be a junior editor at a magazine. At the time, he was already an experienced critic, columnist, feature writer, teacher, editor, and longtime master of a Yale residential college, Branford, which he made a center of journalistic activity. When we arrived in New York, he had introduced me to his mother, who in turn helped welcome me to the city. When I walked down the church aisle at her funeral, he hugged me—an unexpected gesture from someone who had for so long been my teacher and who had relatively recently become a friend, and yet a gesture that was completely characteristic. Bill's life was to be open, welcoming, approving. I'd been lucky enough to experience that from his mother, an avid reader whose delight in reading I could see in her son. She wanted only news of the outside world when I visited, and was little interested in the past.
The closing hymn at her memorial that day continually repeated the word "joy," apt not just for his mother's name but also for the attitude toward life she instilled in her son. He recounted her approach in one of the essays he wrote in the dawn of the digital age for The American Scholar and that were collected in a book—the last of his 19, on subjects that ranged from collected columns for Life magazine to jazz to his writing manuals—called The Writer Who Stayed:
She thought it was a Christian obligation to be cheerful, and she managed that duty with unfailing grace to the end of her life, keeping to herself the physical and emotional aches and pains of her later years. Today, at Easter, it occurs to me that she defined being "cheerful" as far more than just maintaining a positive and life-affirming nature ... I now see that she made it her everyday task to generate light.
Of course Bill paid attention to the words to the hymn: He loved lyrics, and his favorite of his books, and mine, is Easy to Remember: The Great American Songwriters and Their Songs. We traded sheet music, of which he had reams, like baseball cards; just after I moved to a walkup near where he was living, he would generously let me spend as long as I liked leafing through it, looking for long-forgotten second verses to Irving Berlin and Cole Porter songs. We would sing them at the frequent musicales he hosted at his house and later at the Century Club; he took every chance he could to play for friends, and, as Douglas Martin recounted in his obituary in the Times, Bill said that getting paid to play jazz piano "might have been his proudest achievement."
The heart of that playing, though, was to bring people together. At the office he rented on West 56th Street, a way he found to fight the loneliness of the freelance life—a loneliness that he said brought him to Yale those many years ago—he was open to anyone who wanted advice or to say hello. He taught all over the city, and on one of my visits recounted teaching immigrant students at Columbia "who didn't know what a comma was, let alone how to construct a sentence in English." Helping people find their voices was his business, and his pleasure was keeping in touch with practically everyone he ever helped. "Come see me," he would end every phone conversation—and those were the only conversations he did not conduct in person. Though one of the first of the many follow-up writing manuals to On Writing Well that he wrote was Writing With a Word Processor, human contact was what he insisted on. No email, with its chances for, and usually insistence on, one-way communication.
Bill's constant interest in people and engaging with them led The New York Times to devote a front-page story to the letter he sent out, at the age of 90, inviting everyone to "attend the next stage of my life" when, blind from glaucoma, he was confined to his apartment. On my last visit, to bring him copies of a marvelous piece he wrote for The Atlantic on the pianist Dick Hyman for his website, which he kept meticulously up-to-date and complete, he was as utterly lucid and interested as always, and funny as always too: He began a sentence, "When you're 82, or 102, or 92, or however old I am ..."
Echoing his mother, he wanted only news of the present, and wasn't interested in being drawn on the past. I offered to bring him news of the many Broadway shows I get to see in my lucky duties as a nominator for the Tony Awards; he'd been the New York Herald Tribune's theater critic in the late 1940s, but didn't want to hear about "whatever damned thing the butler says." Instead he liked movies, and had consented to go to a showing of Lincoln with his longtime student and devoted friend Mark Singer, whose own warm and precise tribute just appeared on The New Yorker's website, because of their shared love of Lincoln's language. "I want you to come with stories to read me from The New York Review of Books or anything that will tell me things I don't know about the world I'm living in now," he said.
I won't be coming down the aisle again, waiting to hug Caroline, his wife of 60 years, and his children, Amy and John, who were already fully formed characters on campus when I was a student, or the many former students who have long defined ourselves by having been his students. (My classmate Wilder Knight years ago said, cannily, "Bill is the person I want to be when I grow up. He's showing us how to grow old.") I write this from a gig I think he wouldn't have wanted me to cancel: an intensive writing seminar at Slow Food's University of Gastronomic Sciences, where I have regularly taught since it began, 11 years ago. I hear Bill as I try to cut constantly to find the heart and essence of a story, and urge them to read every piece aloud to be sure it sounds like them and always, always rewrite. On Writing Well is a classic for a reason: His voice is always on the side of the writer, and always tells you that you can find your way out of a problem. It helped my students at an MIT course on the science essay this semester, where we observed a moment of silence the night he died.
This afternoon I found myself counseling a student who assured me she couldn't write by saying, No, the inarticulateness she imagined actually led to unusually rich and spare prose full of life and meaning; she was a wonderful writer. It was Bill's voice I was hearing as I spoke. When I would come to read him my very first freelance stories, along with the constantly wielded red pen he would always find some quote I'd picked out, or some small phrase, to make him look up, shake his head, repeat it, and say "Just wonderful." That's what he did in class, what his mother would have done, and what kept his hundreds of students going through the inevitable, constant rough patches. We'll have to hear that constantly cheerful, constantly encouraging voice for ourselves now.