The Ascendancy of the 'Awkward Older Sister'
From Amys Schumer and Poehler to Grace Helbig and Tavi Gevinson, the Internet has spurred an unprecedented movement of women mentoring teens with compassion, humor, and honesty.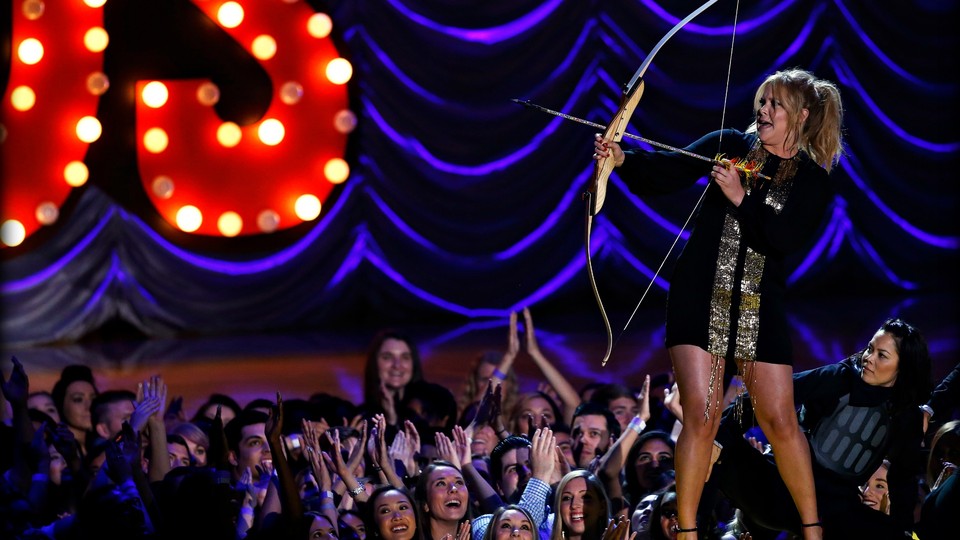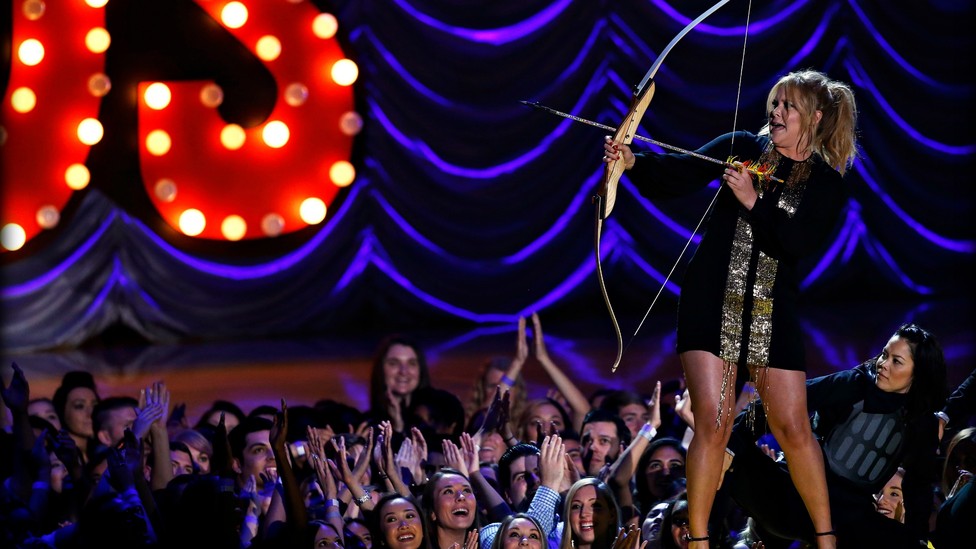 As Grace Helbig's eponymous E! show crept closer to its April 3 premiere, the buzz around her mostly featured either her history as a "YouTuber," or the significance of her status as the only woman on television with a late-night show. But Helbig's breakthrough is also noteworthy thanks to her distinctive persona. She once identified herself to Fast Company as "your awkward older sister—who doesn't know what she's doing but is trying to help you figure it out while she does too."
This categorization comes as no surprise to anyone who's checked out Helbig's online material, which began as daily vlogs at the website My Damn Channel before she transitioned to her own YouTube channel in January 2014. Millions of teenage girls watched her "Daily Grace" show every day, subscribing to her frank and funny videos that aimed to entertain as much as advise. Helbig doesn't patronize her teen audience; she talks to them like they're her close friends.
Her E! show has a bigger budget than her vlogs, but the feeling is much the same. Helbig forgoes the usual late-night formalities like a topical monologue and an audience, instead opting to entertain guests in her "house" (a set meticulously decorated like the lovechild of Target and Anthropologie's houseware section). Whether her guest is her friend and fellow YouTube comedian Mamrie Hart, the author John Green, or the Big Bang Theory actor Jim Parsons, they hang out, sing some songs, and laugh at Internet memes. She's still as open and approachable on E! as she is on YouTube—albeit with a killer blowout—and her warmth and inclusiveness are characteristic of a burgeoning movement of online female stars offering advice and mentorship to teens with compassion and honesty. Call it the rise of the awkward older sister.
Helbig's brand is still a rarity on television, but is gaining traction. On the scripted side, the best example is Bob's Burgers' Tina Belcher, who writes "erotic friend fiction" and fixates on her crush's butt without an ounce of shame. Last month, the musician St. Vincent premiered a new song on The Tonight Show Starring Jimmy Fallon called "Teenage Talk," featuring a record with a picture of herself as a teen and a backup troupe of real live teenage girls miming to the music. Two weeks ago, Inside Amy Schumer's spoof of the One Direction song "What Makes You Beautiful" challenged the misleading idea of "natural beauty" and gave rise to viewers tweeting out plain-faced photos with the hashtag #girlyoudontneedmakeup, many of them the same teenage girls that One Direction's pseudo-confidence anthem targeted in the first place. Schumer retweeted the pictures, with her own comments.
The statement is simple enough, but a television star promoting sisterhood is more unprecedented than not.
Traditionally, pop culture's older sisters tend to come from the same mold: the too-cool, aloof girl who would rather talk to just about anyone other than you. This girl is either a boy-obsessed chronic socializer or an apathetic figure of mystery who shuts down intimacy with a scowl. In the former camp is Fresh Prince Of Bel-Air's Hilary (Karyn Parsons), who made the eye roll her own. Married With Children's Kelly followed in the show's tradition of deliberately stretching its characters into the purest form of their stereotypes, with Christina Applegate playing the cool older sister with all the bubblegum-snapping acidity she could muster. That 70's Show's Laurie, The Wild Thornberrys' Debbie, Modern Family's Haley, and black-ish's Zoe are all classic popular older sisters whose storylines revolve around either boys, or people finding the girls shallow. In fact, many shows targeted at women luxuriate in this "popular girl" stereotype, throwing backstabbing and catfights in for good measure. Nighttime soaps like Gossip Girl, Melrose Place, and even Empire have typically delighted in setting women against each other; a premise that's also the central foundation of Bravo's hugely successful Real Housewives franchise.
On the other side of the spectrum are those sullen or deliberately mysterious older sisters like Judy Funnie (Doug) and Daria Morgendorffer (Daria), who might not care about popularity or boys, but who still have zero interest in mentoring the less-confident. The critically beloved series Freaks and Geeks also got mileage out of subverting stereotypes, letting Linda Cardellini's sullen older sister Lindsay Weir crack under the pressure of that ill-fitting persona.
On the Internet, however, the awkward older sister has quickly emerged as a powerful persona. These figures thrive on YouTube, where twentysomething women post freewheeling vlogs with advice, music videos, and anecdotes that reassure teen girls it's okay to screw up or be a little messy. Along with Helbig, comedians like Hannah Hart and Anna Akana rack up millions of views for their approachable videos. BuzzFeed's Gaby Dunn and Allison Raskin first solidified their dynamic with their advice show "Just Between Us," which answers questions on subjects like their love lives, sexuality, and anxiety; they recently hit 100,000 subscribers, most of them young women. Even Amy Poehler vlogs at the Smart Girls channel (127,500 subscribers), talking directly to her young fans about everything from confidence and crushes to makeup and body image in clips that have no higher production value than an iPhone video.
YouTube is also an invaluable source for teenagers of color, who can find representations of themselves there that just don't exist in a significant way on television. Women of color gain thousands of subscribers for their makeup tutorial videos, and their comedic webseries including Nicole Byers and Sasheer Zamata's  Pursuit of Sexiness, and Issa Rae's Awkward Black Girl, which is now in development at HBO after gaining traction online. The Hunger Games actress Amandla Stenberg recently drew attention for her video on cultural appropriation, in which she talked to her young fanbase about the history of an incredibly complex subject on YouTube, face-to-face.
Narrative webseries aside, what these videos have in common is that their stars directly address the camera, which keeps things both casual and intimate. It's a conversation among equals rather than a lecture. With these women, though, "awkward older sister" becomes something of a misnomer. As surrogate older sisters, they aren't awkward so much as approachable. They talk about their flaws rather than try to cover them up, and embrace their quirks rather than feel ashamed of them. They speak to their younger counterparts from a genuine place of understanding, aiming to inspire rather than intimidate.
The writer Ayesha Siddiqi tapped into the impulse when she tweeted, "be the person you needed when you were younger." Two years later, it's been retweeted over 4,000 times (and even tattooed on one woman). It's a simple sentiment, but clearly a powerful one—especially today, as the Internet makes it more and more possible for younger generations to find the guidance they need.
In April, the author Courtney Summers launched the Twitter hashtag #totheGirls to give advice to younger girls. Fellow authors Sarah Dessen and Kody Keplinger tweeted out words of encouragement, with Dessen assuring her young fans "it's okay if you don't have anything together," and Klepinger reminding hers that they "don't have to be 'different from other girls.' Other girls are awesome, too." In fact, most of the #totheGirls tweets centered on similar themes of abandoning shame. Summers, whose book All The Rage examines "the shame and silence inflicted on young women in a culture that refuses to protect them," started the hashtag to support those women, and ended up creating a strong network of dedicated and enthusiastic mentors.
There's also the Smart Girls brand, which Poehler and the Saturday Night Live writer Meredith Walker began in 2008 specifically to help younger women through their rocky years of puberty with positivity and encouragement. Walker recently told The Daily Dot that they "remembered very much how older girls paying attention to us sort of broke the spell. We thought, 'What if we could be that surrogate older girl for people in some way?'" Walker and Poehler remembered and appreciated girls who paid attention to them in their childhoods exactly because that attention was unexpected.  Poehler brought this culture of female camaraderie over to her sitcom Parks and Recreation, which celebrated "Galentine's Day" instead of Valentine's Day and ended up with one of the strongest mentorships on television, between her bubbly character Leslie Knope and Aubrey Plaza's deadpan intern April Ludgate.
Many of today's surrogate older sisters go even deeper into younger teens' psyches and insecurities. The writer Lindy West started the Tumblr "I Believe You, It's Not Your Fault" last July to provide support for a friend's daughter when she began to blame herself for getting sexually harassed. West gathered writers to contribute tales of their own painful adolescent experiences, and advice. The site's original subtitle of "Notes From Your Big Sister" was later changed to "Notes From Your Big Sibling" to be more inclusive of trans and genderqueer contributors, but the protective sentiment was the same. In the words of IBYINYF's FAQ page: "Aging isn't a series of discrete plateaus, it's a continuum, a slope. This shit you're going through? We've been through it too, and not that long ago. It's still inside of us. We're just people, like you."
Nineteen-year-old Tavi Gevinson created the zine Rookie specifically for teenage girls in 2011, meaning that she was aging right alongside her target demo. Gevinson herself has become a paragon of teen coolness for her style, thoughtful editor letters, and self-described "girl gang" of friends that counts Taylor Swift, the Mad Men actress Kiernan Shipka, and the pop singer Lorde among its members. Still, the writers she employs are more often women in their late teens, 20s, and 30s who can speak from their own experiences to Rookie's younger audience.
Some of Rookie's best features are interviews with people who might inspire its audience, including Carrie Brownstein, Janet Mock, Miranda July, Lena Dunham, FKA Twigs, Abbi Jacobson, and Ilana Glazer. The magazine has even worked to connect genderqueer and transgender writers to their younger counterparts, most recently with the piece, "How To Talk To Your Parents About Transitioning." (Pieces like this are especially noteworthy, given that a recent study found that over 40 percent of transgender youth have attempted suicide.) A cloud of "random tags" gives a further idea of how varied Rookie's interests are: "Spice Girls," "plaid," "Rob Lowe," "freaks," "sexually transmitted diseases." Nothing is too risqué or too square for Rookie to talk about over mixtapes and DIY collages. The end result feels like the smartest sleepover you've ever crashed.
It would be easy to categorize the burgeoning older sister/little sister movement as a trend, but the sheer depth of content reveals it to be far more complex. This booming culture of mentorship is a movement. It's pushing back against the people endlessly advertising products to young girls while simultaneously mocking them. The women who devote themselves to building younger girls up put power back in these teens' hands by insisting that they are worthy of wielding it. After years of being derided as silly, teenage girls are not only being taken seriously, but are openly, collectively being looked out for.