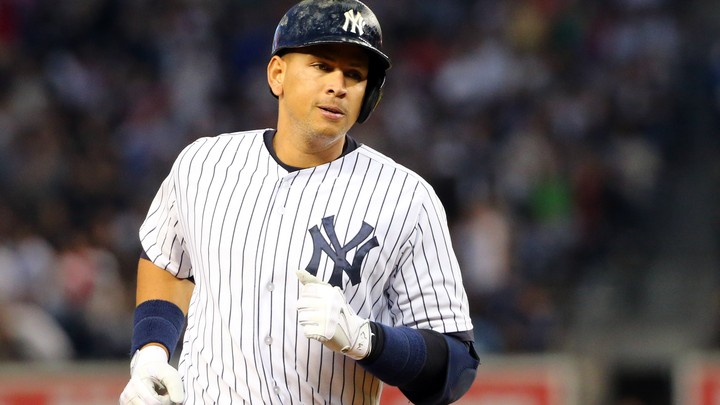 On Thursday night, one of the least holy men in baseball reached a holy number. Alex Rodriguez's third-inning home run in New York against the Baltimore Orioles was his 661st, moving him past Willie Mays into fourth place on baseball's all-time list. The Yankee Stadium crowd—the only one on earth that doesn't reliably boo the player—stood and cheered the accomplishment, summoning Rodriguez from the dugout for a curtain call.
Even to the segment of the American population that prefers the nightly news to SportsCenter, the Rodriguez story should be familiar. It was only a decade ago, after all, that baseball fans and casual followers alike watched the San Francisco Giants' Barry Bonds pass Mays, his godfather, on his own climb to the top of the home-run list. Then, as now, the ascendant slugger's ties to performance-enhancing drugs provoked consternation; many of the arguments from the mid-aughts will be rehashed in the coming weeks, with only Rodriguez's name and the applicable legalese substituted.
Despite their surface similarities, though, the cases are different. Bonds played the perfect villain, feuding with teammates, snarling at the media, and whacking homers with clinical, nefarious ease. He entertained, in his way, and served as the early 21st century's primary entrant into the catalog of Bad Baseball Men. In The New Yorker, Roger Angell likened him to Lord Voldemort, and this wasn't entirely an insult; things can get pretty dull without a scoundrel.
Rodriguez, on the other hand, connotes less plainly. He can't be a hero: Populist heroes tend not to sign quarter-billion dollar contracts at the age of 25, as Rodriguez did in 2000 with the Texas Rangers. They certainly don't wither in multiple postseasons, as he did during his early years with the Yankees, or participate in multiple drug scandals, as he has: the first in 2009, when Selena Roberts brought his steroid use in the early 2000s to light, and the second in 2013, when Rodriguez became the face of the expansive Biogenesis inquiry and was eventually suspended for the entirety of the 2014 season. Rodriguez's can't be a redemptive case, even in a sporting climate increasingly amenable to them. His ledger of offenses is too full, his expressions of regret too difficult to parse.
Nor, though, is he a Bondsian villain. This is partly because the story isn't new, and because baseball fans tend to reserve their heartiest vitriol for the original perpetrator, but it also owes something to the actions of Rodriguez's antagonistic employers. The tactics used by Major League Baseball in its 2013 investigation—the purchase of purportedly stolen documents, the threat of a suspension out of keeping with the collective bargaining agreement's penal structure—tapped a resource thought to be depleted: sympathy for Rodriguez.
This season, the Yankees' efforts not to honor a clause in the player's contract that grants him a $6 million bonus for reaching certain home run milestones—Mays' number among them—scan less as a stand for the game's integrity than as an attempt to back out of an inconvenient deal. Were it not for the amount of money remaining on his contract (three years and $60 million, including this season), they'd likely have released him altogether. One senses that Rodriguez, who's feuded with everyone from general manager Brian Cashman to the team physicians, wouldn't have considered it a tragedy.
How, then, to think of this player who stands at the steps of baseball immortality without any clear narrative, amenable or otherwise, in tow? How do fans place him next to the notorious Bonds, the enduring Hank Aaron, the monumental Babe Ruth, the immaculate Mays? What, after all his own sins and those of his prosecutors, is Rodriguez's attendant adjective?
* * *
On the evening of April 17, three weeks before he broke Mays' mark, Rodriguez played in his tenth game of the season at Tampa Bay's Tropicana Field. He served as the Yankees' designated hitter, this former defensive whiz with old legs and a surgically repaired hip, as he has all year and will for the foreseeable future. The fans in Tampa booed him, adhering to national habit, but Rodriguez showed no signs of caring. As he walked to the plate, white resin coated the front of his batting helmet where his hand landed to adjust it between pitches.
Rodriguez remains a beautiful hitter, even if his effectiveness isn't what it once was. He stands at the plate easy and still, as sure of his objective as a loaded trap, his stance neither open nor closed. He keeps his black bat lifted off his shoulder, stirring the air behind his ear. Batting, he looks almost exactly how he did when he won his first Silver Slugger award as a 20-year-old Seattle Mariner in 1996. He's a little fuller, the pocket of flesh between chin and neck a little more pronounced, but structurally and technically the same.
The second pitch Rodriguez saw that evening was a high fastball from Nate Kearns. Snap. The trap sprung, the left foot lifted and dropped, and the black bat breezed through the zone and was deposited with a little flourish in the dirt. The home run traveled 471 feet to left-center, the longest shot in the majors this season. Five innings later, Rodriguez homered again, this one a hard and low liner to left field, and two innings after that, in the eighth, he flicked a single to center to drive in what would prove the winning run.
This was the kind of game that, three decades ago, would have left every fan in attendance with a good little story: an all-time great, two homers, the deciding RBI. Now, it gets a mixed reaction. In some corners of the baseball world, Rodriguez's star turn less than a fortnight into his return season was welcome retribution against an overstepping league; in others, it was only a redundant coat in the slow painting over of baseball history by the excesses of the present.
* * *
Of the major American sports, baseball has the most insistent past. The game measures modern players by how closely and in what combinations they mimic those of yesteryear; it's slower than any other to admit stars into rarified historical air. Some leagues rejoice when its players accomplish novel feats—Stephen Curry, this year's NBA MVP, broke his own three-point shooting mark, and scoring records fall every winter in the pass-happy NFL—but baseball delights in reminding its contemporary talents that others have been where they are now.
I've never seen anyone like him is for other sports. Baseball says, He hits like Mays, he runs like a young Mickey Mantle, he has a Koufax curve. The comparisons are not only compliments; they also remind the player of his place, impressive but not singular, in its history. This historical obsession is distinguishing, and sometimes fun, but it's also limiting. It presents baseball as fodder for some other comparative enjoyment, a means instead of an end. It writes history in real time, cleaning up before the party's over.
So while watching a player like Rodriguez can be a little sad, can make you pine for the days when there was no suspicion to disregard or ledger of grievances to weigh, there's also a kind of perverse cleanliness to it. Rodriguez, now, can't be anything but a ballplayer, his connection to the generational folklore obscured, if not severed entirely, by his missteps. He's lost the ability to resonate in any broader context, to signify in the way we are used to—at least without the immediate intrusion of a number of counter-significances—and so all that's left is the moving image of him on the field, his play itself. The black bat cuts the air, the runs come home, and that is all.
Maybe, then, this is how best to classify the late-career, post-scandal Alex Rodriguez, accumulator of argued-over records: as a player who snaps baseball back to the present. He eschews talk of legacy these days, instead saying, "I'm really just trying to do the best I can every at-bat." He makes the generational comparison, the basic unit of baseball discourse, nearly impossible. This robs us of something, but it gives us something else. It gives us the chance to watch this once-excellent player, still formally if in no other ways pristine, in the moment: the rarest context of all.
We want to hear what you think about this article. Submit a letter to the editor or write to letters@theatlantic.com.
Robert O'Connell
is a writer based in Minneapolis. His work has appeared in
The Guardian
,
Esquire
, and
Vice Sports.