A$AP Rocky and the Liquifying of Rap
The gorgeous stew of At.Long.Last.A$AP may owe something to LSD, but it's also in line with the genre's recent turn toward progginess.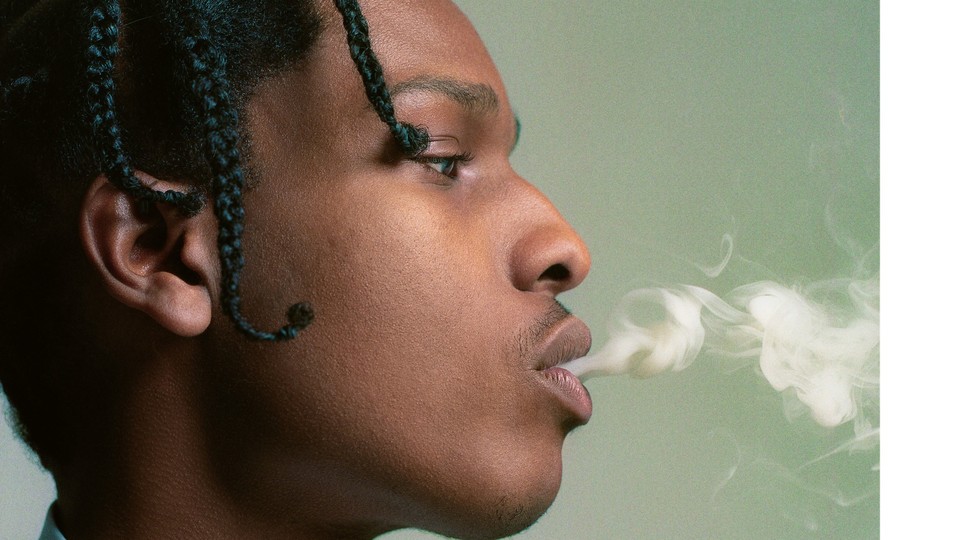 To the Steve Jobs Hall of Fame for people who credit their creative breakthroughs to LSD, we can now add the 26-year-old rapper A$AP Rocky. The recent tabloid fixture and fashion tastemaker recorded his newly released sophomore album, At.Long.Last.A$AP, while holed up in Europe and apparently under the influence of psychedelic drugs, a fact about which he hasn't been shy either in interviews or in songs. On one track, "Jukebox Joints," he raps about people asking why he disappeared from the spotlight for a while. The answer is simple: "I'm tripping off the acid," he explains, adding, "now yo' ass is looking massive."
Sure enough, the first description that comes to mind when listening to At.Long.Last.A$AP is "druggy." The songs collage tempos, styles, and echo-caked sounds, with backing vocals pitchshifted very low and melodies that coalesce from murk. This isn't totally new: In his short but influential career—which includes making the 2012 top-10 hit "Fuckin' Problems"—A$AP Rocky's choice of production styles has gotten him lumped in with the "cloud rap" subgenre, whose name is pretty self-explanatory. But the difference this time out is that the song structures themselves have been liquefied, and the results are often thrilling.
Take "Fine Whine," track three. For the first two minutes, it's all comedown vibes, with a "slow, slow, slow" refrain from singer Joe Fox acting like the tempo notation in an Italian concerto. But then the taunts of the rapper M.I.A. cut in, and the drums start to pick up, hitting a congo-like gallop as another emcee, Future, unleashes his trademark warble-rap. Then it's back to the comedown. The next track is called, descriptively, "L$D," and it's a mostly percussion-free singalong whose accompanying music video gives a good sense for Rocky's greatest talents—imagery, coherence, vibes.
Interwoven throughout the album are Van Morrison-like bits of guitar and vocals from Fox, an amateur musician who Rocky says he found at 4 a.m. on a London street. His own particular skills probably matter less than the fact he's there at all; like Kanye West bringing Bon Iver along to warble over baroque hip hop for My Beautiful Dark Twisted Fantasy and Yeezus, the idea is to inject a bit of earnest campfire soul. Black soul appears too, both in samples and in new performances from singers like James Fauntleroy. Also in the mix: church bells, piano interludes, Rod Stewart as interpreted by Miguel, and a super-impressive guest verse from Lil Wayne.
Though it will burnish his status as an innovator, the album won't dispel Rocky's reputation as an underachieving vocalist. His verses are often monotonous, his voice lacks the distinctive character of many of the emcees who appear alongside him, and his lyrical concerns are for the most part as generic as people who hate all rap assume most of the genre's lyrics to be. Worse, his stock sexual boasting comes with a sickening mean streak: One verse in which he insultingly talks about a hookup with singer Rita Ora will go down as one of the ugliest pop-culture moments of the year. He makes a few nods toward inner-city crime, police, and the death of his friend and producer A$AP Yams, but it's not like he's out to make big statements. The opener "Holy Ghost" very clearly disses hypocritical clergy members, but Rocky recently told Complex that he "didn't want this to get confused [as] bashing religion."
As strange as it is to say about a rap album, though, the words here are mostly beside the point. A$AP Rocky has touted his beatmaking on the album, and has coaxed a coherent and fascinating sound from a wide group of producers (including Danger Mouse, Mark Ronson, and Kanye West).  LSD really does seem like the appropriate drug metaphor: Often the music's as laid back as the work of any rapper who habitually touts booze and cough syrup, but like '70s prog rockers penning epic paeans to their third eyes, At.Long.Last.A$AP also features eruptions of sounds that beg to be described in visual terms. Rocky's previous work has proved influential and other buzzed-about rappers have lately been name-dropping acid, so maybe the culture's moving on from molly and its revved-up, day-glo aesthetic.
But it's also likely that Rocky's own personal drug fixation has happened to coincide with a creative flourishing across the genre. At a time when hip-hop rules the streaming-music economy, when distinctions between mainstream and alternative seem flimsy at best, standing out doesn't necessarily mean executing well on an old formula. ​It means taking an original vision to its grandest scale. In a lot of ways, the sloshy, anything-is-possible soundscapes of Long.Last.A$AP feel related to some of the other big releases this year from young rappers who've left the underground. Both Kendrick Lamar's To Pimp a Butterfly and Tyler, the Creator's Cherry Bomb also melt down radio-friendly song structures and instead offer long instrumental interludes, psychedelic textures, and tracks that shift styles without warning. Those two artists, incidentally, say they don't take drugs.